If you're looking for (or you want to become!) a gladiator in a white suit, these 10 schools are definitely your best bet. With these schools' awesome political science programs and their students' ability to spin anything, we don't need the experts in the Oval Office to tell us that the colleges on this list are chock-full of Olivia Popes in the making. So don't worry, because when there's a problem facing these collegiettes, it's handled.
10. AMHERST COLLEGE (Amherst, Masschusetts)
We have a feeling Olivia Pope could convince us Ryan Gosling isn't hot and Twilight is still our favorite book, she's that convincing—and Amherst students are definitely Pope-level persuasive. Not only did CollegeXpress call Amherst one of the best colleges for speech and debate in the U.S., but get this: The students are such good speakers they actually changed the formal rules of American parliamentary debate. In other words, they could definitely tackle tricky press conferences and annoying journalists à la Olivia.
Also, their poli sci program is highly regarded, and you're probably familiar with one of the school's more famous political alumni—President Calvin Coolidge. However, he's great and all, but Fitz is definitely a sexier prez. Sorry, Cal.
With all that, we're not surprised that The Princeton Review found that Amherst has some of the most politically active students in America. Olivia is definitely involved in politics… some might say a little too involved (like Fitz's wife, Mellie).
9. THE UNIVERSITY OF PENNSYLVANIA (Philadelphia, Pennsylvania)
University of Pennsylvania students have to know how to hold it all together, as Newsweek deemed them the second most stressful school in the nation in 2012. Managing stress is something Olivia is intimately familiar with; A normal person who's had to fix the number of problems she's confronted would definitely have had a mental breakdown by now (or several). Luckily, her red wine and popcorn seem to help her keep her stress in check.
"Penn is a very competitive place, so everyone is very driven and has to grow a thick skin academically," Hannah, a UPenn junior, says.
UPenn's excellent political science department encompasses 11 different programs — impressive! The university also has an extremely active women's center, so these Popes-in-training will have no trouble staying empowered.
Add ambition and politics, stir in some political leanings and you've got the perfect recipe for a horde of Olivia Popes.
8. PRINCETON UNIVERSITY (Princeton, New Jersey)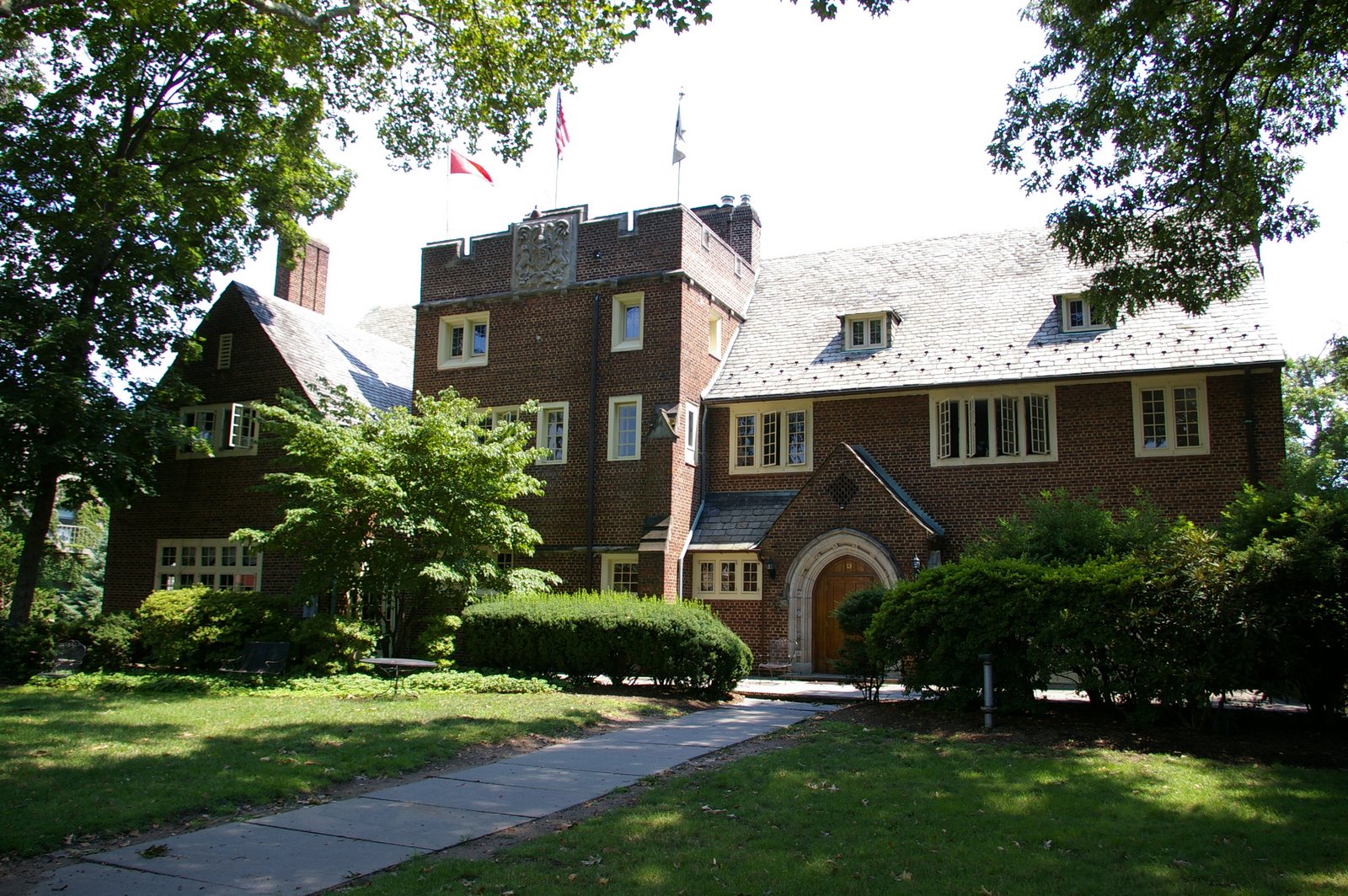 Olivia Pope's background is shrouded in mystery, but we do know she received a degree in political science from Princeton. So it's no surprise that Princeton's Department of Politics has a 99 out of 100 rating on FindTheBest's list of schools with degrees in poli sci and government. Political science is the one of the most popular majors at Princeton, which tells us lots of women are following Ms. Pope's path. According to the Politics department's website, the graduate school let women enroll "long before co-education in the undergraduate field became an irresistible demand." Thank you for recognizing how kick-butt women (like Livy!) can be, Princeton!
Although we don't know which on-campus organizations Olivia would have joined, we'd bet good money on the Alexander Hamilton Society, which promotes "constructive debate on basic principles and contemporary issues in foreign, economic and national security policy." She may have also joined Running Start, which aims to "inspire young women to get involved in politics and leadership." She could have also joined Debate Panel… or the Global Poker Strategic Thinking Society… or the College Republicans… okay, there are a lot of clubs Ms. Pope could've joined.
We have no doubt she would have kicked butt up and down Princeton's prestigious halls, controlling any and all campus scandals.
7. GEORGETOWN UNIVERSITY (Washington, D.C.)
After Olivia Pope graduated from Princeton, she went to Georgetown Law. In fact, the only reason Olivia agreed to those weekly dinners with her dad? He was paying for her law school tuition. So was it worth it?
"Not unlike our entire student body at Georgetown, women here are driven, motivated and passionate," one collegiette told Her Campus. "One of the most popular clubs on campus in Georgetown University Women in Leadership."
Lacey, a senior says that Georgetown students "in general are extremely driven, and many are passionate about becoming involved in politics, including female students. I would say that interest even goes beyond just serving in the government, but also being active agents of change in the system for a variety of issues." Sounds like a white-hat-wearers to us!
According to the school's website, 23 Georgetown professors have been U.S. Supreme Court clerks. Okay, so does everyone at Georgetown wear a white hat, or what?! So we can see why Olivia suffered through some seriously painfully awkward dinners with her dad so she could go there.
6. BARNARD COLLEGE (New York City, New York)
The students of this women's college have a reputation for being ambitious and confident. In fact, one of the past application supplements was, "Tell us about a time when you majored in unafraid." Sheryl Sandberg of Lean In fame was Barnard's commencement speaker in 2011, and the school counts famous political movers and shakers such as Margaret Mead among its alumnae. But lest you think it's a woman-eat-woman world, don't worry — just as Olivia Pope takes care of her own, this college's attendees are fiercely protective and loving of one another.
"The nurturing, creative and empowered spirit of the community is so visible and constantly moves me," one Barnard collegiette told Her Campus.
Olivia's office may not always be nurturing, but the gladiators aren't just a team: They're a family. Just like Barnard's campus.
5. THE UNIVERSITY OF SOUTHERN CALIFORNIA (Los Angeles, California)

Students at USC run their own on-campus public relations firm, TriSight Communications. The firm is so legit, its clients include the British Consulate-General of Los Angeles and the Children's Hospital Los Angeles. We all know how important "spin" is to Scandal's lead star, so USC is definitely Olivia Pope & Associates-friendly! USC also has the Strategic Communication and Public Relations Center that, according to the department, "plays a leading role in the continuing evolution and expansion of the public relations profession." We'd call that a game-changer. We can see why Education Portal ranked USC the best school in America for public relations, and we have a feeling Olivia would agree. Too bad she can't call USC students the next time she has a lot on her plate and would rather angry-kiss Fitz than fix another problem!
Emily, a freshman at USC, says, "I meet women like Olivia Pope all the time on USC's campus. They're super focused, super dedicated and they definitely know good PR—especially when it comes to publicizing frat parties or football games!"
Come graduation, USC students put theory into practice. According to LinkedIn, more than 14,000 USC alumni currently work in media and communication. We think we hear the sound of Olivia Pope raising her glass of red wine in approval.
4. BOSTON UNIVERSITY (Boston, Massachusetts)
Before Olivia Pope was ever a household name, there was Judy Smith, the inspiration for Pope's character, who was a special assistant to George H.W. Bush and is currently the CEO of the crisis management firm Smith & Company. Smith attended Boston University and received a Bachelor of Science in public relations.
But Smith isn't BU's only insanely powerful alumna working in politics and public relations. Joan Schneider, Carol Cone and Alana Feld Hackel are all media and PR heavyweights who also got diplomas in PR from the school.
With three separate student-run communications agencies— Adlab, PR Lab and Hothouse Productions — we're not surprised BU produces so many excellent communicators (cough, fixers, cough).
"I think BU does a fantastic job of encouraging women to be strong and independent," says sophomore Amy Alexander. "Women are encouraged to take leadership roles in clubs and organizations. They are also encouraged to participate in any interests they may have and are never confined to stereotypical female activities."
We wouldn't call Olivia stereotypical—more like mold-breaking and barrier-busting. Sounds like BU women are the same way!
3. STANFORD UNIVERSITY (Stanford, California)
Olivia Pope is primarily a fixer of reputations (namely, Fitz's shaky rep), and the students at Stanford know a whole lot about keeping theirs spotless — according to Times Higher Education, the university has the third best reputation in the world after Harvard and MIT.
While most schools are lucky to have just one political magazine, Stanford boasts two highly regarded publications — one for each side of the political spectrum, obviously.
"I know so many of my friends [from school] watch Scandal because they're inspired by Olivia Pope," says Hannah, a junior at Stanford. "A bunch of them are actually interning on Capitol Hill right now!"
And the political participation doesn't end once students receive their diplomas. Sandra Day O'Connor, Dianne Feinstein and Susan Rice all graduated from Stanford and have gone on to have stellar careers in the U.S. Supreme Court and the Senate.
2. AMERICAN UNIVERSITY (Washington, D.C.)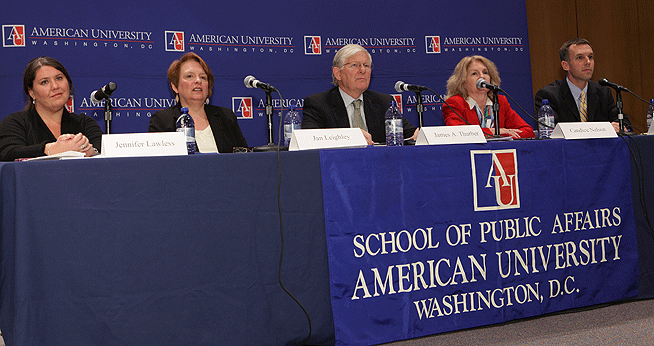 Students at American University are definitely wearing the proverbial "white hats" Olivia is always talking about. BestCollegesOnline.com picked them as one of the most socially conscious campuses nationwide, and American was also Princeton Review's Most Politically Active School in 2010. In addition, 59 out of the 288 clubs on campus are related to politics, social justice or student governance, and a large number of its students intern with politicians. So, where do we sign up to intern for Fitz?
"It's really politically active," one collegiette told Her Campus. "Clubs bring in really cool speakers, like Bill Clinton."
Colleen, a senior at American, agrees. "We definitely have a lot of people interested in political communication, and I know the show has mentioned our school a couple of times, too!" she says.
When they take over the White House (which is just a few miles away), these Pope-esque students will be well prepared. Not to mention, Judy Smith got her law degree at American!
1. THE GEORGE WASHINGTON UNIVERSITY (Washington, D.C.)
It's almost like GWU was designed to churn out future Olivia Popes! For starters, it's a little more than half a mile away from Olivia's stomping ground, the White House, so graduates can go straight from their dorm to the Oval Office (once they secure maximum clearance, obviously). Alumni include Mitt Romney's campaign manager, Barack Obama's campaign speechwriting director and NBC chief White House correspondent Chuck Todd. Counted among the faculty are former ambassadors, CNN correspondents and associate justices of the U.S. Supreme Court. Furthermore, the political science program and political communications major are some of the highest-ranked in the country.
"Everyone thinks they're going to be in office someday — or working with someone who is," says Kaly, a sophomore at GWU. Seeing as Olivia works closely with the president, Kaly's fellow students could definitely be in Olivia's stilettos someday.
Plus, Kerry Washington is an alumna of GWU and actually gave a commencement speech to graduating students in 2013, calling them the heroes of their own stories. Stories in no small part inspired by her and her kick-a** on-screen persona!
Check out the rest of Her Campus's 2014 College Rankings here!