The life of a collegiette is a hectic one, and sometimes we have those days when we sit back and think: have I eaten today? Have I brushed my teeth? Have I showered recently? If the answer is no to the last question, don't sweat it! (Literally, because then you'll definitely have to take a shower). HC is here with the best tips for how to style your hair when you are too busy to hop in the shower.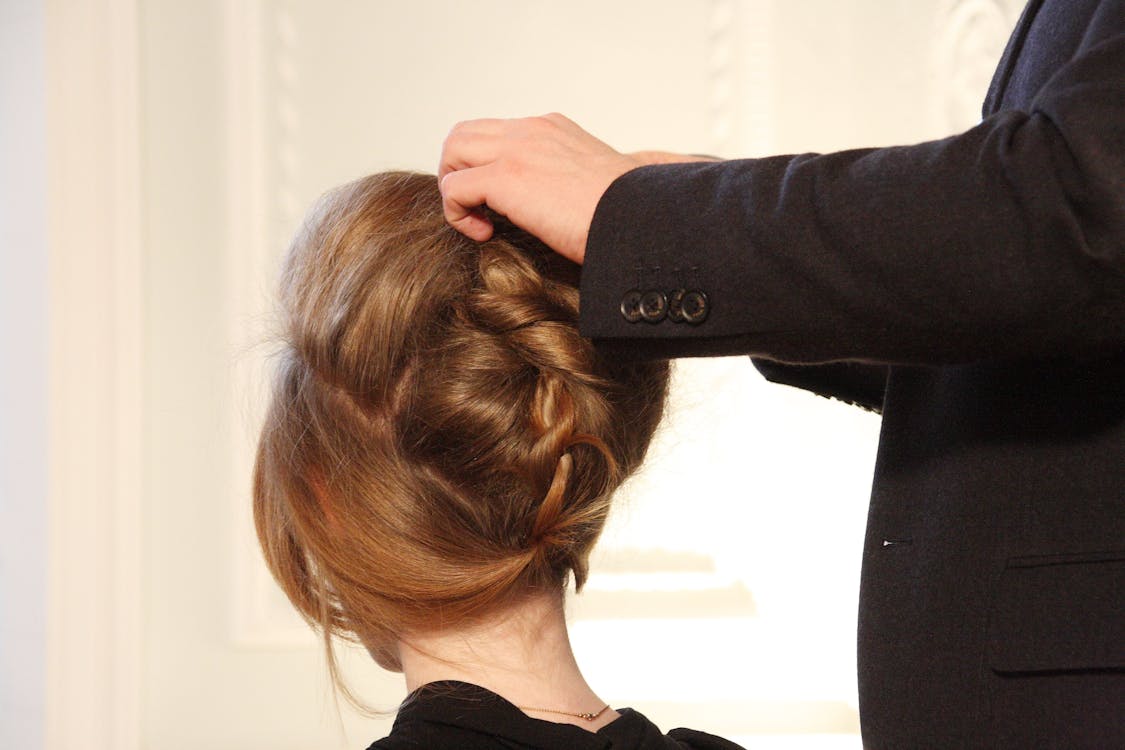 1. Braids are your friend
What better way to hide your greasy locks than with a creative Katniss-style braided updo? The best thing about braids are that there are so many different styles to try! Our favorite is YouTube vlogger JD's updo with two braids. Simply part your hair down the middle, and form a braid on each side (Pippi Longstocking-style). Then wrap each braid around the back of your head and secure it with a bobby pin.
We love this style because it has you looking put-together and ready to take on the day, even when your life is actually in shambles—and it only takes minutes to complete! Also, this hairstyle doesn't require an extensive use of headache-inducing bobby pins, so you'll be comfortable all day long.
If an updo's not for you, you can go with the classic side braid. Shelly Adams, a junior at Shenandoah University, swears by this quick fix. "I collect my hair on the side of my head and braid it down tightly on the side, then I pull the braid apart to make it look more natural," she says. "I usually add a hairband to make it look dressy, too!" With either of these options, you can easily fool people into thinking that you put tons of time and effort into your hair that morning, when in reality, it's a dirty, knotty mess. With a braid and a headband, no one will ever know!
Also make sure to check out Riccardo Maggiore's, owner of Riccardo Maggiore Salons in New York City, loose side braid. Maggiore says, "This is perfect for fine hair because it creates the illusion of thickness. Holding the can two to three inches away from your head, spray the roots with dry shampoo allowing it to sit one to two minutes to absorb the excess oil. Turn head upside down and tousle or brush out any leftover product and fluff up your hair. Gather hair to one side and loosely braid. Secure with an elastic. The more imperfect your braid looks, the better, as it gives an effortless and casual vibe."
2. Go for the top knot
Kaitlin Manion, a grad student at Temple University, says, "I always go for the top knot! Not only does it hide how knotted my hair is, it's a good look for work and class." 
The top knot is the perfect hairstyle for when your hair is messy and dirty, but you want people to think it is clean! In order to make the perfect top knot every time, start with a ponytail where you want the knot to be, split the hair into two parts and wrap one section of the hair around the ponytail loosely, and loop the other section of hair in the opposite direction of the first look. Check out this tutorial from Coffee Beans and Bobby Pins!
3. Cover-up isn't just a makeup term 
If you are really crunched for time and can't even try one of those clever hairstyles, pull a Kate Middleton and hide that 'do under a hat. Sarah Nelson, a junior at the University of Iowa, says, "I go straight for the baseball cap! You can wear one with a cute outfit or sweats—they're pretty versatile!" 
Headbands also serve as perfect cover-up material. Abby Piper, a junior at Notre Dame, says, "Half-up, half-down with a headband is one of my favorites. I can't quite pull off the 'fun bun' as one of my guy friends calls it, but that's how a lot of girls are wearing their hair, half-up, half-down, right down." 
So if you can't quite master some of the tricky, creative hairstyles, go simple while also being stylish.
4. Never underestimate the power of dry shampoo
Maggiore says that for dirty hair, "The easiest quick fix is to use dry shampoo to freshen up your hair." He advises that you apply dry shampoo underneath by lifting the top layer of hair and spraying the root. "This will also add texture and volume," he adds. 
But be warned: Maggiore says that most importantly, "Stop touching your hair! Even with the use of dry shampoo, you are depositing more dirt and oils to your locks by continuing to play with your hair." 
So while you think you may look cute twirling your hair in class, don't! You may be doing more harm than good!
5. Have several "second day plus" hairstyles in your arsenal
Maggiore encourages you to rock one of these cute hairstyles when you're going on the second day of skipping the hair wash: 
Side Swept Chignon: "Apply a small amount of styling cream to your dry ends and twist your hair into a knot below your ear. Secure with a few bobby pins."
Beachy Waves: "Separate hair into small sections and lightly spritz with sea salt texturizing spray and scrunch and go."
Edgy and Cool Messy Ponytail: "Spray texturizer on your roots and ends, comb through. Pull hair back at the nape and secure with an elastic. Wrap a small one-inch section of hair around the elastic to hide it."
These lazy hairstyles are expert-approved, so the next time you find yourself sleeping in to skip the shower, try one of Maggiore's tips!
We're all just pretending to have our stuff together on a daily basis, aren't we? Why should our hair be any different? Some of us are too busy with homework, group projects, grad school applications, on-campus jobs and internships to take advantage of luxuries like showering. We're grooming ourselves to take over the world, and sometimes that requires skipping the actual grooming process! Go get 'em, girls!