It's sorority rush season and you want to dress to impress. After all, you could be meeting your future sisters for life. But just because you want your outfit to be on point doesn't mean you need to dash to the closest Urban Outfitters and empty your bank account. Using pieces that you already have in your closet will help you feel comfortable and confident during sorority recruitment and save you major bucks. Here's five cute rush outfits you can wear using clothing you already own.
1. Romper and sandals
Even if you wore the romper during your summer vacation, you just got to college, so no one here has seen your go-to floral romper. Rompers are carefree in a way that's perfect for philanthropy or sisterhood events, where you're getting to know the sisters and participating in activities.
As for the shoes, you can pull off classic tan sandals at most rush events. It's easy to incorporate shoes you already own into your outfits, even wearing the same pair multiple days. Gabby Mahmood, who is in a sorority at Cal Poly, San Luis Obispo, wore the same pair of sandals for the first three or four days of rush—they were neutral so they matched everything. You don't need to buy new shoes for the welcome rounds and other get-to-know-you events.  
2. Sundress and statement jewelry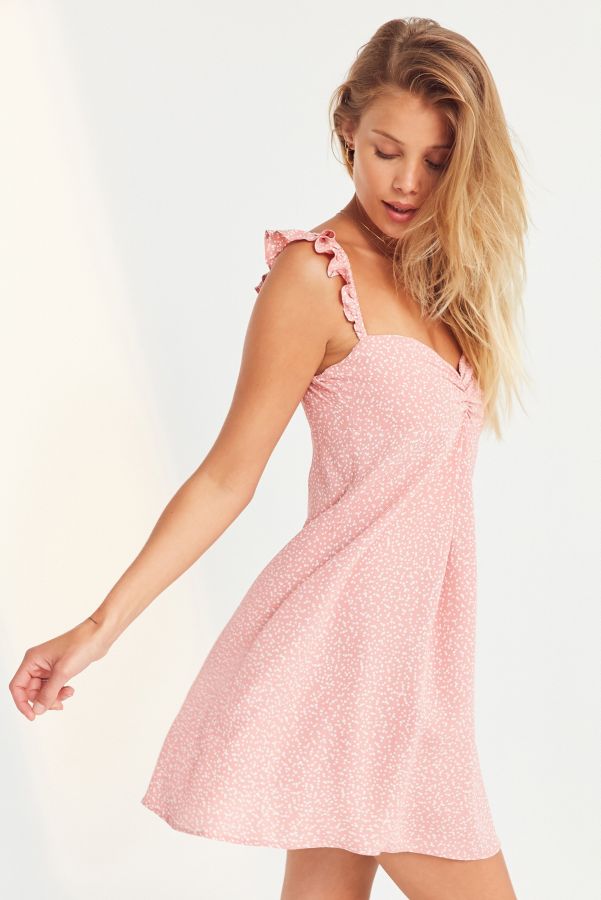 We all have our favorite sundress that's comfortable and trendy. Whether it has a sunflower print or a boho look, you can make it work. Dress it up with a statement necklace, ankle bracelet or other chunky jewelry. It's easy to use outfits you already own, says Sammy Pesick, who is in a sorority at Kent State University. "Any look can be instantly changed by adding a blazer, jewelry or a cool shoe!" Throw on those strappy sandals to finish off your summery style.
3. T-shirt and patterned shorts
You may be thinking, "What? I can wear a T-shirt to rush?" No, not just any T-shirt. Some universities give out rush T-shirts during house tours. So you can wear your rush tee and cute shorts while walking through all of the houses. A sorority sister from Illinois State University, Ashleigh Lalla, chose patterned shorts—perfect for staying cool in the heat and easy to pull from your wardrobe. If sororities give out rush shirts, you can pair it with any bottoms from your closet that match, including pants or a skirt if they're more comfortable for you than shorts.
4. Blouse, dark wash jeans and boots
If you want to give off a more professional vibe, you can opt for dark jeans, a solid-colored blouse and your go-to fall boots like Dr. Martens. Sammy calls this style "fashionable business casual," which is a good way to look put-together while not looking super formal. Boots are also a great way to avoid those ever-painful high heels. And we all have a pair of no-hole jeans, some sort of blouse from a past job interview and our rustic lace-up boots. A dark shirt will give you a more serious, mature tone while bright colors give off a fun vibe, so choose accordingly. 
5. Flowy dress and wedges
You'll need one nicer dress for the final event, called preference night or preference round. It doesn't have to be cocktail attire, but you want to look your best by wearing formal clothing. You may feel pressure to buy a new outfit for this final recruitment event, since it's the fanciest. This might even merit buying a new dress or suit so you aren't repeating your homecoming gown.
If you want to save money, it's really easy to use a simple dress, like a white lace or black cotton one, and dress it up with wedges and jewelry. Rummage through the back of your closet and find that old National Honor Society induction dress, a dress from a previous birthday party or your staple LBD. It's more affordable to wear a dress you already have, and if you really want that coveted "new outfit" feeling, you can add new jewelry and a nice pair of shoes, Ashleigh says. Pick up some statement jewelry or chokers, but if you have bold necklaces, just use the bling that's already in your jewelry box.
As for the wedges, heels aren't usually mandatory. Wedges are formal, too, and are likely something you already own. They're also more comfortable than high heels, and you'll be on your feet a lot during sorority recruitment.
So should I buy new clothes for rush or not?
You definitely don't have to buy all new clothes! Many women wear clothes they already own and maybe buy a few accessories to spruce them up. "I mostly used what I had," Ashleigh said. "If you wear something you already own, chances are you'll feel more comfortable and more yourself." The only thing she bought was a nicer dress for preference round since it's fancy. Gabby also bought some new clothes, but mostly wore pieces from her closet.
If you do decide to buy new pieces, make sure you choose clothing that's your style and that you would wear again. Don't try to be someone you're not and wind up with a pile of dresses that you'll never use. "Some outfits I bought for back-to-school with intentions of wearing them for recruitment," Sammy said. "However, they were all pieces I continue to wear to this day. You can definitely purchase new clothes for recruitment, but I recommend buying garments you would wear again!"
Ashleigh agrees, saying, "Don't go out and buy something that doesn't express who you are or buy something just because it's 'new.'" She also recommends befriending other girls in your rush group—if they live in your building, you can swap outfits or wear pieces from each other's closets.
There are many tactics to save money on rush clothing without sacrificing your sense of fashion. Good luck to all you ladies rushing this fall!