Almost one month ago, Demi Lovato celebrated six years of sobriety— and it wasn't an easy path for her to get there. Lovato has suffered from an eating disorder, has diagnosed bipolar disorder and has dealt with substance addiction.
As a super vocal mental health advocate, she hasn't been afraid to publicly discuss her past — but don't think that means its okay to make assumptions about whether she's broken her sobriety.
As BuzzFeed first noticed, fans were speculating over a photo from Hayley Kiyoko's album release party last week in which Demi can be seen holding a glass of some kind of liquid — which should be NBD, except for the fact that fans were noticing that, as multiple celebs in the photo posted it, Demi's glass could be seen in some photos like the one posted to a Hayley Kiyoko fan account, and had appeared to be filtered out in others, like in her former Disney co-star Matthew Scott Montgomery's version.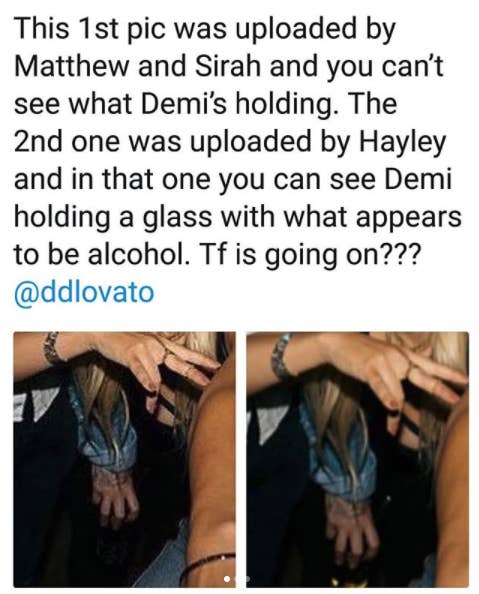 It didn't take long for some commenters to think that they were onto something, and that Demi's friends had potentially purposefully altered the photo to hide her glass — but Demi made it clear they were overreacting and was quick to set the record straight.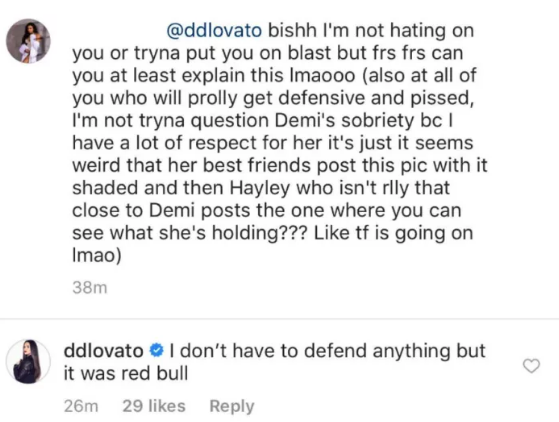 "I don't have to defend anything, but it was red bull," she responded. And she doesn't — because while its great that she's been so public about something that plenty of people are forced to struggle with on their own, it doesn't entitle us to know anything about whether she has or hasn't stayed sober.