This week's episode of This Is Us dropped another interesting twist about the Pearsons, and while I'm eager for more info on this new part of Jack's past, I'm currently distracted by just how cute "Brothers" was. It's rare that This Is Us leaves me with more smiles than tears, so here are five pure, good-hearted moments in "Brothers" that made me the happiest.
1. Toby's dance
Let it out Tobias. Let it out! #ThisIsUspic.twitter.com/jZuv3uKoSO

— Sterling K Brown (@SterlingKBrown) October 25, 2017
Kate and Toby are keeping their pregnancy news to themselves for now, but after Kate felt so great telling someone about it, she encouraged Toby to do the same. I definitely wasn't expecting a dancing moment straight out of musical theater when Toby asked a barista to play "Only Wanna Be With You" over the cafe's speakers. Someday it could easily be fodder for an SNL parody, but for now, Toby rocking out to his happy song was a great example of why he's the perfect goofball for Kate. 
2. Kate unexpectedly bonding with Madison
Madison is all of us when we found out.  #ThisIsUspic.twitter.com/rcMeuCsnO2

— This Is Us (@NBCThisisUs) October 25, 2017
Madison, the irritating girl from Kate and Toby's weight support group, returned for another venting session, which Kate didn't take too lightly. However, never underestimate the power of car accidents—when Kate and Madison's cars accidentally bumped into each other, Kate worried for the baby and spilled the beans to Madison. We haven't seen much of the support group lately, but based on Madison's reaction, it seems that those guys are way closer than you'd think. The unlikely friends delighted over Kate's news, which lead to Kate discovering how happy being pregnant makes her feel. Plus, it's just great to see Kate with a supportive female friend. 
3. Randall being the "cool" dad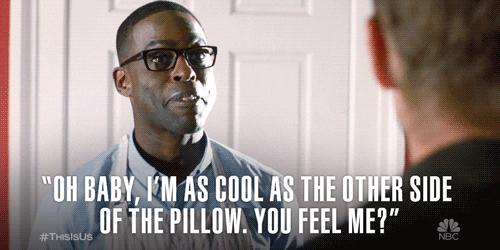 "You see that Michael's over there? Used to be a Kohl's." Randall has had a rough couple of weeks trying to win Deja over, but, for the most part, he's still managed to stay light and happy. (Anyone who shares the history of their suburban landmarks is a keeper.) It's safe to say he will do anything to make his foster child feel at home, including going to a gala because of Deja's crush on Kevin and even entering the ladies' room despite that "there may be…a woman…pooping."
4. Rebecca and Jack's phone call
Not only did Rebecca understand Jack's desire to distance himself from his father even when Stanley was dying, but she also got just how rough Jack's childhood was with Stanley. When she finally got a hold of Jack at his camping site, Rebecca shared her admiration for what he grew into, telling him, "You're a friggin' miracle." Couple goals, as always. 
5. Next week's preview
Excuse me while I squeal at the sight of the Big Three in their twenties. Next week's episode ought to answer plenty of questions about how the siblings ended up where they are in their thirties, and it might even give some insight into when Rebecca and Miguel's relationship began. Personally, I can't get over Randall's glasses and Jack's Halloween costume in the episode's flashback. 
Happy episodes may be few and far between in the next few weeks, but "Brothers" was a perfect dose of sweetness and seriousness.