Joining your sorority was the best decision you made in college so far. You love your sisters so much, are proud to rep your letters and firmly believe that you're a better person now than who you were before you joined. And while of course we're all totally different in unique ways, most of us sorority girls have a good amount in common. Read on for the 45 sure signs that you're a proud sorority girl! 
1. You love seeing sisters on campus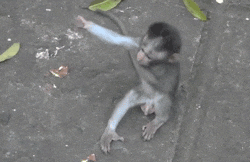 And you hug them like you haven't seen them in ages, even though it has only been a day or two.
2. Recruitment is actual hell on earth
You're on four hours of sleep, eight hour days at bare minimum, running on a ton of caffeine and concealer. 
3. But it is all worth it in the end!
You have gotten stepped on mid-doorstack at least once.
4. Bid day is the best day of the year
You gain so many new sisters, get disaffiliated sisters back and celebrate. It is the best. 
5. You have a designer planner (and use it, a lot)
You're passionate about the Lilly Pulitzer vs. Erin Condren debate...
6. You have plenty of #panlove
7. You've acquired a decent amount of norts and leggings
If you don't rock the sorority girl uniform all the time, then you surely do so on your off-days.
8. You have more sorority tees than space to store them
You can't wait until the bittersweet moment where you turn your tees into a quilt.
9.  You're always prepared to throw what you know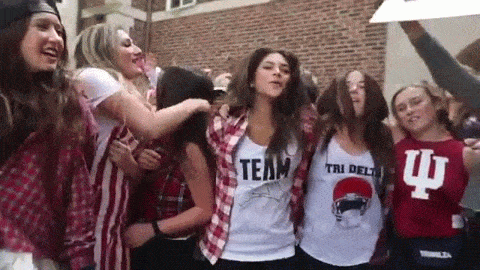 10. You could probably rival Martha Stewart in crafting
11. You're on one of two teams: Dunkin' or Starbucks
Whatever team you're on, it is almost guaranteed that you have a cup of coffee in your hand.
12. You adore your big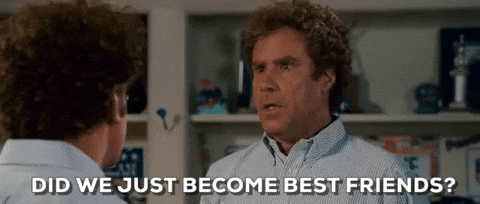 She is your role model, best friend, second mom and big sis all in one
13. You are absolutely obsessed with your little
She is perfect in every way, and nobody else will ever convince you otherwise.
14. Meeting potential littles is like going on a date
It might just be the most nerve-wracking thing ever.
15. You've stalked more new members than crushes
Eek! New members!
16. You've gotten something monogrammed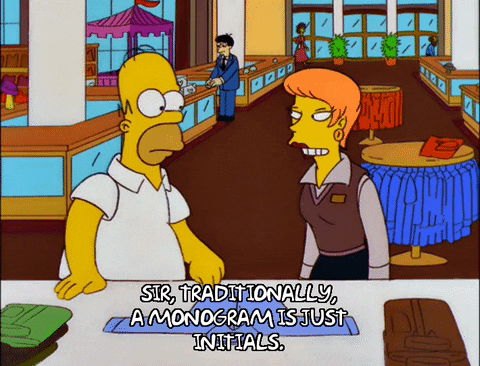 If it isn't moving, monogram it
17. Sees camera? Sorority squat!
When sorority girls take a photo, gravity gets stronger.
18. You love family stacking photos
Yes, you do the stacking photo with your fam at every event.
19. You can quote Mean Girls like nobody's business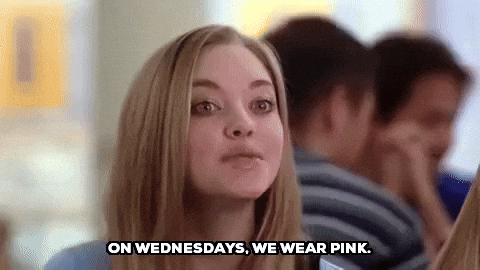 20. You have a Pinterest board (or two, or three) dedicated to sorority crafts
One is solely for big/little reveal and craft week.
21. You love giving back to good causes
What other people call "charity" you call "philanthropy."
22. One word: froyo 
I heard froyo has, like, no calories.
23. Cold? Spirit jersey
It is what you wear all winter long.
24. Rainy? Anorak
Don't forget the rain boots!
25. If something has your symbol on it, you will buy it
How could you not?? It had an anchor on it!
26. You love to go out with the girls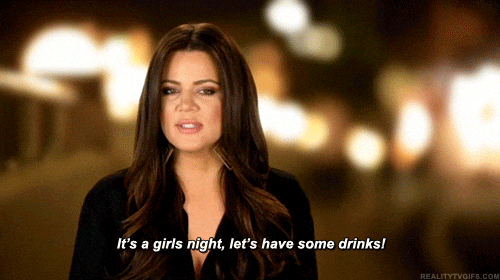 27. But Netflix nights in with pizza are also the best
28. You take photos at every event
Recruitment, bid day, chapter, philanthropy events, big little reveal, anything and everything.
29.  Another pose you've mastered? The skinny arm
30.  You never take just one picture
And you take them with a variety of angles, shots, poses, lighting.
31.  You're an expert at small talk
Thank you, recruitment.
32.  Taking "candids" is actually pretty strategic 
33.  Networking is invaluable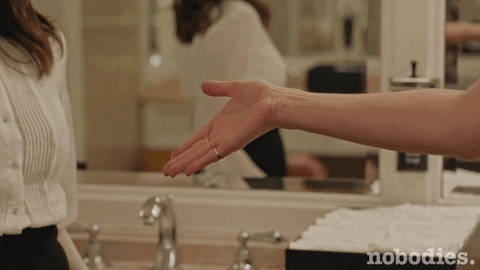 34.  You have your close-knit group of sisters, but you love each and every one of your sisters
35.  You take a lot of pride in your letters
36.  Formal is one of the most long-awaited, fun nights of the year
You get another four proms, but at least twice as good.
37.  Semi-formal is your halfway mark to formal
It could be anything from a woodser to Derby Days, and anything in between.
38.  You walk around the house singing your recruitment songs 24/7
Even though after singing them for 64+ hours straight during recruitment, you're sick of them. 
39.  On Wednesdays, we wear letters
40.  You have 100+ people you can count on at all times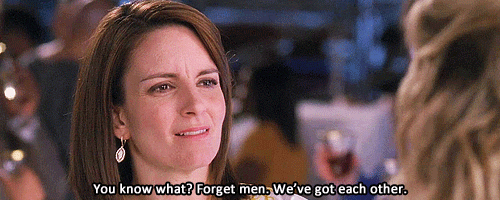 41.  You have met your best friends
42.  You know who your future bridesmaids are
43.  You know who will be the godmother of your children
And they're going to be legacies, of course.
44.  You are stronger, smarter, braver, more confident and better than the girl who first joined
My letters don't make me better than you, they make me better than who I used to be.
45.  You have found your home in your sorority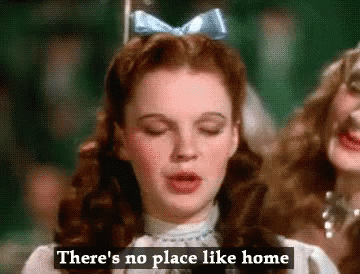 Home is where the heart is.