While the beginning of fall brings about thoughts of pumpkin spiced lattes for some and thrills at the leaves turning colors for others, there is one question that almost all of us have in common: What are we going to be for Halloween? There are so many options that can change every day depending on what our mood is; how can we possibly pick the best one? Well, maybe your studies can help you! We've compiled a list of costume ideas based on your college major.
Journalism
Those who major in journalism aren't doing it for fame or money; they do it because someone needs to report on developing news and update the world on anything from politics to entertainment. Journalists love what they do! That's not to say other majors don't, but journalists tend to take their love for gathering information to the next level, so if this is your major, you might want to lean towards a costume that's timely and relevant, like a punny political costume or even your j-crush! Have some fun with it too! Comical j-crushes work as well AKA Ron Burgundy is fair game.
Rory Gilmore is a cute and easy costume to choose, and very timely too! You could always go as a newspaper or be even more creative and be a newsie (take a night off from writing the news to spread the news!). 
Business
Business majors are super put-together, extremely professional and don't half-ass anything. Any costume that makes you look good is right up your alley. Stick with what you know and go with a professional theme. Whether you choose to make it sexy or go the comical route, you will give it your all and rock it!
A cute and hip mobster might be something you'd want to try! Superheroes are also right for you; incorporate the business attire with a hero like Superman/Supergirl or be Bruce Banner before the Green Guy shows up for that added doctor's coat.
History
Every history major has a soft spot for anything remotely history related, and they have a tendency to freak out about the subject as well. While you are sometimes quiet individuals, you love to have fun and are low-key funny and creative! When mixed together, history majors have the best costumes. You can go for a decade-inspired theme or any historical figure under the sun! Basically, anything that looks remotely period-esque is so you! Be careful though; you want people to be able to get or at least guess what you are. Don't go too obscure.
You could go with basically anything decades: a '60s hippy, a Greek goddess or possibly a popular '90s character.
Theater
Theater majors are super outgoing and get super into their craft. Your first or current love is anything Broadway so bring that dramatic flair with something from The Great White Way! Whether vintage or modern, Broadway never fails and neither do the movie remakes. And being a drama major, you're going to knock it out of the park, possibly with some reenactments in tow.
Broadway has no limit to the amount of amazing characters you could portray and there's a musical/play for every personality. Be a sexy, yet villainous Velma from Chicago, pre- or post-makeover Sandy from Grease or ambitious and lively Tracy Turnblad from Hairspray. And who can't go wrong with the Schuyler Sisters from the ever-popular Hamilton? 
Pre-Med and Nursing
Anyone on the pre-med track and any nursing major has the ability to juggle 50 things at once while also staying on top of your schoolwork. You also have the patience to share thanks to all the readings you do, tests you take and schooling in general. Anyone on these tracks deserves a night to themselves, partying it up and making the most of a night off (or pushing your responsibilities back just this once). Go for any costume that's fun, creative and completely different than scrubs.
Love 'em or hate them, the Jersey Shore girls are the epitome of a wild night out. Go out and channel their energy to find a new guido or just fist pump your way through Halloween! If they aren't for you, go with some punny costume like Facebook (write book on your face) or a cereal killer (you should be able to get that one). 
Education
Although not all education majors go on to work with younger children, a lot do, so you must be young at heart. With that ability to connect with kids, you definitely have a soft spot for the lighthearted. Education majors would love dressing up as a Disney princess or someone from a popular kid-friendly movie. Trick-or-treating isn't just for children!
Powerpuff Girls, little yellow minions, and princesses are all fair game. Go with your gut and revisit your childhood faves this year! Everyone will love you if you dress up as Kim Possible or Piglet.
English
English majors can sometimes get too caught up in your books. But like anyone else, you take pride in the work you've accomplished and always strive for more! This Halloween, you're going to want to live out the best part of your major: exploring all those storybook characters! You're constantly reading, and most likely have from a young age, so live out your dreams and prance around as a Bella or Hermione or even mix it up with a comic book character like Harley Quinn or Black Widow!
We are still in the midst of all the new superhero movies, so anyone from Iron Man to Katana to Spiderman to Black Panther are up for grabs! If Marvel and DC Comics aren't your thing or are too mainstream, any character from a book would work for you! Katniss or Hazel Grace are always good choices. 
Political Science
Alright, you poli-sci majors! This is your year! The presidential elections of 2016 are in full swing, whether we like it or not, and you folks definitely do. This is your time to not only show your political prowess but also poke fun at all things you may not like in our government. You can be your favorite candidate, your least favorite candidate or a fictional political character who we wished was real so we could vote for her (or him).
Leslie Knope rules the world (or at least Pawnee). You and your squad could even be the whole Parks and Rec gang because they are active citizens in their local government and they are all iconic. Selina Meyer, the main character of VEEP is another strong female you can show off on Halloween.
STEM (Science, Technology, Engineering, and Mathematics)
STEM majors are cool. You are smart. Like any other task you're faced with, Halloween will be an easy ace for you. It's also not something you're stressing too much about; you know you're going to look bomb and have a great time anyway. This year, you'll want to wear a costume consisting of items you already own; that can mean a jersey or some ears with a matching outfit. Effortless and cool, like you.
Be your favorite athlete, whether it's Lebron James, Jonathan Toews or Christiano Ronaldo. You could also pull a Karen and wear sexy lingerie with some animal ears. Get your friends together with this one and you could recreate the whole Mean Girls cast when they go out on Halloween (duh)!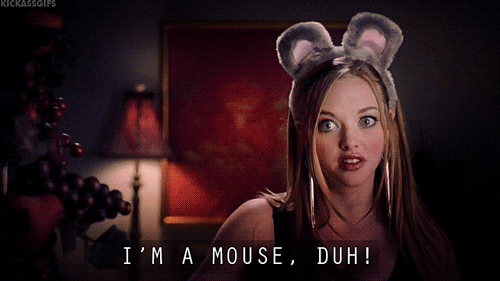 Halloween is prime time for your fun and creative side to come out! Whether you go out all of Halloweekend or just on All Hallows' Eve, we hope you find the perfect costume for you! And although you can dress however you want, whenever you want, "Halloween is the one night a year when girls can dress [however she wants] and no other girls can say anything about it." That's how the quote goes, right?