This past Tuesday, the Police in Claremont New Hampshire confirmed that his department is investigating an incident involving a group of young teenagers who allegedly assaulted an 8-year-old boy, attacked him with racial slurs and attempted to hang him by an old tire swing rope while playing in their neighborhood in late August, the Root reports.
Valley News reports that the boy — who is biracial— was playing with a group of teenagers around 5 p.m. on August 28 when the playing stopped and racial slurs began being hurled at the boy. They allege that the teens threw rocks and sticks at him before they wrapped an old tire swing rope around the child's neck and pushed him off a picnic table until he was able to pull it off.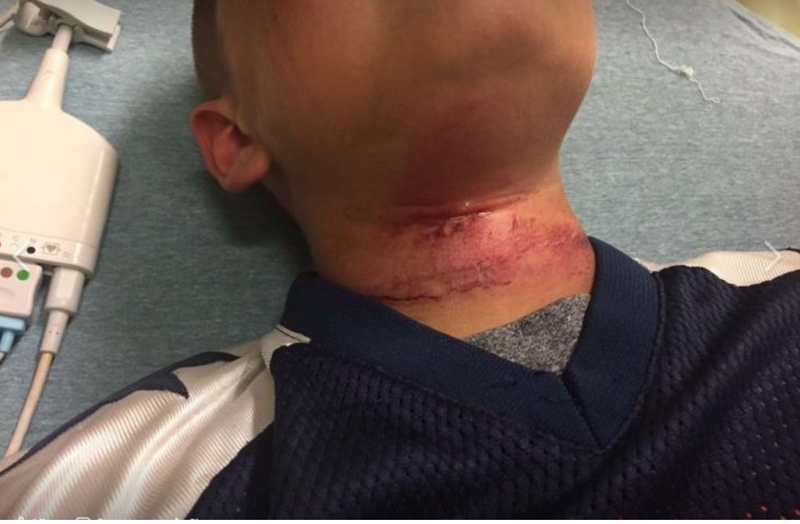 The boy's grandmother, who constructed an account of the incident based on some of the children present, told Valley News, "One boy said to (my grandson), 'Let's do this,' and then pushed him off the picnic table and hung him. If it was an accident, that boy or anybody there wouldn't have left him. I believe it was intentional [due to his biracial heritage]." 
His mother, Cassandra Merlin, uploaded a picture of her son's wounds to Facebook, writing, "So my son is being flown to Dartmouth after a 14-year-old kid decided to hang him from a tree. I don't care if this was a so called accident or not. My son almost died because of some little shit teenage kids...Keep him in your prayers". 
According to his grandmother, the boy is recovering well and was able to attend his first day of school last week. She does, however, cite concern towards his emotional health, saying, "He won't speak about the incident or express his emotions".
While the police claimed they couldn't comment further due to confidentiality laws protected the minors involved in the alleged attack, activists are concerned that this racially charged incident won't get enough attention and that justice may not be served for the young boy. Further, the incident is drawing attention to how much protection children of color are given in the eyes of the law compared to their white peers.  
"I am upset and saddened and angered about how the police and city officials have chosen to play this," Kendra Colburn of the Upper Valley chapter of Showing Up for Racial Justice told Valley News. "[They] all seem like they do not want media attention on this story, and I am concerned about that. I am really concerned that we can't change what we don't know about or refuse to look at."
It remains to be seen whether any charges will be filed.