Taylor Swift just dropped her first single in two years at the 2017 VMAs, and it throws so much shade that we *almost* can't handle it. We also think one of her costumes acted as a major reveal for who's still in T-Swift's famous squad, and who's out.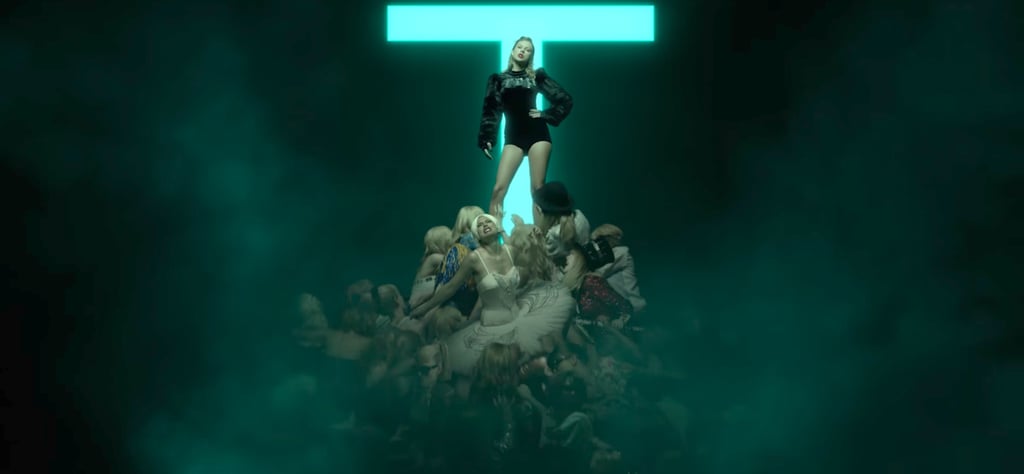 In perhaps the most iconic part of her music video (you know, when she's standing atop her old personas looking unapologetically fierce), one of the "old" Taylors is wearing a shirt identical to what she wore in her "You Belong to Me'" video. The only difference? The names signed on it happen to be the names of her squad members...and some noteable ones are missing.  
As seen from the shirt, those still in her squad are Selena Gomez, the Haim sisters, Gigi Hadid, Blake Lively, Ryan Reynolds, Lena Dunham, Ed Sheeran, Patrick Stewart, Abigail Anderson, Martha Hunt, Claire Kislinger and Todrick Hall.
Looks like Karlie Kloss, Lorde, Ruby Rose and a few others are ~officially~ out. A fan pointed out this theory on Twitter, and Taylor kind of confirmed it by liking the fan's post. Ouch. 
Filled with a ton of not-so-subtle shade and a selection of iconic looks, the music video is now available to watch. Check it below!