Fashion bloggers and BFFLs Gabi Fresh and Nicolette Mason have just caused a tidal wave in the fashion sphere with the launch of Premme, their bold, trend-conscious plus size line. According to Nicolette and Gabi, the brand was "born out of a love of fashion and our frustration with it," leading them to pave the way for a size-inclusive brand designed to make people look good, and "feel good AF."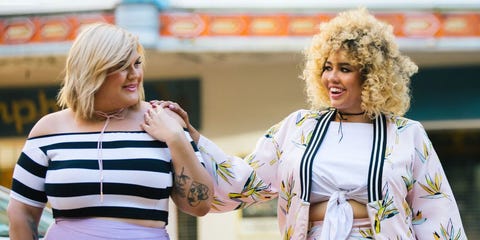 So far, Premme has jumped onto the scene with a 15-piece summer collection full of trendy pieces, summertime staples and a couple reimagined classics. 
Pearl Set Wrap Top ($35 at Premme) + Pearl Sweat Shorts ($55 at Premme) 
Feminist AF Denim Jacket ($89 at Premme) 
Striped Tie-Front Jumpsuit ($79 at Premme) 
Not surprisingly, the collection is selling out just after its first day! If you're quick enough though, you can still get your fashion fix at Premme.com.