When Nike announced that it would be making activewear hijabs we were thrilled. When Halima Aden because the first hijab-wearing model to be signed to IMG we were ecstatic. And now? American Eagle just debuted a denim hijab, and honestly, we are without words. 2017 is the best year for hijab-wearing women yet!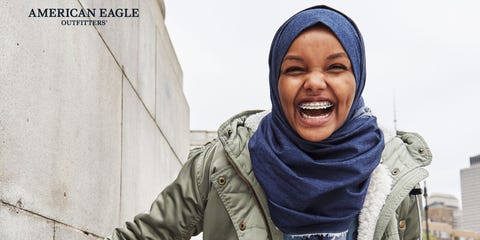 Featuring Muslim model and Somali refugee, Halima Aden herself, this new design is a statement of acceptance for all types of women, encouraging girls all over the world to embrace their culture and style. In a video for Vogue Arabia, Aden explains, "Every little girl deserves to see a role model that's dressed like her, resembles her or even has the same characteristics as her."
This denim hijab ($19.95 at American Eagle) is certainly a step in the direction of better representation, and we LOVE the new look. Keep it coming, American Eagle. More of this, please.