A North Carolina woman was raped after her date found out she worked at an abortion clinic. In a truly heinous act, the man called her a murderer and raped her in his car after their second date in November 2015. Pro-life protesters then swarmed her abortion clinic and sent her messages saying that she deserves to be raped because of her pro-choice views, Cosmopolitan reports. 
Twenty-seven-year-old Calla Hales is the director of A Preferred Women's Health Center (APWHC), which has four abortion clinics in the South. While going on her first date with this man, she told him she worked in women's health. Over text, he asked if it was an abortion clinic and she said yes—but he said that wasn't a problem. But throughout their second date, the man acted rude and weird. She asked for the check while he went to the restroom, then he asked her to come home with him. When she said no, they walked out to her car. That's when he grabbed her from behind and pulled her into the backseat of the car to rape her.
"He had me in between the seats, wrapped the seat belt around my neck, and at some point, bit me on my chest," Hales told Cosmo. "He said things like I should have expected this and that I deserved it. He asked how I could live with myself and said I should repent. That I was a jezebel. That I was a murderer. That he was doing no worse to me than I had done to women. He said he would make me remember him."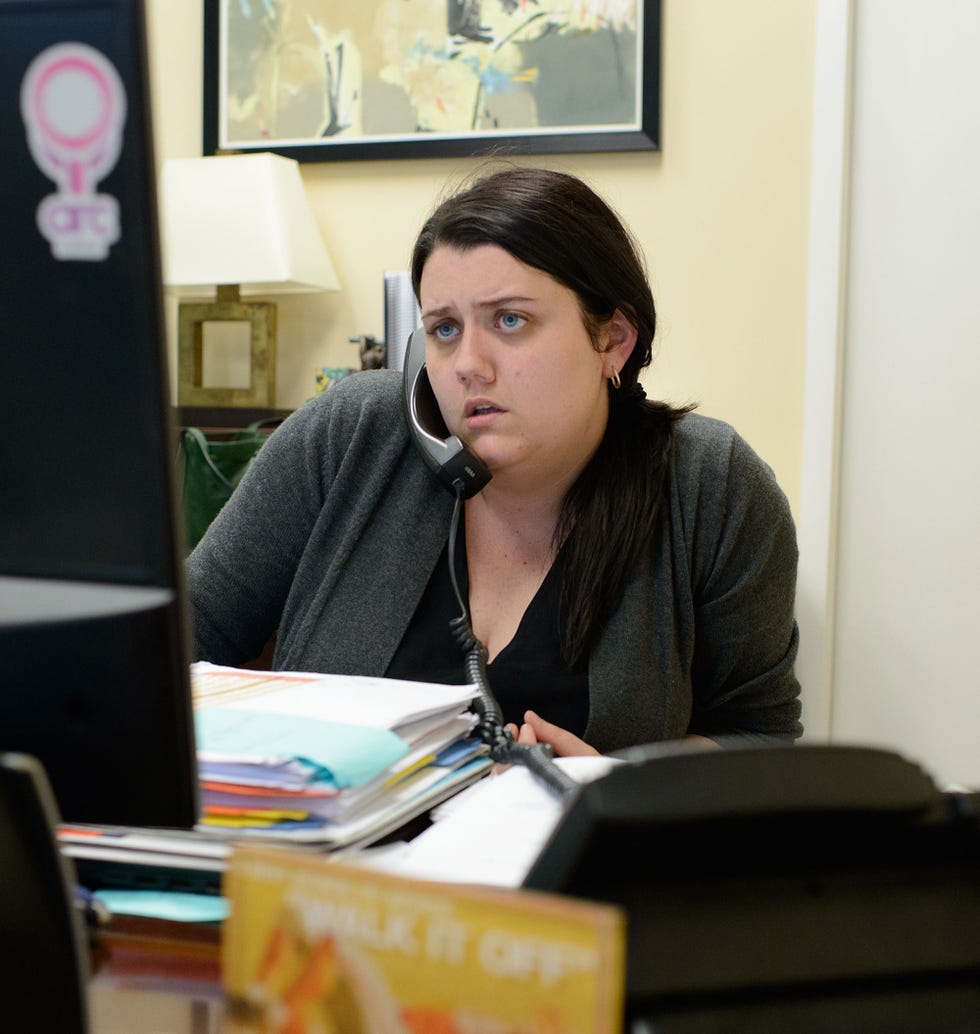 Hales has worked in the clinic since she was little; her mother and stepfather opened it when she was 8 years old. She never thought it was weird or frowned upon to help women seeking abortions. "But growing up, my parents were always telling us to be careful who we talked to and mindful of what we said," Hales told Cosmo. Working to support women's reproductive rights can lead to possible threats – so, to protect themselves, Hales' parents got bulletproof vest and gun licenses. Her mom was always worried about her daughter's physical safety, and for good reason. It's truly tragic that Hales' rapist was so against her beliefs that he would violate her, physically and mentally, because he disagreed with her work. There are no words.
Hales got a Sexual Assault Nurse Examiner (SANE) report and filed an anonymous report with the Raleigh Police Department, not wanting to press charges. But people protesting outside of her clinic started chanting things that her attacker said to her, like calling her a "jezebel." She got letters saying she deserved it. People kept saying creepy and inappropriate things to her, like asking about a hidden tattoo on her rib—something only her attacker or rape kit would have disclosed. She also was swamped with anonymous voicemails, calls and texts—sometimes just breathing into the phone or blank text messages to mess with her mind. 
Amid the protests, Hales moved from Raleigh to Charlotte, North Carolina to escape her fears. The Trump administration is not supportive of clinics like Hales'—women's rights activists are concerned the U.S. Department of Justice and Attorney General Jeff Sessions will not enforce laws that are meant to protect abortion clinics. But the positive side is that Trump's policies have emboldened more people to volunteer and support her abortion clinic, Hales said. 
You can read the full story on Cosmopolitan (I recommend doing so!) but the bottom line is shockingly how far these pro-life protesters went in trying to make their point. One man went so far as to rape Hales, while others defended his actions and aggravated her trauma by stalking her and telling her she deserved it. In attempting to protest what they see as violence against one group, they inflicted unimaginable pain on someone else. No one deserves to be raped. Everyone's voices deserve to be heard. We need to respect each other's bodies and respect each other's beliefs without resorting to horrific violence.