All faith in Rachel Lindsay as this year's Bachelorette was restored when she shut down DeMario Jackson after he tried dancing around the fact that he had a girlfriend immediately leading up to his appearance on Nick's "After the Final Rose" special. It turns out that denying you have a girlfriend is a little difficult when said girlfriend is right there telling your new love interest the truth. Rightfully so, Rachel sent DeMario packing, proving that she is not going to take any guy's BS lightly this season. 
There's nothing better than when the Bachelorette makes us so proud that we nearly spill our wine cheering her on, so what better way to support Rachel than by sharing all of the reactions we had to her shining moment?
1. Does he realize what he's dealing with?
When your boy doesn't get that your job is literally to question people until they admit their faults, he needs to go.
2. Can I be Rachel when I grow up?
The way she handled that tension between DeMario and his alleged girlfriend was smoother than Chris Harrison sliding in with those first impression roses.
3. She's taking no prisoners.
Sometimes Bachelorettes fall flat when confronting suspicious contestants about their current love lives. Rachel was not one of these women.
4. She went there!
You know it's gotten real when someone tells a guy to "get the f*ck out."
5. Put that law degree to use, girl.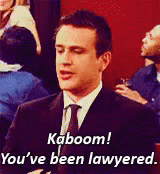 After seeing that confrontation, I definitely wouldn't want to face Rachel in court.
6. That's what he gets for tossing around "wife" so much.
DeMario boasted about Rachel being his future wife on night one, proving that such cockiness comes back to bite you in the butt.
7. Can Chris Harrison also go away?
Props to our girl for heading into the ladies' room so she didn't have to talk to Chris after sending DeMario away.
8. That was a job well done.
We thought DeMario was gone for good once Rachel sent him away, but it looks like she'll put him through the wringer again next week. After this showdown, we honestly can't complain!