The 70th annual Cannes Film Festival is in its final stretch, and so far, we've seen so many gorgeous hairdo's from our favorite A-listers. We have the scoop on how to recreate some of the most iconic looks from this year's festival, thanks to the Kardashian-Jenner's go-to hair stylist, Jen Atkin!
1. Lily Collins

1. To get Lily's '80s perm inspired look, first start with damp hair and OUAI Curl Jelly to soften and moisturize hair. Next, prep hair with OUAI Wave Spray.
2. Dry hair with a diffuser attachment to minimize frizziness.
3. Continue with Paul Mitchel Spray Wax and apply finishing crème around any flyaways. 
4. Finish the look with your favorite extra-hold hairspray and hair oil if needed. 
2. Bella Hadid
1. Start with wave spray to enhance the natural texture of your hair. 
2. Dry hair on low heat. Once completely dry, straighten hair. Don't curl the ends under! 
3. Secure hair in a tight ponytail at the top of the head and hairspray for maximum hold. 
4. Take care of any pesky flyaways with Ouai's Rose Hair & Body Oil. 
5. If needed, touch up roots with Rita Hazan's Root Concealer and cover up any sparse areas with a brow powder. 
3. Kendall Jenner
1. For Kendall's super cute updo, create the perfect base with MarulaOil Extended Styling Primer and wave spray on damp hair.
2. Dry hair using a boar bristle brush to protect from splitting.
3. Straighten hair from root to end and apply hair oil for added smoothness.
4. Part hair down the center and gather into a tight bun at the top of the head. Secure with hair elastics and bobby pins.
5. Finish with hairspray and brow powder for any sparse areas.
4. Kourtney Kardashian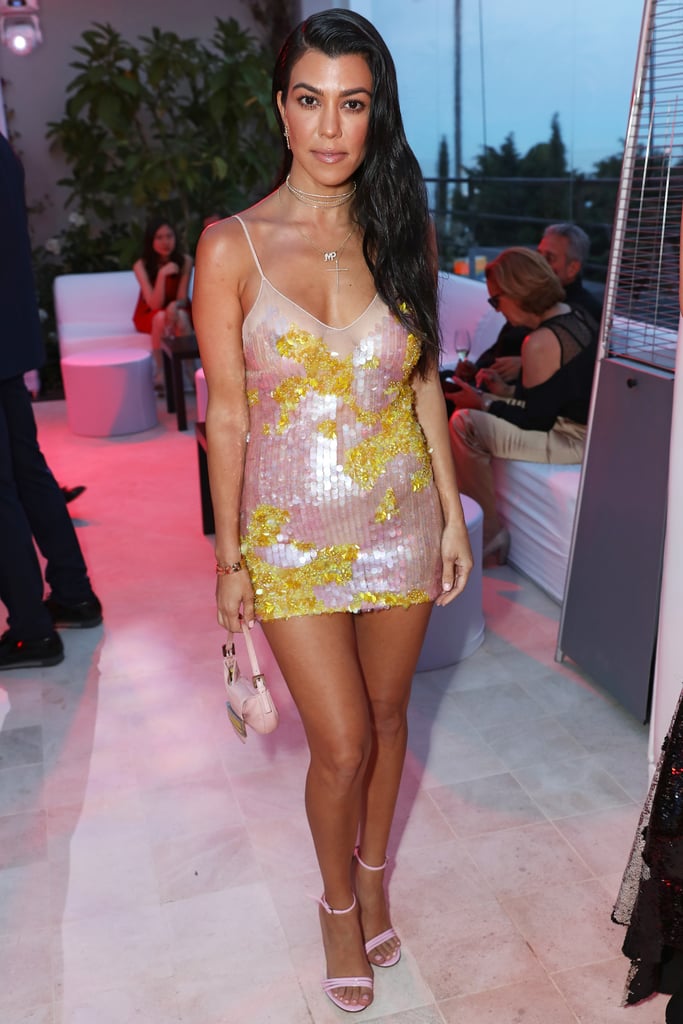 1. First, you're going to want to prep your damp hair with wave spray to create the perfect base for texture. On a low setting, dry your hair and make sure all tangles and knots are combed out.
2. If needed, add a spritz of dry shampoo to roots to soak up extra oil and add volume.
3. Continue to build up that loose, wavy texture with Ouai Texturizing Hair Spray, and add a light hair oil on ends for extra shine. Go ahead and create a deep side-part where the arch of your eyebrow starts.
4. Tame down any flyaways with a finishing crème, and finish with plenty of your favorite hairspray!