On Tuesday, President Donald Trump fired FBI director James Comey. According to The New York Times, Trump will probably fill the position as early as the end of this week. Clearly, Trump must have someone in mind. I mean, look at this tweet.
James Comey will be replaced by someone who will do a far better job, bringing back the spirit and prestige of the FBI.

— Donald J. Trump (@realDonaldTrump) May 10, 2017
But who's accomplished enough to fill those standard-issue FBI sunglasses? Obviously, the only person for the job is Parks and Recreation's Burt Tyrannosaurus Macklin. You thought he was retired, but Macklin could never leave his country hanging in its time of need.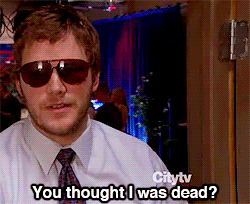 Early Wednesday morning, Chris Pratt, who played Burt on Parks and Rec, tweeted a GIF of his character demonstrating his FBI agent skills. We didn't know he was the FBI director this country needed until now.
Just lemme know pic.twitter.com/KQEqH8aGrX

— chris pratt (@prattprattpratt) May 10, 2017
Although Macklin is a TV character played by a TV character who is played by Chris Pratt, anything could happen. After all, we did elect a celebrity as president, so why shouldn't we give a fictional FBI agent this job?