Who doesn't want to score a high fashion item at a fraction of the price? In a world of dupes, its always fantastic to find a similar look without the price tag, but who would have thought that we would be running to IKEA to pick up a lookalike from the latest Balenciaga collection? People were quick to compare the two bags… the only difference is that one of them costs 99 cents, and is meant for toting around anything and everything, and the other one costs $2,145 (and TBH with a price tag like that, I would be scared to put anything in it).
When IKEA first caught wind of the story, the brand was nothing but pleased, stating, ""We are deeply flattered that the Balenciaga tote bag resembles the IKEA iconic sustainable blue bag for 99 cents. Nothing beats the versatility of a great big blue bag!" Their statement is a far cry from ones that we've seen from other brands who have had their designs "ripped off" before; however, something tells me that IKEA never meant to make a fashion statement with their durable, reusable bag. 
The creative agency used by IKEA continued the joke with an ad that provides buyers with a comprehensive list of ways to identify an original FRAKTA bag, all in good fun but with a serious subtweet @ Balenciaga.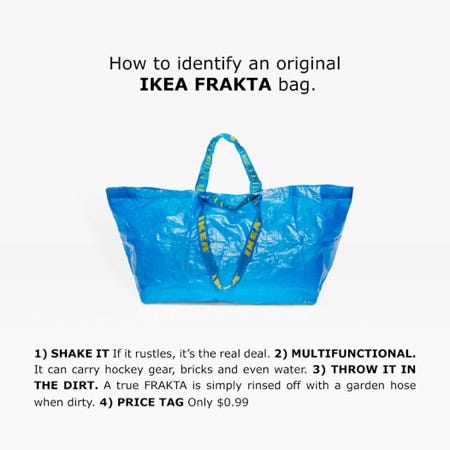 The bag is strong enough to carry your hockey equipment and is so low-maintenance, it can be cleaned with a gardening hose. While it may not have a designer label (or price tag) attached to it, I can't think of another bag that does so much at such a low price. TBH I can imagine the designers at Balenciaga just cringing at the thought of having smelly equipment in their bag, or someone taking a gardening hose to the vibrant leather of it.
Will you be picking up one of these "it" bags during your next furniture and Swedish meatballs field trip?