Angie Hamouie, current med school student in Houston, plans to celebrate the end of med school in the form of a "Graduwedding" in May, according to Cosmopolitan. Apparently, when you simply must up the party ante, you should combine two events in one!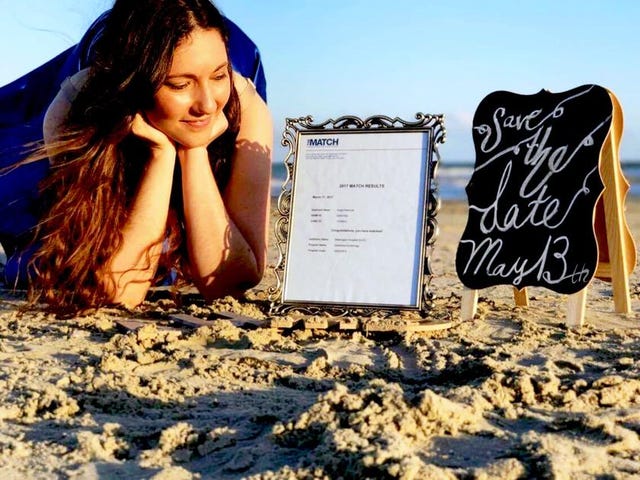 There are big plans in the works. "We will have a first dance and sit together at the front of the room. I also plan to feed it cake. After all the dancing, I'll toss a bouquet. But the person who catches it won't be next to get married, they'll be next to graduate!" Hamouie told Cosmo of the planned festivities. She even bought a wedding gown of sorts and made a website for the event (complete with an extensive wedding photoshoot collection)!
"As for the party, expect to dance your heart out, and when the venue closes, expect to keep on dancing to the after party," the event's website says. "There will be speeches, a delicious dinner, a traditional Graduwedding cake, and a specially designed Snapchat filter to savor the memories!"
In place of a registry of gifts, Hamouie has requested that wedding presents be in the form of donations to Developments in Literacy and Global Glimpse, two organizations devoted to the education and empowerment of children. Honestly, Hamouie sounds really great and I'd like to be friends with her.
After their nuptials, Hamouie and her degree are taking their talents to DC, where she'll start at her top-choice program at Georgetown University. Her specialty is Obstetrics & Gynecology.
We all know the horror stories of med school, so a mega celebration seems in order. Here's to Hamouie and her degree—may they have lifelong happiness!