Just over two weeks after it was reported that Fox News host Bill O'Reilly had been paying women to keep quiet on the subject of sexual harassment, New York Magazine is reporting that O'Reilly will not be returning to his popular show, The O'Reilly Factor.
On April 1, The New York Times published a damning report that O'Reilly had paid over $13 million in settlements to keep a total of five women from going public with their claims that he had behaved inappropriately or sexually harassed them. According to the report, the women who made complaints worked either for the network or for O'Reilly's show specifically, but 21st Century Fox, the parent company for Fox News, failed to take any concrete action. One of the accounts was over a decade old. However, once the Times released their report, advertisers began to flee from O'Reilly's show, taking with them valuable revenue. Interestingly, his viewership numbers actually rose in the days after the Times article. O'Reilly has denied any wrongdoing.
After the news broke, O'Reilly decided to take an extended vacation and was spotted shaking hands with the Pope at the Vatican. He was originally scheduled to return to his show on Monday, but according to a statement from Fox News, "After a thorough and careful review of the allegations, the Company and Bill O'Reilly have agreed that Bill O'Reilly will not be returning to the Fox News Channel." The decision was apparently reached after extensive consultation between Fox and outside counsel, who presumably encouraged the company to take faster action than they did when they dismissed Roger Ailes after similar complaints last summer.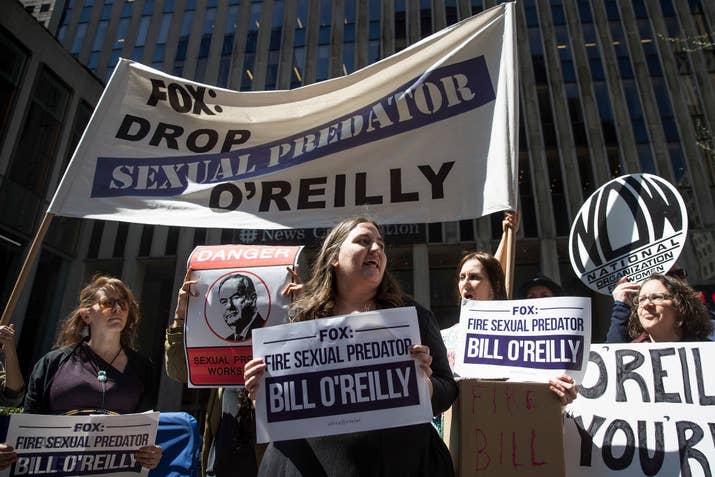 Questions still remain about O'Reilly's departure, namely whether or not he will return to his show to say goodbye to his loyal viewers. Negotiations are also apparently ongoing over how much money he will receive given that he only recently signed a $20 million multiyear contract. There is also the question of who will replace O'Reilly and what the financial hit to Fox News will be once their most popular host leaves the network. According to the Times, his show generated more than $446 million in advertising revenues between 2014 and 2016. For now, Tucker Carlson will take O'Reilly's timeslot.
For the victims of O'Reilly's harassment, this is a victory. "This is what happens when women speak our truth: we can slay dragons," attorney Lisa Bloom said in a statement. "I am very proud to have stood with my brave clients who stood up for themselves and all the silenced women."