Doing social justice work can extend way beyond going to protests and supporting causes that are important to you. If you're passionate about battling inequality and injustice in the world, you might want to consider pursuing social justice work or human rights as a career!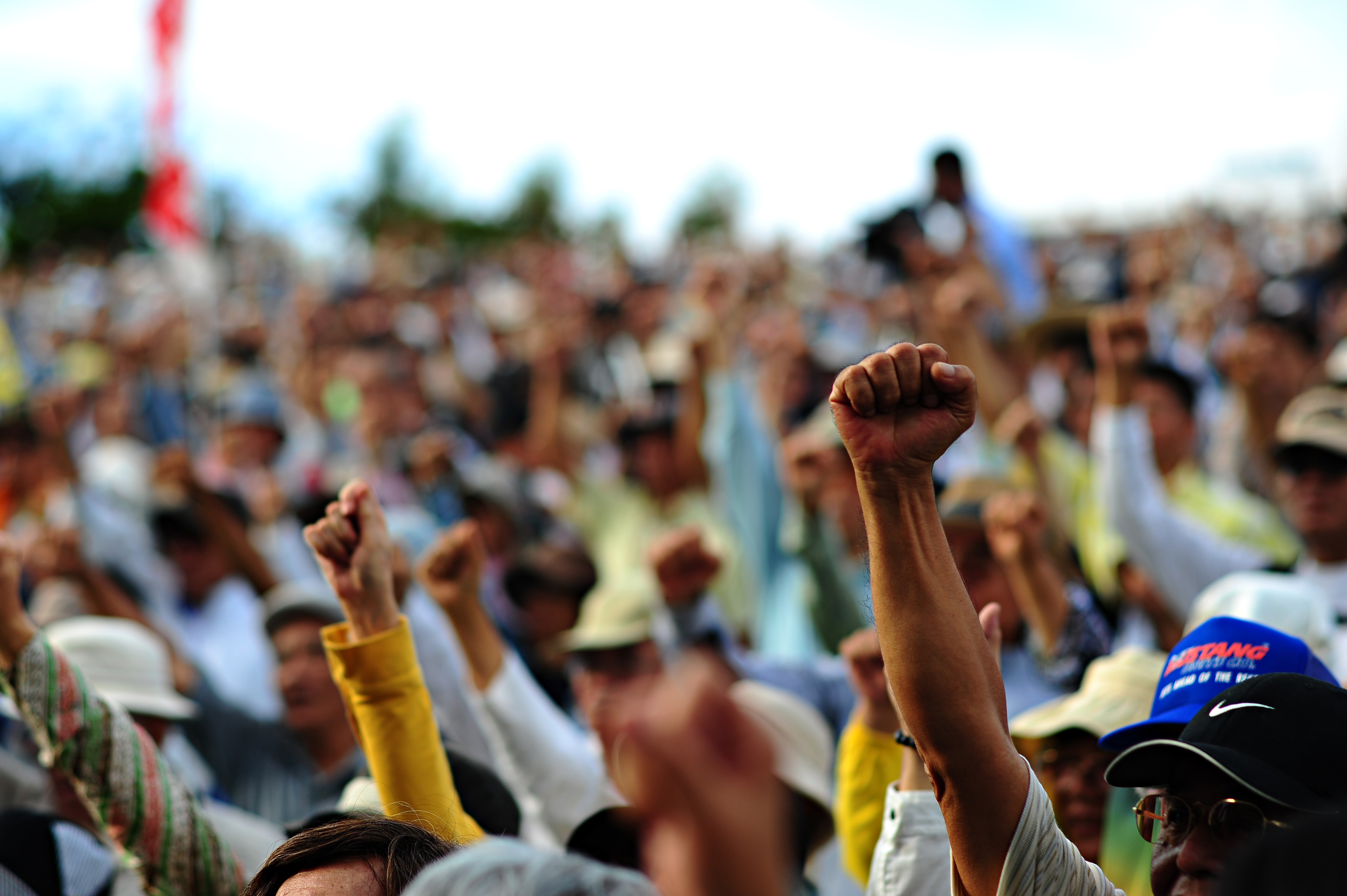 We spoke to a handful of social justice experts to get an idea of the work they do and the people who do their work, and did research on some places you might be less familiar with to give you an idea of some potential work in social justice you've never heard of before! Read on for some ideas of groups you might want to be involved with and what work you might be doing there.
1. Human Rights Campaign
The Human Rights Campaign is America's largest LGBTQ+ advocacy organization. HRC does a wide variety of work, from legislation and lobbying to organizing and educating in communities and among its network of supporters and constituents. HRC's particular scope and orientation distinguishes it from other organizations in the social justice landscape. "As the nation's largest LGBTQ organization, we have a reach that…allows us to be particularly effective in defending progress, pushing back against hate and moving equality forward," says Sarah McBride, National Press Secretary at HRC.
HRC also actively engages in collaborative efforts with other institutions and activist groups who share their desire for a more just world. "We are in spaces where we are with meeting routinely with organizational partners, listening and stepping up when necessary and helping them communicate our needs and the challenges we face to those same coalition partners," McBride says.
In conversation, activism and organizing, HRC recognizes that its efforts cannot be separated from those of other social justice groups. "When anyone, whether it's Donald Trump or state legislature, attacks one of us, they're attacking all of us," says McBride. "That's central to our work and, in recent times, [has become] more important than it was before."
Doing social justice work is inherently connected to privilege and identity politics, which can strengthen the work you're doing or an organization is doing. "The motivation that comes from the recognition of one's own privilege and the fact that there's always someone who has a more challenging and a more difficult time," McBride says. "Knowing that and feeling the responsibility to make sure that the privileges we've been afforded are no longer privileges, but are rights for every person."
2. Everyday Feminism
If you're studying journalism or interested in writing for and about social justice, Everyday Feminism is for you. "Everyday Feminism is an educational platform for personal and social liberation," according to their website, and they've been around since 2012.
By considering the real world and all that goes on within it, Everyday Feminism's pieces seek to give readers actionable ways to enact social justice in their everyday lives. "Our unique focus on helping people apply intersectional feminism and compassionate activism to their real everyday lives has deeply resonated with people around world," according to their website.
Alaina Leary, a second year graduate student at Emerson College who works at Everyday Feminism, feels that her privilege, openness and passion for social justice have all been essential drives for her work. "We all have privilege, even those of us who are marginalized in some way, and a hard lesson to learn is to stay in our lanes sometimes, and that we need to step back and think about how to do meaningful work that doesn't add to the problem," Leary says.
Having a conscious but active role in the work you're doing is really important in social justice and human rights work. Especially in today's tough political and social climate, I want the work I'm doing to reflect my beliefs and to help marginalized people, but I also don't want to "swoop in" as a savior--that's a huge reason for social justice movements taking over where charity sometimes fails," Leary says.
Everyday Feminism currently lists an open editor position (!!) and just recently filled an editorial associate opening. While no writing positions are available right now and they don't take freelance work, Everyday Feminism encourages interested writers to check their website periodically for openings. Get started on your drafts now!
3. Transgender Law Center (TLC)
TLC works to establish and protect laws for individuals who are transgender and deal with very particular legal discrimination. TLC "changes law, policy, and attitudes so that all people can live safely, authentically and free from discrimination regardless of their gender identity or expression," according to their website. In addition to legal and policy work, TLC engages in vital community organizing and storytelling in the name of trans activism.
Their programming page states that their efforts include addressing abuses of trans folks who are in prison, youth storytelling and alternative media and archiving practices so that trans folks may be able to "develop their own advocacy strategies in response to inequities, stigma and discrimination."
Job and internship opportunities at TLC are mostly legal-related, and if you're on the track for human rights or any kind of social justice-related law you should absolutely check this organization out. Keep in mind that TLC is centered in Oakland, California! There are also opportunities to volunteer and partake in correspondence with prisoners, work with attorneys and help create materials relating to legal reform!
4. Southern Poverty Law Center (SPLC)
SPLC has been doing activist work in the realm of civil rights injustices since 1971. Their mission is "to advocate on behalf of the most vulnerable members of our society," according to Lecia Brooks, Outreach Director at SPLC. "We started out doing solely racial justice work but now have expanded that to immigrant justice, LGBT rights, economic justice and the like." 
In doing work with special considerations for the lived experiences of people of color and people experiencing poverty, SPLC's work "is evidence of an unwavering resolve to promote and protect our nation's most cherished ideals by standing up for those who have no other champions," as is stated by their website.
SPLC does coalition work with other advocacy groups seeking to remedy the same injustices, but are distinct in their breadth and their particular abilities. "What distinguishes us is...the trifecta of legal, public education and hate and extremism [monitoring]," Brooks says. "Anyone needs to understand what a massive undertaking it is to work in the social justice field."
If these admirable efforts and goals sound like they're in line with your personal ethics, consider checking out SPLC's job listings. "Second and third-year law students can apply for summer internships that may lead into longer term fellowships," Brooks says. "There are some internships for journalism students...those who are studying education...and those who are interested in history, specifically the modern American Civil Rights Movement."
There are currently postings available if you're interested in legal work, communications, development, research and media. Brooks suggests getting in contact with someone at SPLC if you're really passionate, because not all open positions are advertised!
5. American Association of People with Disabilities (AAPD)
AAPD is a nonprofit legal advocacy group for differently-abled individuals. "AAPD is a convener, connector and catalyst for change, increasing the political and economic power of people with disabilities" according to an AAPD representative. 
Through policy advocacy as well as education work, AAPD works at multiple levels on the many different issues faced by people with disabilities. "AAPD brings together the diversity of the disability community to build trust and unity through open, honest conversations," the representative says. "By uniting the various groups and organizations that are a part of the disability community we can be a powerful force for change." This is crucial work towards building a world that sees, acknowledges and supports disability, rather than brushes it away.
You can learn more about the issues that are at stake and ways to take action by following AAPD on Facebook, Twitter and via their e-newsletter. "AAPD puts out alerts around the potential repeal of the Affordable Care Act, the potential financial restructuring of Medicaid, implementation of the Individuals with Disabilities Education Act (IDEA), Americans with Disabilities Act (ADA) notification bills and much more," the representative says.  
AAPD also offers summer internships and a special fellowship for individuals who self-identify as having disabilities, and there are other ways for interested folks to partake in their efforts as well. "Undergraduates and young people can support [AAPD efforts] by making calls to their Member of Congress," the representative says. "Disability doesn't discriminate...[and] disability rights are civil rights."
6. Independent consulting
There are even more opportunities for work! Tania Bernath, professional consultant and co-author of Becoming an International Humanitarian Aid Worker, has done humanitarian work for over twenty years. Her work ranges from research of post-conflict areas to developing advocacy strategies and she has worked with the United Nations, Médecins Sans Frontières and Amnesty International, to name a few.
Right now, Bernath is working on a project in Somalia for "disarmament, demobilization and reintegration [which] kicks in in a post-conflict situation where the war ends and the peace process starts," she says. Her day-to-day work involves gathering information about other post-conflict environments, talking to leaders and individuals in local communities to get a realistic grasp of the situation at hand and developing strategies for how to put these places on the path toward success.
In Bernath's work in particular, dealing with volatile environments and politics requires that one be very dynamic and flexible. "Things aren't perfect and there are a lot of variables, so things aren't going to work in a really systematic way," Bernath says. "To understand that and to have flexibility and adaptability...isn't something to get stressed out about, it's just part of the game."
What has been most important and motivating for Bernath is constantly asking herself how or why she is excited by what she is doing. "So much of this work is being really honest with yourself and really feeling it through," Bernath says. ""Don't get stuck on 'Oh my god I didn't get that internship!'...There's a thousand other paths."
Volunteer work and formal employment in efforts like these are invaluable in the fight for social justice. Hopefully you now have a better idea of where to put your knowledge, ability and privilege to work to help others and do the literal work of bettering the universe. We believe in you!