Monday marked the beginning of National Eating Disorder Awareness Week, and here at Her Campus, we're celebrating some of the most passionate and outspoken voices in the fashion industry. These women are not afraid to challenge traditional beauty standards, and are inspiring millions of others to love themselves for who they every single day.
1. Ashley Graham 
When she's not killing it on the swimsuit issue of Sports Illustrated, Ashley is spreading body positivity and encouraging fans to love their bodies, no matter what size or shape.
2. Emily Bador 
This 20-year-old British icon shared her body insecurities and called out the fashion industry on Instagram with the caption "I've always had a few body image issues, but since becoming a model, they've skyrocketed. At work, I've always felt like I didn't belong, I've always been short, and mixed race. We have to call on this system to change. We need diversity. All bodies, differently abled, shaped, coloured, sized, gendered and aged."
3. Madeline Stuart 
This NYFW model doesn't let her Down syndrome stop her from achieving her dreams. 2017 is looking bright for Madeline, who just launched her own fashion line, 21 Reasons Why—a nod to the extra chromosome that causes trisomy 21.
4. Chrissy Teigen 
Whatevs pic.twitter.com/D67Qtt12gv

— christine teigen (@chrissyteigen) January 19, 2017
Chrissy Teigen proved to millions of fans that yes, even celebrities have stretch marks! If only more people embraced their so-called "flaws."
5. Winnie Harlow 
After being bullied for her harmless skin condition called vitiligo, Winnie was forced to drop out and become homeschooled. Since then, she's grown to be a force to be reckoned with in the fashion world, surpassing a million Instagram followers and becoming the face of fashion label Desigual.
6. Rebekah Marine 
Nicknamed "The Bionic Model", Rebekah was born without her right arm. Facing any challenges with an infectious sense of humor, Rebekah doesn't let anything get in the way of reaching her goals. After walking two New York Fashion Weeks, she's paving the way for other paraplegics in the industry.
7. Marquita Pring 
Marquita is pushing for more body diversity in fashion lines, saying, "The reality is starting to finally sink in for [the fashion industry] and they're realizing that there's so much more money to be made, and these women are demanding it. If you're size 6, 8, 10—those women need to see aspirational images and things that they can be inspired by..."
8. Megan Jayne Crabbe
Megan, aka @bodyposipanda on Instagram, is an eating disorder survivor and body positivity advocate. She captions every post with an inspirational message colored by her personal experience, and will always leave you feeling happy and confident.
9. Justine Clarke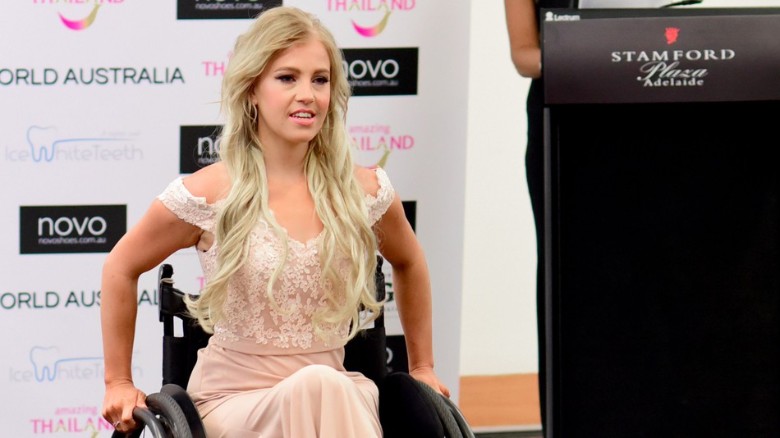 Justine is the first Miss World contestant to compete in a wheelchair, and she's fighting to make disability visible everywhere, starting with beauty pageants. She is a world-class boss.
If you or someone you know is struggling with disordered eating, you can find information and help on the NEDA website or by calling 1 (800) 931-2237.