I don't follow many celebrities on social media (mostly because I think they post way too much and I don't like being jealous of their lives), but there's one that I do: Chrissy Teigen. If you've ever seen any of her snapchats, then you know that she is basically #lifegoals and I want to be like her in every single way. After seeing her stun at the Oscars last night, this wish was confirmed: 
If that's not goals, then I don't know what goals are. Also, how cute are Chrissy and hubby John Legend?? I mean, come on already, give us plain mortals a break!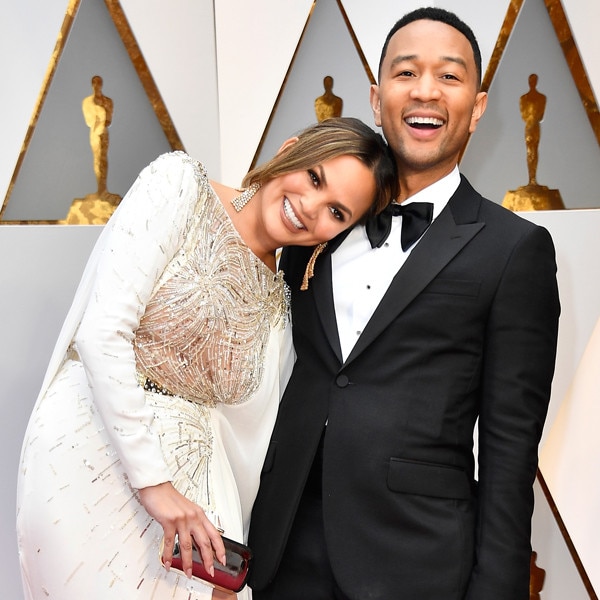 One of the reasons Chrissy looked so fly was thanks to her hairstylist, Jen Atkin, a celebrity stylist and founder of OUAI Haircare. With just a few steps and a couple of products, normal people like me can be transformed into a goddess just like Chrissy.
Get this effortlessly sexy look in just a few steps:
1. Prep damp hair with a wave spray through the ends and volumizing spray at the roots. Jen recommends the OUAI Wave Spray ($26), but the look can easily be created with brands you can find in your local drugstore, such as L'Oréal Tousle Waves Spray ($4.99).
2. Use a round brush to blow out hair, focusing the blow dryer around the face to create even more volume.
3. Spray OUAI Texturizing Hair Spray ($26) or Garnier Texture Tease Spray ($4.49) from roots to ends for added texture.
4. Lightly curl the ends of your hair for a soft, romantic look.
5. Twist hair into a chignon at the nape of your neck and use bobby pins to secure in place, letting pieces fall around your face (that's where the effortless-looking part comes in!!)
6. Finish with your favorite hairspray!
And voilà, sexy goddess model hair. So, I realize that I may never be as perfect as Chrissy IRL, but I can have the same hair as her, so I'll take it.