If one thing is for sure, we will miss Joe Biden as our vice president. Luckily for college students, Uncle Joe is making the move from White House second-in-command to college professor.
Following months of speculation, University of Pennsylvania President Amy Gutmann announced Tuesday that Vice President Joseph Biden was named the Benjamin Franklin Presidential Practice Professor at UPenn.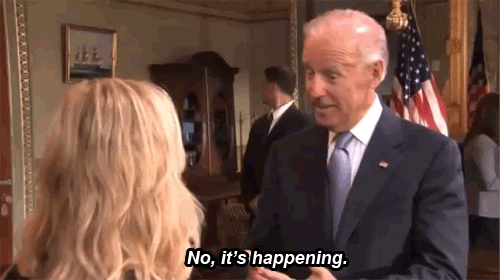 According to a statement released by the University, Biden will head the newly founded Penn Biden Center for Diplomacy and Global Engagement in Washington, D.C. The Center, which is set to open later in 2017, will focus on diplomacy, foreign policy and national security.
"At Penn, I look forward to building on the work that has been a central pillar of my career in public office: promoting and protecting the post-WWII international order that keeps the United States safe and strong," said Vice President Biden in the statement.
Biden outed his plans to move onto UPenn last month during Biden's farewell ceremony, after he was surprised with the Presidential Medal of Freedom (if you haven't watched this tear-jerking video, you really should).
"Mr. President, look at my new boss over there," Biden said, pointing to Gutmann.
While Biden himself never attended UPenn, his daughter Ashely Biden and his late son Beau Biden, along with his granddaughter Naomi, all graduated from the school.
Biden's post-VP plans won't be limited to the Ivy League university. According to the Daily Pennsylvanian, Biden also plans to serve as the "founding chair" of the new Biden Institute at his alma mater, the University of Delaware. The Biden Institute will be focused on developing policy solutions to a range of problems facing the country, including economic reform, women's rights and environmental issues.
However, students shouldn't expect to see Biden as their professor at an 8 a.m. lecture anytime soon.
"He will not be teaching classes," Biden spokesperson Kate Bedingfield said in an interview with the Daily Pennsylvanian.
 "Although he is not scheduled to teach a formal course at this time, we are certain that there will be opportunities for our students to benefit from his presence at Penn," said Annenberg School for Communication Dean Delli Carpini in a statement.