As Valentine's Day approaches, whether you've got a romantic date planned or a girl's night scheduled, you should treat yourself with a manicure. Nothing says Valentine's Day like lots of hearts and pink. Plus, we've got inspiration for the nail art pros and the beginners, too!
1. L-o-v-e
This design from My Cherry Nails is simple and sweet. Valentine's Day is all about love, so why not spell it out? You can even get away with using just a toothpick for the writing.
2. Balloon Hearts
Everyone loves balloons for special occasions, including Valentine's Day! Nail Treasures reminds us with this adorable design. It will definitely add some whimsy to whatever you wear V-Day weekend!
3. Love Letters
Send yourself some love letters this February with this minimalist design from Trashed and Lacquered. Red can act as your pop of color, or you can mix it up with lots of different shades!
4. Polka Dot Love
Luster Lacquer gives us this cute idea to play up the polka dots with a design that reminds us of cartoons and pop art! And who doesn't love that combination? It seems simple enough—use either fancy nail art tools or a Q-tip.
5. Accent Hearts
Kimiko7878 uses an accent nail to make some simple hearts really pop, which is a great way to go if you're still getting the hang of nail art. It looks sophisticated, but there's way less stress involved!
6. Tatted Up Valentine
We love Nail Storming's design so much that it totally makes us want to get a V-Day tattoo…but we'll settle for the nail art. If you have the right skinny brush or toothpick, you can nail this look!
7. All That Glitters is Gold
If you're a girl who loves all things glitter, you definitely need to try this design out. Ruth's Nail Art provides great inspo for celebrating this day of love with lots of shimmer! (Just be careful scrubbing the polish off when the time comes—removing glitter polish could damage your nails.)
8. Minimalist Sweet Hearts
Yes Missy! gives us a cute twist on our favorite Valentine's Day treats from our elementary school days (and maybe today, too). You can change up the colors, giving yourself a fun play on a French manicure.
9. Hearts for Beginners
If you're new to nail art, this is a great place to start! Add a bit of flair to some nude nails with the help of New Nail Designs and some toothpicks.
10. Triple Word Score!
We're obsessed with this nerdy Valentine's nail design from One Nail to Rule Them All! It may take a steady hand or some nail stickers, but you can totally recreate this look.
11. Velvet Hearts
Divine Caroline has changed the nail scene with this velvet nail art. The secret ingredient is actually flocking powder; it gives you a manicure that's soft and sweet!
12. Aqua Love
Dressed Up Nails has got you covered if you want to create some wild, untraditional nail art for Valentine's Day. We love the idea of aqua nails to stand out against all of the reds and pinks around you in February.
13. Anti-Valentine
Not everyone agrees with what V-Day stands for. If that's your opinion, take a page out of Petite Marine's book and sport some sassy hearts on your nails.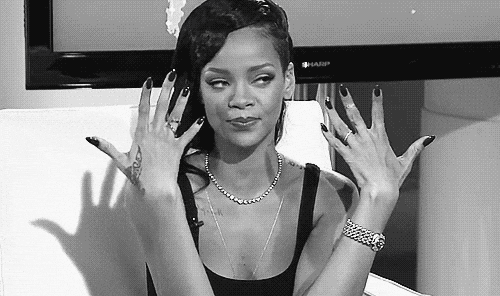 Collegiettes, try out some nail art and show us the results! We'd love to see which you rocked and how you made the designs your own.