Lady Gaga's look changes so frequently that it's hard to keep up with her. One day she's sporting prosthetic horns, and the next she's channeling mother nature with a bare-faced, natural vibe. In honor of her amazing Super Bowl performance yesterday, we rounded up her 13 best beauty looks (trust me, it was very hard to choose):
1. Red, (White) and Blue 
Follow Gaga's lead, and take a daring hair plunge with a temporary dye job ($13.99, Manic Panic).
2. '70s Chic 
Not all of Gaga's looks are outrageous! Channel her softer side by using St. Ives Naturally Clear Blemish and Blackhead Control Scrub ($3.34, Amazon) to create a fresh, dewy face.
 3. Biker Girl 
Create an edgy eyeliner look that won't smudge all day, with the Kat Von D Tattoo Liner ($20, Sephora). Use your liner in unexpected places (such as under your eyes!) for a fresh twist on your go-to cat eye. 
4. Born This Way 
Next time someone tells you that you're wearing too much makeup, or that your beauty look is "strange," reference this photo. Gaga used prosthetics to achieve this sci-fi look, and ditching traditional beauty standards looks fabulous on her. So hey—if you're worried about what people will say about you if you step out in a daring lip color, remember that Gaga publically rocked horns, and do you.
5. Living Doll 
For lashes that go on for days, try these Feline Lashes ($5, House of Lashes). To add an extra va-va-voom to these doll eyes, use a white pencil, such as this Jumbo Eye Pencil ($4.50, NYX) in your waterline.
6. Lightning Bolt 
Step up your eyeshadow game by sweeping a solid, statement color across your entire lid. Use this bright pink shadow ($6, Makeup Geek) to get the look.
7. Plum & Posh 
This fantastic #BossBitch look wouldn't be complete without a glowing highlight. Try this golden powder highlighter ($24, Jouer) for the best results. 
8. Mermaid Vibes 
Grey hair is a trend that is still thriving. Make sure that you read up on the details of the process, to ensure that you hair stays healthy during this intensive undertaking.
9. Mother Nature 
The best way to get a flawless finish is to start with primer. The Urban Decay Optical Illusion Complextion Primer ($34, Sephora) blurs your skin (and any of its problem areas) to create an airbrushed look IRL.
10. ArtPop Smudge 
Avoid waking up to this in the morning, and always remember to take your makeup off before you go to bed! Not only will your skin thank you the next day for avoiding potential breakouts, but you will also be grateful in the long run, as sleeping in makeup can cause you to age faster. Use these makeup wipes ($5.99, ULTA) to take the day off in seconds.
 11. Fishnet Mask 
Hiding behind this fishnet mask is a killer red lip; however you won't want to hide this beautiful red liquid lipstick ($18, Jeffree Star Cosmetics) behind anything. 
12. Mad Hatter 
Use this peachy lip gloss ($19, Too Faced) to add a bit of shine to a classic, simple look.
13. Super Bowl 2017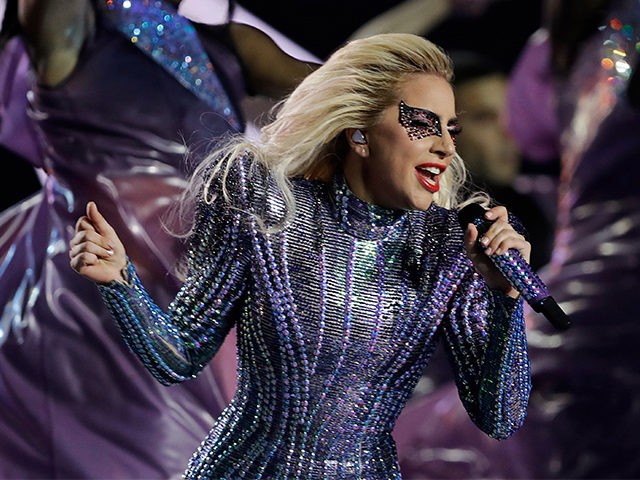 Not only did Gaga rock in her performance at Super Bowl LI, but she brought the house down with this avant-guarde beauty look!