Ah, The Bachelor. The one show that can drive me, an alleged feminist, to scream, "No, YOU'RE a dumb bitch!!!" at the TV (because, Corinne). Also the one show that could get me to put down Twitter for a couple of hours and focus on something other than the potential demise of the American experiment. After the roller coaster ride of Trump's first week, I tried to push aside my fears and enjoy the dulcet tones of grown women putting each other down to win the heart of certifiable beard hunk Nick Viall. But sadly, it wasn't enough. Below, all the times good ol' Bach just couldn't distract me from all we stand to lose after just a few days of this new administration.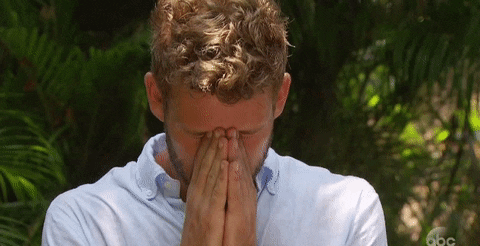 1. When Corinne called Taylor "gross and nasty"...
I almost forgot that Trump has signed an executive order barring immigrants and refugees from seven Muslim majority countries, but claims it's not a "Muslim ban"!
2. When Corinne said Taylor "thinks she's like, entitled to whatever she thinks she's entitled to"...
I almost forgot that Trump has made Steve Bannon, former editor of a site that attracts white supremacists and conspiracy theorists, a permanent member of the National Security Council, a move that a former national security adviser called "stone cold crazy"!
3. When Nick described the women on The Bachelor as "mature"...
I almost forgot that Trump told his press secretary to lie to the American people because he was upset over the size of his inauguration crowd!
4. When you could see everybody's breath at the rose ceremony, because oh yeah they filmed this in OCTOBER...
I almost forgot that back in October we still thought we were going to get the first woman president! Also, why were some of these women wearing sleveless tops in visible-breath weather?
5. When Sarah said, "Love is the one thing I want in my life, and it's the one thing I don't know how to get" while holding back sobs...
I almost forgot that we elected a president who has been accused of sexual assault by at least 20 women!
6. When the women watched Rachel on her perfect date from their hotel window and pined sadly...
I almost forgot that Trump has refused to fully divest from his business interests because his two sons can run the business "in a very professional manner"!
7. When Raven said, "I did not sign up to be part of the ghostbusters"...
I almost forgot that Trump wants to launch an investigation into 3 to 5 million fraudulent votes that don't exist!
8. When Nick worried that the ghost of a little girl would take revenge on him because he didn't pay enough attention to her on his haunted house date...
I almost forgot that Trump has reinstated a rule that will make it harder for vulnerable women worldwide to get the family planning care they need!
9. When Danielle M. tried to rekindle her early connection with Nick...
I really did forget about the election for a few minutes because I realized Danielle M.'s voice sounds like Marcel the Shell!
10. When Corinne said Taylor was a bug who belonged with all the other bugs...
I almost forgot that Trump made a statement on International Holocaust Remembrance Day that failed to specifically mention Jews!
11. When Corinne asked how to get a Voodoo doll that would curse a specific person...
I almost forgot that Trump just fired the acting attorney general because she refused to defend an immigration order she believed to be illegal!
Wow, that was even more depressing than I thought it would be! Oh well, only one more week until we can try to distract ourselves again...