In honor of her first Oscar nomination for Best Actress in a Leading Role, let me take you on a stroll down memory lane to look at some of Emma Stone's best and most memorable outfits. Spoiler alert: It was a daunting task to narrow down.
1. Thakoon Gown, 2014 Met Gala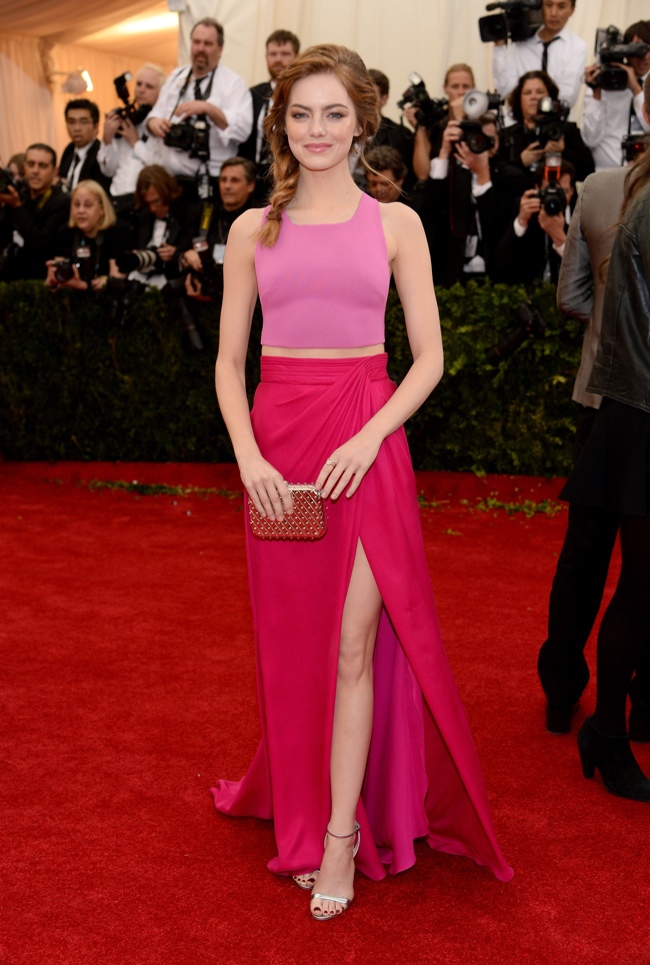 The pink color blocking was a definite risk, but one that paid off marvelously—and don't even mention that killer messy braid.
2. Cozy Winter Plaid 
Emma looked comfortably chic on a date with Andrew Garfield.
3. Scarlet Valentino Dress 
Emma proves that whoever said redheads couldn't wear red was v wrong.
4. The Edgy LBD on Jimmy Fallon
She looked so fly during her lip-sync battle with Late Night host Jimmy Fallon. If you haven't seen it, drop everything and watch it right now—we won't judge. 
5. Minimalist Menswear 
Taking a break from the glam, Emma looks understated chic in a double-breasted jacket and button-down. 
6. Floral Gothic 
 Emma slays in this high-waisted short/flowy floral top combo. Forget the bag and sunglasses, that smug grin is the only accessory she needs.  
7. The La La Land Dress
La La Land is full of amazing costuming, but this one is truly stunning. Redheads everywhere rejoice—yellow is our color.
Congratulations, Emma!