Kellyanne Conway, counselor to President Donald Trump, has caught the attention of the internet today for her choice of inauguration outfit. Conway's coat, which can be bought from Gucci for $3,600, is quite a statement piece.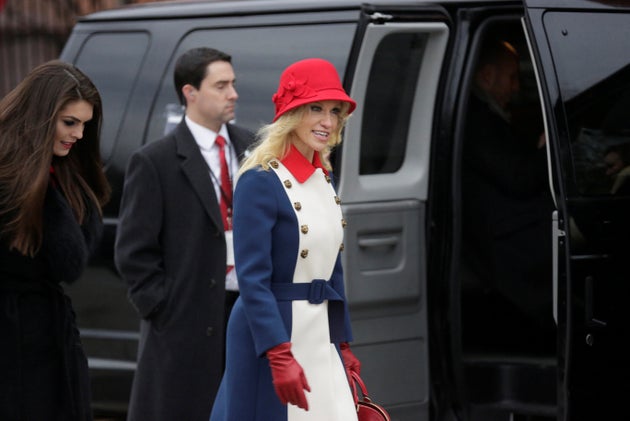 NJ.com shares that Conway referred to the coat as "Trump revolutionary wear." The patriotic colors and "feline metal head details" made sure Conway would not go unnoticed during inauguration day today, which coincides with her 50th birthday. Not sure what buttons shaped like cat heads have to do with the alleged Trump revolution, but sure. The funniest part of all is that the coat was apparently "inspired by the city of London," England—you know, that place the U.S. desperately wanted to get away from a few centuries ago. If you'd like a closer look, here's a more detailed view of the Gucci coat.
Obviously to wear a coat like this is going to gain some attention, and Twitter users wasted no time creating memes of Conway in her inauguration outfit. And there was no shortage of comparisons to make, as you can see from the Tweets below.
Kellyanne Conway must be a big fan of Hamilton!!! pic.twitter.com/wuiYqcFRu3

— sam swift (@samkswift) January 20, 2017
Why does Kellyanne Conway look like the old New England Patriots logo? pic.twitter.com/6BuTk1xnj3

— College Hockey (@USCollegeHockey) January 20, 2017
Kellyanne Conway dressed as the era Trump wants to take America back to. #InaugurationDaypic.twitter.com/Vrmc1Bq3Nz

— The Daily Show (@TheDailyShow) January 20, 2017
Who wore it better: Kellyanne Conway or Paddington Bear? pic.twitter.com/CP2M6fzLyD

— Michael Hopper (@mhopp7) January 20, 2017
BuzzFeed looked into the outfit choice, asking whether Conway purchased the coat from the Gucci store in Trump Tower. The store had no comment on the matter.