If you were worried that the president-elect won't look to represent you as a person, you might be right. Trump's Cabinet is the least diverse since 1981, and for the first time since 1988, there will have been no Latinos appointed to a Cabinet position, The Washington Post reports.
Reagan was the first president to appoint a Latino to his Cabinet, starting with Lauro Cavazos as Education Secretary in 1988. Ever since, every president has appointed at least one Latino/a to a Cabinet position in the last three decades. But then along came Trump. In his first round of picks, there has been no Latino nominated or even mentioned to the Cabinet. Exit polls showed Trump getting 29 percent of the Latino vote (although this number is disputed), and this move has been largely criticized by many Latino leaders who believe this is a blatant shut-out from the administration. This is not the first time Trump has angered the Latino community—remember that time he asserted that Mexicans were rapists and criminals on the campaign trail? Despite this, Trump's incoming press secretary, Sean Spicer, maintains this is just the initial round of picks. "I think you're going to see a very, very strong presence of the Hispanic community in his administration," Spicer told the Post.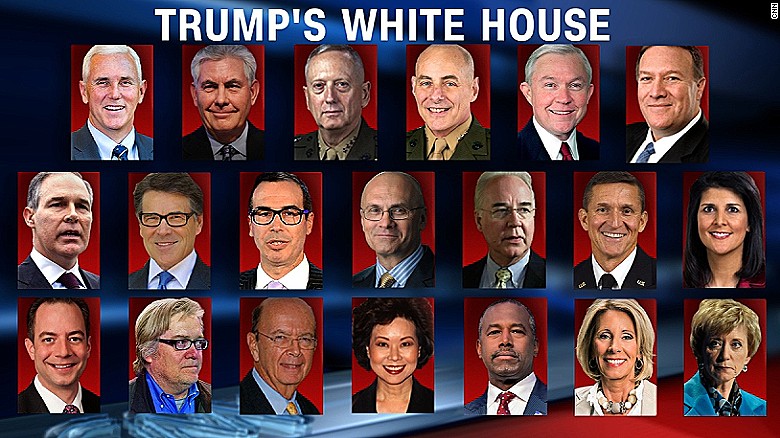 Overall, the president-elect's cabinet clocks in as the most majority white and male since Reagan's. According to The New York Times, if this first wave is confirmed, there will only be five positions of 21 held by women and people of color, with only two non-white women (if you count Nikki Haley, who has self-identified as white in the past despite having two Indian parents). In addition, none of the minority picks are in the line of succession for Trump. For comparison, President Obama filled 14 Cabinet positions of his first 20 picks with people of color and women.
Believe it or not, this is exactly on brand for Trump, being that his base is majority white and male, according to Teen Vogue. While he's the most unfavorable of all recent incoming presidents, his support is mostly coming from white and male voters, according to a poll from The Washington Post-ABC News, with 50 percent of white people viewing him favorably and male voters viewing him favorably at 45 percent. Non-white people view him as unfavorable at a rate of 73 percent, with Hispanics viewing him as unfavorable at a rate of 71 percent. Trump, forever in his bubble, maintains this poll was rigged, just like the ones in the election. 
Either way, this trend of ignoring diversity seems to be dangerous—and going forward, it's likely to spell out P-R-O-B-L-E-M-A-S para todo el mundo.