If there's one thing we don't usually see in the Bachelor mansion, it's people eating. We see all the drama, gossip, workouts and free-flowing alcohol, but where in this world is the food at? Even during all those romantic, candlelit dinners, the contestants pretty much never touch their plates.
Finally the answer to all of our questions is here. Several former Bachelor contestants gave Elle the inside scoop about the food situation at the mansion.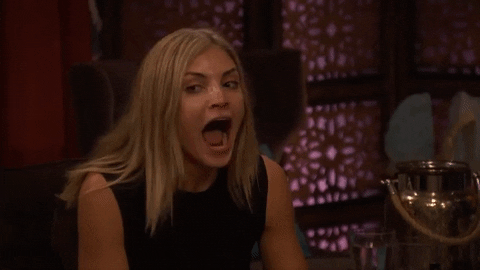 The fridge is pretty much what dreams are made of—jam-packed with TONS of food. Lauren Bushnell, who's engaged to former Bachelor Ben Higgins, told Elle that it is "so stocked full that sometimes it's even hard to see what's in the fridge, so you really have to do some digging." According to Refinery29, there was even a grocery wish list for contestants to request anything they wanted, even makeup. Sounds pretty sweet, right?
Although Lauren and Olivia Caridi claimed Oreos were the go-to snack, there definitely were some cravings left unsatisfied (in other words, no In-N-Out). "You had to give up those cravings…I know there were a couple times when I was craving an In-N-Out burger," Lauren admitted. "It was so tempting cause we're in California, so In-N-Out's maybe like 10 minutes away, and you just kind of had to bite the bullet and go raid the snack pantry [instead]."
And for those wondering why no one ever eats on dates, we've got an answer for that, too. According to Elle, there isn't a rule that you can't eat, but it's just advised not to because of the chewing sounds and the apparently unflattering way it looks. "You're nervous, you're talking — it's like a first date, and you have all these cameras around you, so the last thing you want to do is be stuffing your face with food," said Lauren. 
"I think I may be the only girl in Bachelor history to eat on a date, but it's proof that you can if you want," said Ashley Iaconetti, who was on both The Bachelor and Bachelor in Paradise. 
But as far as alcohol goes, it was definitely prioritized over food. "I'd say over food, the alcohol was the priority, as far as making sure it was always available to anyone who needed it," said Olivia, also a contestant on Ben's season. NOT that they were ever forced to drink, but it was definitely made available. 
Well there you have it, another Bachelor mystery solved.