Choosing what to wear on your husband's inauguration day must be pretty hard. Not only will millions of Americans be watching, but it will also be the first outfit Melania will wear as the First Lady of the United States. I can only imagine the amount of pressure that the usually well-coiffed Melania Trump is under in the days leading up to her husband, President-Elect Donald Trump, taking the presidential oath.
To add more pressure, the future FLOTUS doesn't have that many options when choosing what she should wear for the big day. Many prominent designers, such as Marc Jacobs and Diane Von Furstenberg, have come forward over the past few months to publicly announce that they will not be dressing Trump. Jacobs backed his reasoning stating "I have no interest whatsoever in dressing Melania Trump. I didn't see [Sophie Theallet's] letter. Personally, I'd rather put my energy into helping out those who will be hurt by [Donald] Trump and his supporters."
While other big names in the fashion industry chose political sides and alliances, designer Cynthia Rowley stepped forward to provide a neutral ground. "In the midst of this heated debate, the question actually seems somewhat irrelevant," Rowley said. "She can simply purchase whatever she wants, so how can we control it? Just because she's shown wearing a designer does not mean that designer is endorsing her, her husband or any of their beliefs. Checking someone's ethical beliefs before they're allowed to purchase, sets up an exclusionary dynamic that feeds into the exact mentality that is preventing us from moving forward in a positive direction. Some people say fashion and politics should never mix, but when given the choice, I think you should address and dress your conscience." 
In the midst of the drama, WWD reports that Melania Trump will wear Ralph Lauren to the inauguration. While Lauren himself is an outspoken Hillary Clinton supporter, dressing the other candidate on numerous occasions, he has been linked to the Trump family, as Melania wore a white jumpsuit from the brand on election night.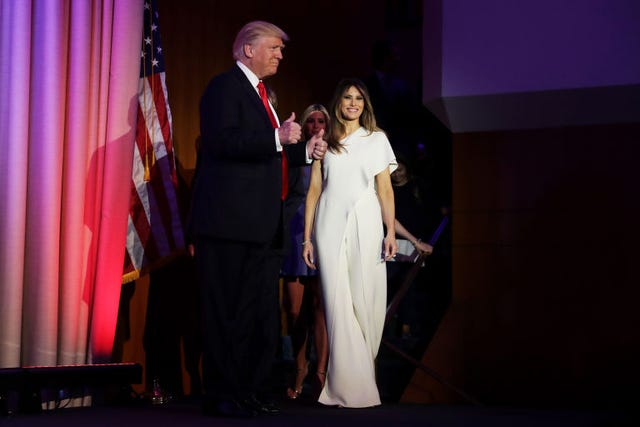 It has not been confirmed that the custom-made gown that the designer is creating for Melania is necessarily for the inauguration. The Trumps will be attending many high-profile events over the next week, including a dinner hosted for 1,500 people. Regardless of when the dress will be worn, it can be certain that Lauren will be thrust into every American's radar, from the politically minded to the fashion fanatics.