Back in November, an anti-Trump protest in D.C. became the target of Twitter and media outrage after a picture was tweeted out of one protester holding a "Rape Melania" sign. Some people saw it as a confirmation that the political Left was not so tolerant after all. Others saw the sign as proof that anti-Trumpers were hypocrites whose objections to the president-elect were now meaningless. The image was clear: anti-Trump protesters looked bad.
DC Trump Protestor "Rape Melania"pic.twitter.com/ZFmjbEiOHl

— Beck (@thereal_beck) November 13, 2016
Liberals think Trump is bad for women so they respond by going in front of Trump tower and calling for Melania's rape. #MakesSense

— Young Conservatives (@YoungCons) November 13, 2016
Rape Melania is trending.

You know, because liberals love women and immigrants so much.

— Leah the Boss (@LeahRBoss) November 13, 2016
However, it may have been a Trump supporter standing in the crowd holding the very same "Rape Melania" sign. BuzzFeed News reported on Wednesday that, according to their sources, it was actually Jack Posobiec, one of the organizers of the DeploraBall inauguration party and a Trump supporter, who held the disturbing sign in the crowd as a part of a staged smear campaign by the alternative Right.
Although Posobiec denied his involvement in a phone interview with BuzzFeed, they received some damning evidence against the pro-Trumper from an anonymous source, who happened to collaborate with Posobiec in his scheme. BuzzFeed News also confirmed that the screenshots they viewed were indeed sent from Posobiec's telephone number.
One screenshot shows Posobiec admitting to starting an "assassinate Trump" chant at an anti-Trump protest. Later that night, he posted a video to Twitter of a protester joining in, yelling "assassinate that nigga," in order to discredit the protests. 

Two more screenshots leaked by Posobiec's collaborator confirmed that Posobiec brainstormed "Rape Melania," and "infiltrated" the protest with "bad signs" to "discredit them."
Posobiec later allegedly replied "Woah!" after receiving news that "Rape Melania" was the #3 Trending Topic on Twitter.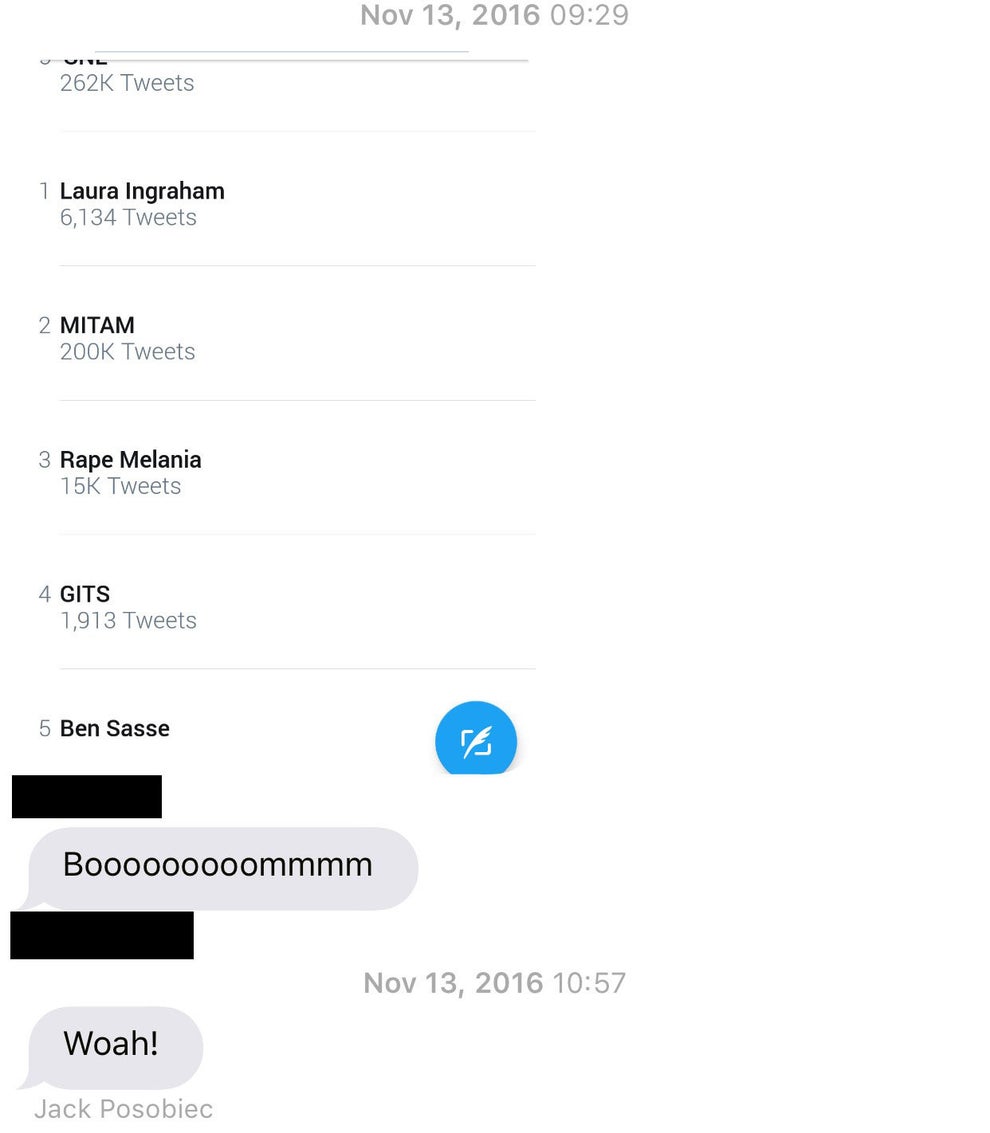 This isn't the first time someone pointed out it may have been a Trump supporter who infiltrated the anti-Trump protest with a "deplorable sign."
Just days after the "Rape Melania" picture leaked, Dana Fikes, a demonstrator present at the protest, told The Washington Post that she was suspicious of the sign holder's motives.
"I noticed this sign to the right of where we were standing," said Fikes to the Post. "He was holding the sign facing away from the crowd and toward his friend, who had a camera. As soon as nearby protesters saw his sign, I saw at least two people go over and talk to him. He rolled up his sign, and he and his friend left."
The Trump supporter who posted the original "Rape Melania" photos on Twitter, Alan Beck, uploaded a YouTube video during the protest of himself and Posobiec discussing the threatening sign, parked nearby. The 22-minute video was titled, "Anti-Trump Protester Created 'R4PE MELANIA!' Sign and The Rest of the Protesters Do Nothing." Posobiec was wearing a dark-gray hooded sweatshirt—one that's eerily similar to the sweatshirt that the "Rape Melania" sign holder sported in Beck's picture.
"Jack's here. He was in the area, and I told him to stop by just to check this out with me," Beck said in the video. "The guy had left by the time Jack got here."