The limelight has proven to be harsh on romance in the celebrity world. We've seen the best of celebrity couples fall in the year 2016—may you rest in peace Brangelina. But in the midst of these relationship ruins, there is a spark.
Join us as we swoon over the times Blake Lively and Ryan Reynolds let their sparks of love fly in 2016:
1. When Ryan was the inspiration for Blake to take the solo gig in the film The Shallows—the very film that inspired us to eat a whole bucket of buttery popcorn knowing that our bodies would never compare to Lively's (POST BABY) bod.
2. When Reynolds revealed that even on the couple's first date ~fireworks flew~ despite the fact that it was a double date and Blake and Ryan were not a respective pair—hope it wasn't too awk for their anonymous dates!
3. When the Deadpool star received his MTV award for Best Comedic Performance and chose the couple's sex life as the topic for his equally comedic acceptance speech—and we didn't even cringe!
4. When Blake attended her hubby's surprise screening of Deadpool for the fans—clearly sans VIP seating—that's love if we've ever seen it.
5. Don't fret—we watched as Blake saw to it she received the VIP treatment at her second screening.
6. When Blake told Marie Claire that she liked Ryan as much as she loved him—and then a single flood of tears streamed from our faces. #bestfriendgoals
7. When even Blake knew the Lively-Reynolds clan was transitioning from #couplegoals to #familygoals and jokingly promoted the couple's "breeding" website.
"She's the most fun, funny human being I've ever been around in my life."@blakelively on her daughter. https://t.co/wPTQc68fl2

— TODAY (@TODAYshow) June 20, 2016
8. When the couple returned to the restaurant where they fell in love to celebrate Ryan's birthday—that was when we all realized fairytales do exist.
9. When even we could read that an undying love exists between the lines of Reynolds' dark Twitter humor.
Actual footage from the first date with my wife. Tried to surprise her and totally forgot I was a fucking shark. pic.twitter.com/7AxuauYH2e

— Ryan Reynolds (@VancityReynolds) June 24, 2016
10. When they celebrated their child's birthday at the land where dreams are made of—Hey Mickey! It's our turn next.
11. Honestly ladies, get you a man who looks at you the way Ryan looks at Blake.
12. Come on—two beautiful babies later (are we at all surprised) and we can still feel the heat.
13. When Lively herself imparted some words of wisdom—revealing the secret to her happiness is the friendship she shares with Ryan—we won't tell her it's the secret to ours too.
14. Rounding out our list—because we would never wish unlucky number 13 on our fav celeb duo—are a few ~candid~ shots of Ryan and Blake at Taylor Swift's Fourth of July party this year: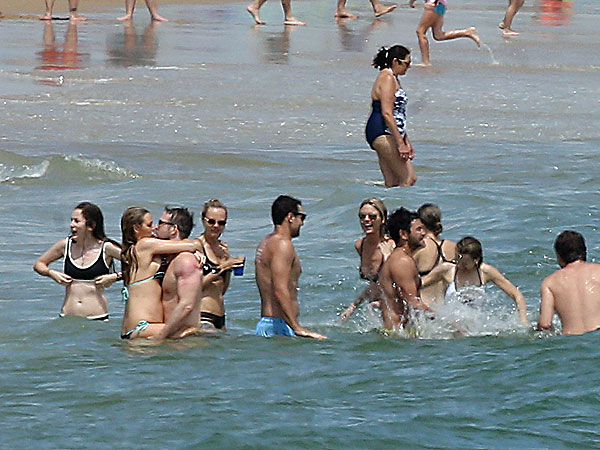 Looks like true love does exist after all.