Breakups are the absolute worst in real life, but it's almost more tragic to watch our favorite on-screen TV couples break up. It's so easy to fall in love with a couple after watching their love grow over the course of several seasons, which leaves us completely crushed whenever they face troubles that cause them to end their relationships. Sometimes it seems as though the writers must hate us because they separate some of our favorite couples, but it just makes us want to watch the next seasons to see if they find love elsewhere or get back together.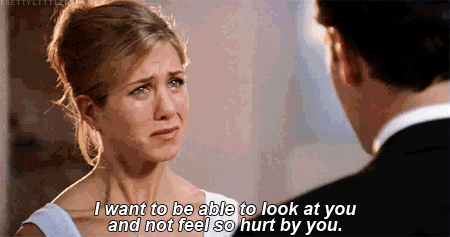 There were far too many tear-jerking breakup moments on different series aired in 2016, but these are six we just can't get over:
1. Alex and Jo, Grey's Anatomy
Grey's Anatomy is full of insanely attractive relationships between successful surgeons, but we were hit with a massive breakup we wish we didn't have to see. Alex and Jo seemed to be the perfect team, and we were rooting for Jo to finally accept Alex's marriage proposal. Instead of walking down the aisle, Alex is now facing criminal charges for attacking Deluca after walking in at the wrong time and taking the situation between him and Jo totally out of context. We're hoping the two can rekindle their love in the next season, but only if Alex can avoid being sent to prison. Fingers crossed!
2. Rory and Logan, Gilmore Girls Revival
We waited all year for the Gilmore Girls Revival (actually, we've been waiting 10 years, but who's counting?), and it did not disappoint. We always wondered if Rory and Logan would get back together, but we weren't expecting them to only be together as an overseas hookup. Even though we weren't complaining to see Logan without a shirt on after their final hookup, it broke our hearts to see their final goodbyes. It's even harder to get a grasp on their final breakup after Rory's final words, especially if their relationship is doomed to follow the same tragic path as Lorelai and Christopher's. At least we have the hope of Rory getting back together with Jess, as Lorelai finally found love with Luke. 
3. Spencer and Toby, Pretty Little Liars
In the last season of Pretty Little Liars, we got a glimpse of what the girls' lives were like after 10 years of being away from Rosewood. In typical Pretty Little Liars fashion, they were surrounded by constant drama caused by the ever-present A. Despite being at the edge of our seats throughout the entire season, we couldn't help but feel sad over the end of Spoby. Their relationship had lasted several seasons, and we still can't picture PLL without their love. Even though Toby was engaged to another woman during this season, the goodbye kiss he shared with Spencer gave us all the feels. Couldn't we have ended the series with a Spoby wedding!? 
4. Kate and Toby, This Is Us
This Is Ushooked us after the very first episode, and we immediately fell in love with all of the characters in the show. Kate and Toby were clearly a perfect match right from the start. Who wouldn't fall in love with him after he surprised Kate with a date-day devoted to treating her like the star she is? We were completely devastated when Toby gave up on their shared diet plans, making Kate face the tough decision of either suffering through food-envy every time they went to dinner or... ending their relationship. The season finale left us with a giant cliffhanger involving this couple, and we're anxiously awaiting the new season to find out what will happen between Kate and Toby. If these two can't make it, who can? They were literally made for each other. 
5. Mindy and Danny, The Mindy Project
We couldn't help but hope Mindy would find her soulmate in her then-boyfriend, Danny. We were crushed to see their breakup during the latest season of The Mindy Project. Ultimately, we know Mindy will be better off on her own because their personalities were just too different, but it was still so hard to see one of our favorite TV couples split after seeing their love grow over four seasons. We're hoping Mindy can find her true love in one of the coming seasons, but only if he's equally as funny, clever and brilliant as she is.
6. Caroline and Stefan, The Vampire Diaries
With a cast filled with hot supernatural vampires, it's almost too easy for us to fall for any of their relationships. However, we've been rooting for Stefan to find his one true love since Elena left him for his bad boy brother, Damon. We thought he found love with Caroline, and were way too excited about their engagement in the last season. Unfortunately for the couple (and us), the season ended with Stefan literally selling his soul to the devil to spare Caroline's twin daughters' lives. Even though this was a heroic move on his part, it means that Caroline won't get her June wedding after all. We're still hoping Stefan can serve his sentence with the devil, Kade, and will be able to turn his humanity back on in time to marry Caroline. We believe in you, Stefan!
Even though we're still feeling crushed over these 2016 TV breakups, we're hopeful 2017 will bring happiness for our favorite heartbroken characters.