The holidays are fast approaching, meaning that parties, family gatherings and group outings are also around the corner. But what's worse than not having anything to wear for these occasions? Having makeup that doesn't suit your face. While makeup doesn't need to be the end-all, be-all, it's a staple part of the holiday season, and a fun opportunity to get fancier than your everyday routine. But it's insanely important to get the right hues for eye color and eye shape, as well as to make sure you're accentuating the correct parts of the eye while making them pop at the same time. There's a lot more to it than you thought, huh? So we asked some expert makeup artists, as well as some collegiettes, to get you the best tips to 'sleigh'  this holiday season.
Colors
Brown Eyes
It's a common mistake for those with brown eyes to wear browns or darker, natural colors. But venturing out of your comfort zone is a must for a one-of-a-kind, amazing look. "[Wearing colors, other than brown] allows the eye color to stand out," says Margina Dennis, a makeup artist and educator who has done looks for celebrities including Lea Michele and Jane Lynch.
For some specific colors to try, makeup artist Ashlee Glazer suggests Smith & Cult's Book of Eyes Eye Quad in Interlewd. This palette offers colors that are in the purple family, but Glazer also suggest navy as a great color for brown eyes. "Navy also enhances the white and accentuates the brown of your eyes," says Glazer, who appeared on The Today Show this past summer with her great beauty tips!
Jenna Adrian, a junior at Drexel University, is a brown-eyed girl. "For girls with brown eyes, the Lorac Pro palette is great because it's full of warmer toned shadows that bring out the warmth in brown eyes," she says. Having a wide range of colors to choose from also helps you out when trying not to clash with your outfit.
Blue Eyes
What's the trick to making blue eyes pop? Browns! "Brown hues will make blue eye appear brighter," says Dennis. "Greys can work on a fairer skin with cool undertones as well if the grey has more of a blue undertone to it."
Try to avoid going too dark if you have a cooler blue eye color. Light champagne colors or pinks are perfect because they won't draw too much away from your lighter eyes.
Glazer also suggests a palette like Smith & Cult's Book of Eyes Eye Quad in Noonsuite. "[This] is gorgeous for blue eyes," she says. "The copper/rust and gold undertones truly make your baby blues stand out." Your blue eyes will have a nice "peek-a-boo" moment when looking up from under gold and bronze lids.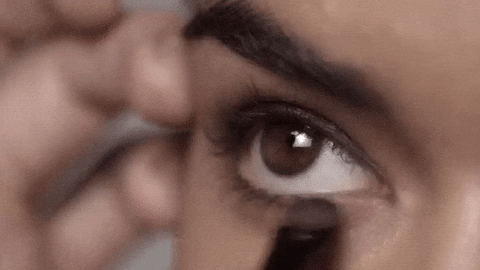 Green Eyes
Green eyes are pretty versatile, allowing a slew of colors to go well with them. "Plums, purple, and browns with a cooler, red undertone will help to bring them out," says Dennis.
If you feel like you're having too much trouble picking out individual colors that go with your eye color, makeup companies usually have palettes made specifically for your color! "NYC and probably most major brands created palettes that were designed for specific eye colors!" says Samantha Burke, recent graduate of Siena College. "I have green eyes, and I love using purple shadow and liner. It really makes the green pop."
Glazer seconds this pairing of purple hues and green eyes! "Super sophisticated and universally flattering, plums and mauves (especially ones with red or brick undertones) contrast gorgeously with green eyes to make them pop." The best palettes for this look would be the same Smith & Cult's Book of Eyes suggested for the brown eyes (Interlewd) or the New York Colors IndividualEyes palette Burke mentioned above.
Hazel Eyes
For those who have hazel eyes, you know that your eyes have so many different colors within them. And one of the best parts about hazel eyes is that no two pairs looks the same. So for this color, it's best to know how your own eyes look. "Focus on what color you want to bring out in the hazel, whether it is the green or blue [or another color] and follow the suggestions [for that color]," says Dennis.
Having relatively versatile eyes is great because it is harder to go wrong. However, for specific colors Glazer has some ideas. "On hazel eyes, Smith & Cult's Book of Eyes Eye Quad in Soft Shock has strong colors [and] shades like silver, black and olive that use dark shimmery tones to really emphasize all the different colors in the iris." The olive would be great for a more everyday look, and then add a smoky edge with the black color. And who could ever go wrong with some silver? No one, that's who.
Gray Eyes
Unlike with brown eyes, gray eyes can stand alone with a shadow of a similar hue. "On gray eyes, I love how Smith & Cult's Book of Eyes Eye Quad in Mannequin Moves contains lots of neutral browns and greys," says Glazer. "There is a beautiful pink pearl shimmer that is lovely when applied all over the lid." She also suggests top off the look with a defined eyeliner in a dark gray color as well, like the b-line eye pen from Smith & Cult or the Sketch Marker Liquid Eyeliner from Too Faced.
Shapes
Deep set
Deep-set eyes have many characteristics that put them apart from the rest, one being a prominent brow bone. To really compliment these eyes, Glazer suggests drawing attention to the center and working your way out. "On deep set eyes, I recommend a pop of shimmer in the center, and to only darken the outer corners," says Glazer.
Dennis also suggests a technique like this, but instead of a shimmer, she says you can just use a lighter color. "Use a lighter lid color or one that is closer tonally to the skin tone and then apply a darker color slightly above the crease area to create the illusion of depth," she says.
Dennis also emphasizes that importance of blending! "Blend your eyeshadow edges, it creates a finished look to your application," says Dennis. And don't let that full brow bone fool you! "Also a brow that is slightly fuller it more youthful looking, but you go overboard on filling them because it will give the exact opposite effect," Dennis adds. Nice and natural is hardly ever a bad thing.
Monolid
The definition of a monolid is just that: there is really no crease to the eye shape and has a less defined brow bone. However, the canvas made by having "one" lid is great for many looks. "A single mid tone color across the lid blend toward the brow bone works best with emphasis on eyeliner at the lash line and lots of mascara," says Dennis. "It helps to open the eyes up."
Glazer adds, "For a monolid, a soft smoky blend all over the eyelid is beautiful." For those that don't want to just "open" up the eye, this smoky look would be even more dramatic.
Hooded
Hooded eyes have a brow bone that drops over the crease, hiding the lid. Since this part of the eye is hidden, you need to find other areas to accentuate instead. "A light highlight under the brow bone to give the appearance of a lift works well on a hooded eye," says Glazer.
Dennis advises using a brighter color on the lid. "I like to use a satin or even a color with a bit of shimmer," says Dennis. "I put the emphasis on the liner around the eye to give it definition and also mascara." This contouring of the lid is great for definition on an eye shape that can possibly be hard to make look more dimensional.
Round
Round eyes are, obviously, more round-looking than other shapes. A big characteristic is the fact that more of the whites of the eyes are showing. These eyes look bigger and also have an "awake" to them, according to some makeup artists. But if you don't like the wide-eyed look you may have, Dennis has a suggestion. "If you want to make the eyes look smaller, lining top and bottom and also lining the inner eye top and bottom with a dark liner and help create the illusion of a smaller eye," says Dennis. However, if you really want to play up those big eyes, you can make them look even more open by getting a thick white, eyeliner, like the Jumbo Eye Pencil from NYX, and use it on your waterline. This extends the whites of your eyes, giving a bigger, doe-eyed look.
In terms of eyeshadow placement, it's best to focus your makeup on your top lid and lash line. For your lower lash line, again, go with something like the white eyeliner or use a taupe or beige color for a little less extreme look. And just like with anything else, a smoky eye can take your look from "cute" to "sexy" in no time.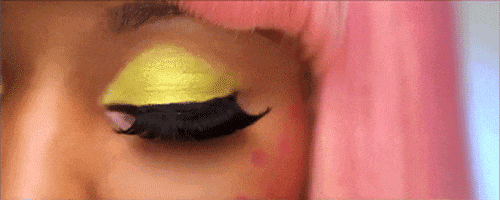 Downturned
Downturned eyes curve, you guessed it, down. Some may say these eyes look "sad" however, that's just not true. "The key is to give the illusion that the eye isn't downturned," says Dennis. "I like to not extend any shadow past the outer edge of the eye and all shadow, liner, [and other eye makeup] turn be applied in an upward fashion. I'll even usually cheat the liner slightly on the eye and make it thicker towards the outer part of the eye"
A very popular eyeliner trend for a downturned eye is the cat eye. "Cat eye, without much liner on the bottom, lifts a downturned eye," says Glazer.
And if you have the opposite 'upturned' eye shape? Dennis says: "An upturned eye is youthful." And while that may be true, the best way to play up that eye is with a straight wing liner, according to Glazer. "[It] looks great on an upturned eye," says Glazer.
Almond
Eyes that are a little less round and more almond-shaped are super versatile with a lot of looks. They are also super symmetrical. "[They are] what most people strive for, so have fun!" says Dennis. And although almond-shaped eyes are easier to style than others, one trend does look better than the rest. "Smokey, blown out shadows are gorgeous on almond eyes," says Glazer. If that doesn't say dramatic, nothing does!
Even if you have the best makeup or an easy eye-shape like an almond-shape, Glazer does stress the importance of good brushes. "I think it is important to invest in good brushes and prep your lids before applying makeup," says Glazer. Even if an eyeshadow has built-in primer, it's always a good idea to use a separate one beforehand. Glazer says that a translucent powder over the eyelids also helps create a smooth foundation for your color.
Hopefully these tips and tricks get you through the holidays and beyond! Remember that makeup isn't necessary, but if you're going to indulge in it, might as well do it correctly!