Can we be real for a second? Even though exercise is super good for us (it lowers anxiety, boosts self-confidence, improves your health, jump-starts your metabolism, blah blah blah), that doesn't mean we always enjoy it. In fact, most of the time, it's just tolerable.  
So if you roll your eyes every time you see a picture of a girl mid-treadmill-run with a bouncy (and sweat-free) ponytail, gleaming calf muscles and a grin so wide it looks like she just won the lottery—we get it, because we do, too. Dear fitness model: Your smile is a lie.
But that doesn't mean we can skip gym time like we skip bad songs on Pandora. So here are the seven sneaky tricks we use to get ourselves to the gym more often. We hope they make the trek easier for you!
1. Use visual reminders
What's on your phone's home screen right now? A cute puppy? A picture of you and your friends the last time you went out? Zac Efron? All of those are sure to give you a mood boost (especially Zac), but none will get you on the treadmill. By making your background a shot of your gym or an inspiring quote, every time you use your phone, you'll receive a subconscious reminder to go. It's almost like you're brainwashing yourself to better health.
And if you want to get truly hardcore, use the same technique on your laptop, iPad and e-reader. The possibilities are as endless as your number of devices!
You can also print out inspiring pictures and pin them on your board (the real one, not your Pinterest one) or around your room. This Her Campus article has some great options!
2. Work out for cash
Endorphin rushes are great, but they won't pay for your textbooks (or adorable sweaters). Earning money for exercising is arguably the best thing ever, and thanks to new apps and sites, you don't have to be a Biggest Loser contestant to do it.
With Pact, you commit to a certain number of workouts—say, five per week—and get cash rewards for hitting your goals. The money comes from the community pool, so if you don't make all of your workouts, you have to pay up. Pretty effective motivation, in our opinion! The app is free to download for Apple and Android phones, has a 92 percent success rate and nets most users between $0.30 and $5 a week!
HealthyWage is a cool option for those who want to lose weight. You decide how much you want to lose, how much you want to bet and how long you want to achieve your goal. As your goal and wager go up, so does the amount of money you can potentially make. Sign up for free on the HealthyWage website.
3. Buy cute workout clothes
Wearing new clothes is always fun, right? If you treat yourself a cute pair of leggings or some colorful tops, you'll be motivated to hit up the rec center so you can luxuriate in that "I just bought this and I look hot" buzz.
There's affordable workout gear at Target, Old Navy andForever 21. However, don't feel guilty if you want to splurge!
"I actually spend a little more on workout clothes," says Kathleen Kalinsky, a senior at James Madison University. "When you invest financially in something, you feel more of a sense of obligation to follow through."
Those Nike sneakers or lululemon capris are pricey, but they may be worth it if they get you through the gym doors.    
4. Follow healthy Instagrammers
Imagine you're scrolling through your IG feed. You see a funny pic of your friend, Kylie Jenner striking a pose, someone's froyo creation, a pretty spot on campus… and a girl squatting her heart out. Wow, her butt looks amazing. All of a sudden you're filled with motivation to go do some strength training of your own.
"I follow a lot of fitness people on Instagram—it's great motivation," says Niina Kurki, a sophomore at Vanderbilt University. "For example, I love Kayla Itsines. I'm now doing her 12-week program!"    
And since many of us check social media first thing in the a.m., this can be a great way to get yourself up and at 'em for that morning workout.
"I set my alarm for 5 a.m. during the week so I can hit the gym before classes," says Haley Cahill, a senior at Appalachian State University. "As soon as I cut my alarm off, I open Instagram and look at motivational fitness accounts like tonedgirls,average2athlete… andashybines. The posts on those accounts get me fired up to hit the gym and complete a killer workout!"
5. Go first thing in the morning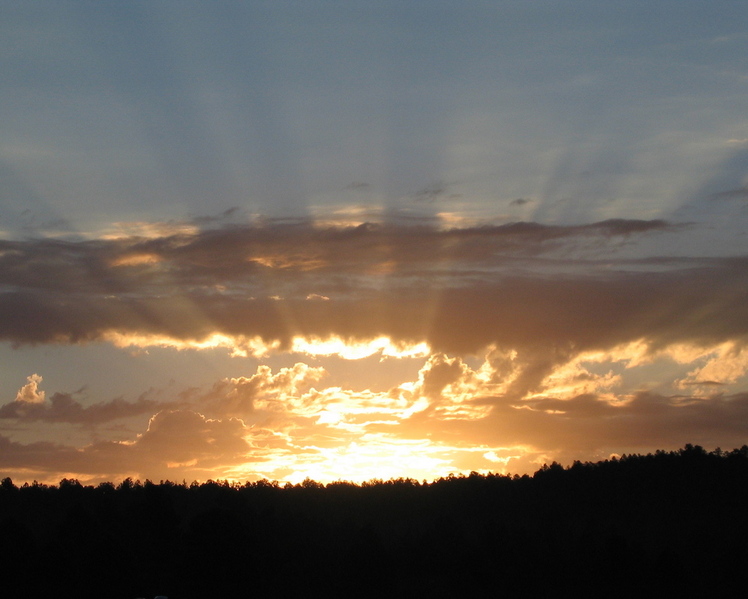 Speaking of rise and grinding, the morning is a great time to hit the gym.
"The second I get home after a day of class, it's practically impossible to get myself to go back out and to the gym," says Maya Devereaux, a senior at Boston University.
In the morning, it's super easy to decide that you're going to hit the gym in the afternoon or at night, but as the hours go by, your professors pile on the assigned reading, your friends text you invites for Starbucks or dinner and your Netflix queue starts to look more and more inviting. Before you know it, you're changing into some stretchy pants—for sleeping in, not performing cardio. "I'll go tomorrow," you think.
If you exercise first thing, however, you won't be able to use any excuses. And afterwards, you'll have the whole day for friend dates and Friday Night Lights (oh, and that reading you have to do). Check out our tips for getting in a morning workout.
6. Write out your fitness goals
Why huff and puff on the treadmill for no reason? Exercise has more positive effects than Martha Stewart has kitchenware, but if you don't establish specifically why you're doing it, you'll have a harder time convincing yourself that it's important.
So write out a list of reasons to go to the gym. Maybe you're after that post-workout feeling of victory, or you want to de-stress, or you'd love to be able to run four miles without stopping. Maybe you dream of building your biceps, or you want to lose a little weight or simply avoid gaining any in the first place. Maybe you just want to be in good shape!
Once you have a solid set of reasons, you'll actually want to go so you can achieve progress.
7. Call a friend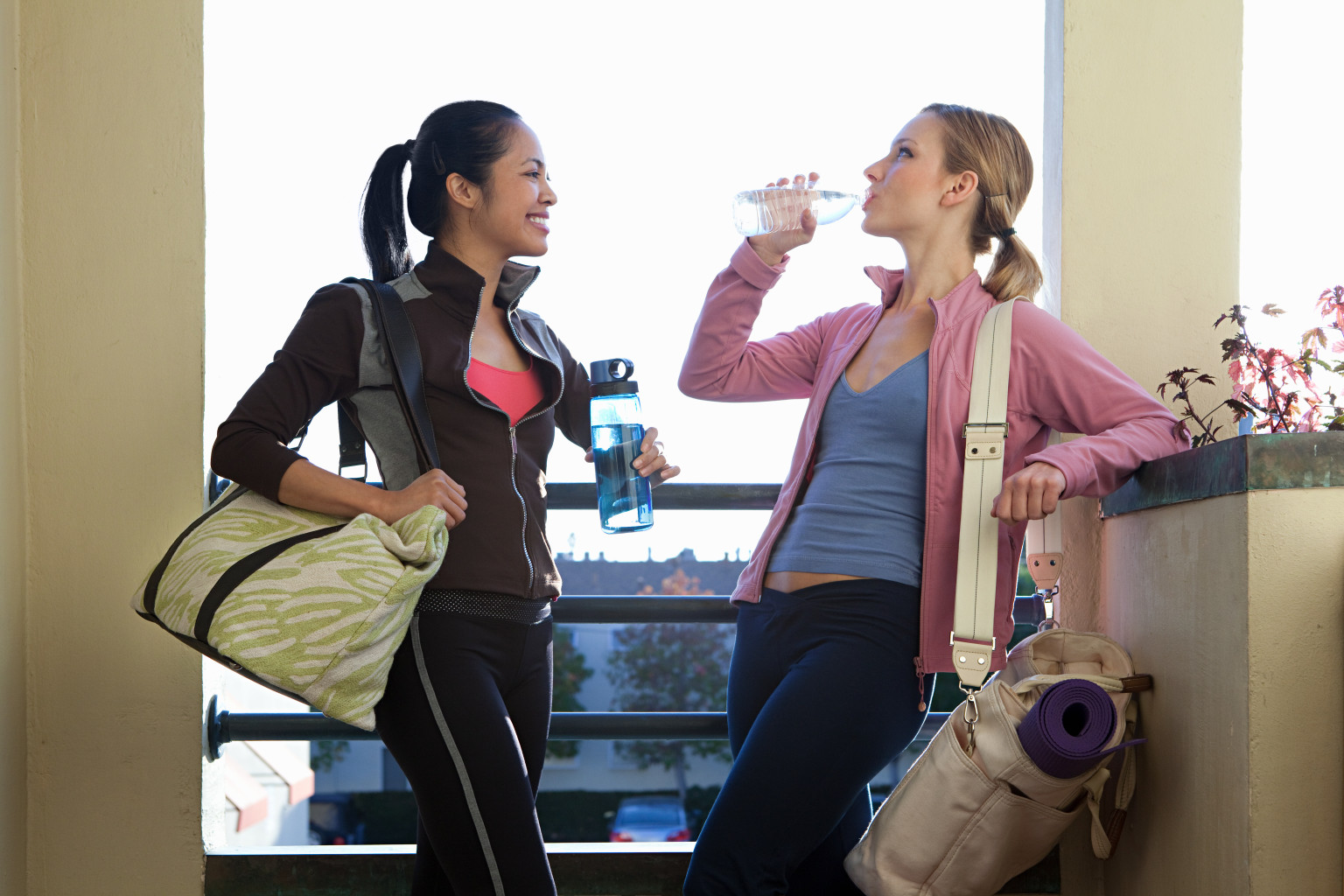 It's pretty easy to blow off the gym when the only thing missing your presence is your fave StairMaster machine. However, when you're blowing off another person, it's a whole different story.
"I always make plans to work out in my school's pool with a friend," says Malone Ryan, a sophomore at John Carroll University. "That way, whenever I am putting off going (which is normally always), I can't back out because I've made a commitment to go with someone."
Malone says the secret to pulling this off is choosing a friend who loves to work out. If you make plans with someone who's flaky, there's no point.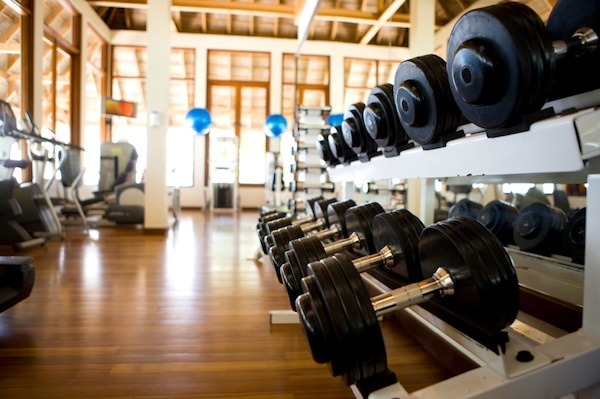 We're not going to pretend it's more fun to go to the gym than the movie theater. Or Starbucks. Or your friend's house. Okay, there are a lot of places more fun to visit. However, we hope that by using these seven tricks, you can get your cute booty to the fitness center more often. We'll be right there with you, sweating, panting and looking as all-around non-fitness-model as you can get.