Thanksgiving, one of the best holidays to come home for, is right around the corner! With food, football, friends and family, we all have something to be thankful for. By the way, did we mention all the food?
Although the Thanksgiving feast is great, sometimes the dishes you can make with leftovers are even better! Here are seven creative and delectable recipes for Thanksgiving leftovers.
1. Turkey stock
Recipe fromChow
One of the most versatile foods you can make with your Thanksgiving leftovers is turkey stock. Stock, or broth, is used as a base in multiple varieties of soups and cream sauces. This stock can be used to supplement chicken stock and works with several of the recipes seen below.
The trick to making great turkey stock is to fully clean the bones of the turkey. Although this sounds a little gross (who wants to touch slimy meat?), it's definitely worth donning a pair of gloves and stripping down the bones. You'll be so proud of your yummy turkey stock that you won't even care!
Ingredients:
1 turkey carcass
2 medium stocks of celery, coarsely chopped
1 medium yellow onion, quartered
1 medium bay leaf
1 teaspoon whole black peppercorns
6 sprigs fresh thyme
Directions:
Break up carcass with a meat mallet or cleaver, so it fits in a stockpot (at least 15 quarts), and then add remaining ingredients.
Add enough cold water to cover the bones by two inches and bring to a boil over high heat.
Reduce heat to low and simmer, skimming occasionally, until turkey flavor comes through in the stock.
Strain through a fine mesh strainer into a large, heatproof container. Let cool to a room temperature, then refrigerate or freeze.
2. Turkey pot pie
Recipe from Allrecipes.com
This turkey pot pie takes all the best parts of Thanksgiving leftovers—the turkey and veggies—and puts them into one convenient package. What makes this pot pie so great is the sauce. Made of both broth and milk, the creamy sauce is thick with a smooth texture and salty undertone. If you want to make more use of your Turkey Day leftovers, substitute the 1 ¾ cups of chicken broth for turkey broth instead.
Ingredients:
2 cups peas and carrots (freezer mix)
2 cups chopped green beans
1 cup celery
2/3 cup butter
2/3 cup chopped onion
2/3 cup all-purpose flour
1 teaspoon salt
1 teaspoon ground black pepper
1/2 teaspoon celery seed
1/2 teaspoon onion powder
1/2 teaspoon Italian seasoning
1 3/4 cups chicken broth
1 1/3 cups milk
4 cups cubed turkey meat
4 (9-inch) unbaked pie crusts
Directions:
Preheat oven to 425 degrees Fahrenheit (220 degrees Celsius).
Place the peas and carrots, green beans and celery into a saucepan. Cover with water, bring to a boil and simmer over medium-low heat until the celery is tender, about eight minutes. Drain the vegetables in a colander set in the sink and set aside.
Melt the butter in a saucepan over medium heat and cook the onion until translucent, about five minutes. Stir in flour, salt, black pepper, celery seed, onion powder and Italian seasoning; slowly whisk in the chicken broth and milk until the mixture comes to a simmer and thickens. Remove from heat; stir the cooked vegetables and turkey meat into the filling until well combined.
Fit two pie crusts into the bottom of two 9-inch pie dishes. Spoon half the filling into each pie crust, and then top each pie with another crust. Pinch and roll the top and bottom crusts together at the edge of each pie to seal, and cut several small slits into the top of the pies with a sharp knife to release steam.
Bake in the preheated oven until the crusts are golden brown and the filling is bubbly, 30 to 35 minutes. If the crusts are browning too quickly, cover the stew with aluminum foil after about 15 minutes. Cool for 10 minutes before serving.
3. Fried stuffing bites
Recipe fromDelish
These stuffing bites are a snap to make and are great to have in the fridge when you want to do some late-night snacking. If you love to stay up late and watch movies while eating leftovers (who doesn't?), then this is the recipe for you. Cranberry sauce optional!
Ingredients:
Leftover stuffing, cut into cubes, about 2 to 3 cups
2 eggs
2 teaspoons milk
1 cup seasoned breadcrumbs
Directions:
Preheat oil in a pan.
In a small bowl, whisk eggs and milk. Coat each stuffing cube with this egg wash, then dredge in the bread crumbs until fully coated and set aside.
Once oil is at temperature, fry stuffing bites in batches until golden brown, about four minutes time. Drain onto a paper towel.
4. Turkey soup
Recipe from EverydayMaven
This hearty turkey soup is another great recipe to use with your newfound turkey-stock skills! If you want to use up more leftovers than just the turkey and the turkey stock, substitute the vegetables in this recipe for leftover carrots and potatoes from your family's feast. When putting precooked vegetables into the soup, remember that they will cook faster than raw ones. To avoid that overcooked potato-mush texture, drop the leftover veggies in the broth five to 10 minutes before the soup is done.
Ingredients:
2 tablespoons olive oil
2 medium onions (or 1 extra large), finely chopped
2 medium stalks celery, finely chopped
1 1/2 teaspoons kosher salt, divided
1 pound sweet potatoes, peeled and cut into ½-inch cubes
3 sprigs fresh parsley
2 sprigs thyme
8 cups turkey stock
1/2 teaspoon ground pepper
1 1/2 pounds cooked turkey breast meat, cut into ½ inch cubes
3/4 cup frozen sweet peas (unsalted)
Directions:
Place parsley and thyme on top of a cheesecloth and fold over sides. Roll until tightly sealed and secure with a rubber band or piece of string.
Heat a large soup pot over medium heat. Once hot, add butter and then chopped celery, onion and 1 teaspoon kosher salt. Cook, stirring occasionally for 10 to 12 minutes.
Add cubed sweet potatoes, herb bundle and turkey stock. Stir to combine and raise heat to medium high. Bring to a boil.
Once boiling, lower heat to a simmer and cook eight to 10 more minutes until sweet potatoes are fork-tender.
Add ground black pepper and remaining kosher salt if necessary. Toss in cubed turkey meat and frozen peas. Continue cooking for three to four minutes until turkey and peas are warmed through.
Remove herb packet.
5. Leftover omelet
Recipe from Food.com
Omelets are a wonderful way to use leftovers because there are so many options. As long as you have eggs, cheese and fillings, you can make an omelet! Fiha Adbulrahman, a first year at Rutgers University, says her favorite way to use Thanksgiving leftovers is to "take the turkey scraps and some of the vegetables to make an omelet with cheese." The best part? After making the omelet, "I pour gravy all over it!" Fiha says.
Ingredients:
2 eggs
1/4 cup evaporated milk
Salt and pepper, to taste
2 teaspoons butter
1/3 cup cooked turkey, chopped
3 teaspoons onion, finely chopped
4 teaspoons tomato sauce
3 teaspoons green pepper, finely chopped
1 slice processed cheese, torn into pieces
Directions:
Combine eggs, evaporated milk, salt and pepper. Beat well.
Combine turkey, onion, tomato sauce and green pepper.
Melt butter into 8-inch skillet, preferably with rounded sides, over medium heat.
Pour into the egg mixture.
Let cook without stirring until it is about three-quarters cooked, with just the top not cooked.
Carefully loosen with metal spatula and turn.
When the underside is cooked, spread the turkey mixture on one half of the omelet.
Spread the torn cheese pieces over the turkey mixture.
Fold omelet over to cover the filling.
Serve as soon as the cheese is melted.
6. Leftover cranberry sauce muffins
Recipe from Kitchen Treaty
These muffins are a wonderful breakfast for the morning after Thanksgiving, so you can get your leftover game started bright and early. They are also a great vegetarian meal for those who don't share the turkey love.
Ingredients:
1 1/2 cups all-purpose flour
1 cup and 3 tablespoons rolled oats (3 tablespoons are for the tops)
1/2 cup brown sugar
1 tablespoon baking powder
1/2 teaspoon baking soda
1/2 teaspoon salt
1/2 teaspoon cinnamon
1 1/2 cups leftover cranberry sauce
1/2 cup milk
1/3 cup vegetable oil
1 egg
Directions:
Preheat oven to 400 degrees Fahrenheit.
Grease a 12-cup standard–size muffin tin (or add liners).
In a large bowl, whisk together the flour, 1 cup oats, brown sugar, baking powder, baking soda and cinnamon.
In a medium bowl, whisk together the cranberry sauce, milk, vegetable oil and egg.
Pour the wet ingredients into the dry ingredients and stir just until blended.
Divide the batter between the 12 muffin cups, about ¾ to all the way full.
Sprinkle with the 3 tablespoons oats.
Bake for 20 minutes or until the tops spring back when you touch them and a toothpick inserted in the middle comes out dry.
Let cool for about five minutes, then serve.
7. Mashed potato pancakes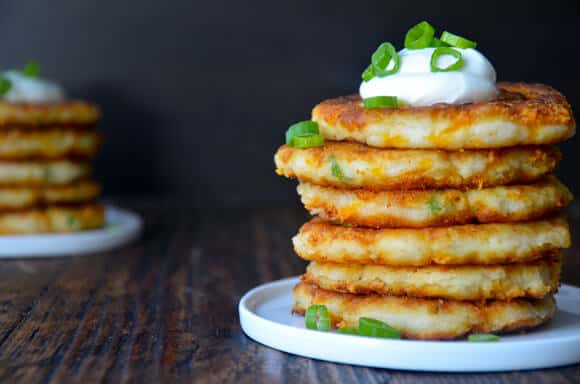 Recipe fromJust a Taste
When you think you might not be able to take another bite, put the mashed potatoes down and save them for this great recipe. Making these potato pancakes is not only a creative way to use your leftovers, but they're so easy to make that you can cook them with your younger cousins who are visiting!
Ingredients:
3 cups chilled leftover mashed potatoes
2/3 cup shredded cheddar cheese
2 tablespoons chopped scallions, green and white parts
1 egg, lightly beaten
3 tablespoons plus ½ cup all-purpose flour
Vegetable oil for pan-frying
Directions:
In a large bowl, stir together the mashed potatoes, cheese, scallions, egg and 3 tablespoons flour until combined. Using your hands, divide the mixture into 12 portions. Roll each portion into a compact ball, then flatten it into a pancake about ½ inch thick.
Place the remaining ½ cup flour in a shallow dish and carefully dredge each pancake in the flour.
Heat three to four tablespoons of vegetable oil into a large sauté pan over medium heat.
Fry the pancakes in batches until they're golden brown and crispy on both sides, three to four minutes. Add more oil to the pan as needed between batches.
One way to show how thankful you are is eat all your leftovers before they spoil. Use these tasty recipes to devour all your leftovers creatively. Don't forget the slice of pie for dessert!