During college, you probably started collecting odds and ends, like lamps and wall decorations and rugs and end tables, for your dorm or apartment. When you did that, were you thinking about your space in that moment, or were you considering what you might do with it after? A brand new floor rug and side table probably feel really great to purchase when you're just starting out in college and searching for your own room furnishings, but when you move into your first unfurnished apartment, the last thing you're going to be able to afford is a home full of brand new furniture and décor. What can you do instead? Fill your new home with new-to-you items by shopping secondhand! Antique stores, flea markets, consignment shops, yard sales and more can get you everything you need, from vintage status to barely used!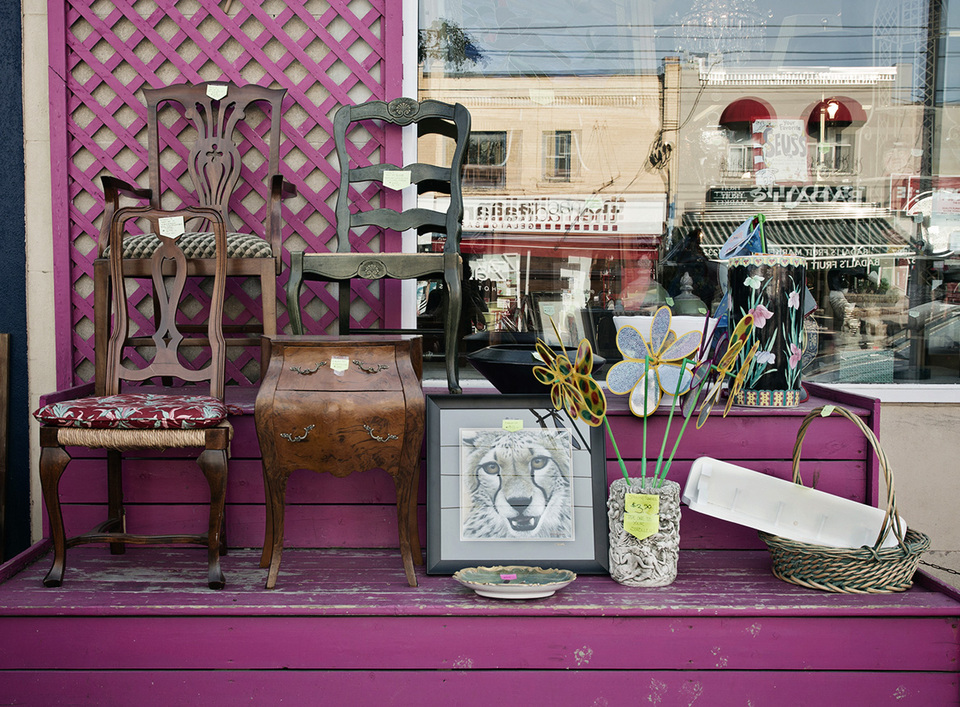 Check in with family and friends
Before hitting the shops, you might want to see what you can get from your friends and family for free. Mom and Dad will probably be happy to give you your great-grandmother's coffee table that's been gathering dust in the basement if you ask nicely, and when your aunt buys a new set of pots and pans she'd probably be glad to have you take her old ones off her hands! If your friends have an old entertainment center on the curb the next time you visit them, take it!
Rachel Cisto, a reporter at The Chief-Leader in NYC, furnished her first apartment entirely through hand-me-downs from a family friend. "One of my father's friends said he had some furniture to get rid of, and a few days before I moved, I got a storage unit full of stuff—a coffee table, lamps, side tables, cabinets, a queen-sized bed, and two couches!" she says.
Haleigh Kopinski, Social Media Manager at American Eagle Outfitters for Aerie, also furnished parts of her home with the help of her family. "One of the most under-utilized source for second hand resources is family," she says. "Our couch is from my dad and our storage stand in our bathroom is from my boyfriend's dad—he was going to throw it out because it was scratched wood with a missing knob."
Refurbish or repurpose
If that old couch is too boring for you, or you hate the color of your stand, refurbish them! Pick out a new upholstery for the cushions and a fresh shade of paint for the stand to make those hand-me-downs look brand spanking new! "A coat of fresh paint and updated hardware made it a cute statement piece that always gets complimented," Haleigh says of the stand. "And paint is my best friend, so our TV stand Craigslist find was a paint project as well."
You can also repurpose old pieces you find into something entirely different! "We created a really chic night stand out of a wooden fruit crate. Thanks, Pinterest!" Haleigh says.
Alexandra Blessing, a PR intern, and her fiancé used two twin size beds that they already had to create a larger bed when they moved in together. "We're trying to spend as little as possible at the moment, and he had two twin size beds with frames, so we combined them," she says. "There's a very fluffy mattress pad that spans over both beds, so we can't even feel the difference!"
Curbside browsing
When you've exhausted your free options, it's time to hit the streets! You may get lucky right within your own neighborhood thanks to yard or estate sales. When someone down the road decides to do their spring-cleaning, and get rid of the contents of their attic, you never know what you could find, from dishes to a curio cabinet to an armchair! You might find entire room sets at an estate sale, when families are cleaning out their elderly or deceased family members' homes. You might even find a perfectly good desk on the side of the road, ready to be taken to the dump.
Check Facebook or other apps
You might not even have to leave your house if you use your resources correctly. Thanks to the power of the internet, you might find some great deals on virtual yard sales. "One of the biggest places I find furniture for super cheap and even free are flea market groups on Facebook," Haleigh says. "You can post what you're looking for, search posts in the group, or just view them as they're posted. It's kind of like Craigslist, but you can directly haggle and ask any questions you have." Sometimes the sellers are so desperate to get rid of it that they'll even deliver it to you!
You can also try downloading or visiting letgo, an app that uses your location to allow you to see what others have for sale locally. It shows you how long ago the item was listed, where it's located and offers options to make offers or ask the seller questions.
Visit flea markets or consignment shops
If you're ready to venture out to search for your next great piece, consignment shops and flea markets are the place to head to. From Goodwill to little mom-and-pop antique shops to full blown warehouse fairs, you could find anything you need. "Our coffee table was a Goodwill find for $70. It looked brand new and, when I looked online, I found that it was over $300 when bought in store," Haleigh says.
Rachel Cisto's town dump has a program called The Trading Post where people can drop off things in good condition that they don't want. "I got a full set of dishes for a family of four, plus tons of glasses and mugs, a beanbag chair and one of those giant round saucer chairs from there," she says.
Margeaux Biché, a junior at Barnard College, browses flea markets for furniture for her dorm, which she plans to reuse in her apartment. "You can always find things with great character at flea markets or consignment stores," she says, "and you can often negotiate the price of items you're interested in! I have gotten some great rugs and pillows and other little decorative trinkets that really make my space my own."
The things you'll find if you take your time will make great conversation starters, because they're so unique. "People always ask me about these items because they don't look anything like what everyone has from Urban Outfitters or other commonly-shopped-at places, so they provide a great story, too," Margeaux says.
It might take a little bit of time to figure out what you're looking for and to find something that is the quality you need, but the time spent searching for it will be well worth your while. You never know what kind of hidden treasures you'll find while searching for second hand furniture, and with the right pieces you'll always have something to discuss with guests.