You know you're jealous of Lorelai and Rory Gilmore's metabolisms. Watching them eat the most delicious (and unhealthy) foods has been inspirational to girls like us who love some good takeout and eating entire cakes in one sitting. In honor of the upcoming Gilmore Girls reboot, we decided to round up snacks worthy of a Gilmore. Munch on these goodies while watching old episodes and waiting not-so-patiently for those new episodes to arrive. 
We figure that the girls would start out small when it comes to making their own treats for movie night. This one's a savory mix of all your favorites (plus bacon!). We're sure it will disappear in a flash.
Since the girls are always on the run, whether they're late or just avoiding an awkward Friday night dinner, these convenient and spicy snacks are awesome. Plus, they're cute and small enough to justify seconds…or thirds.
These popcorn balls combine the two best flavors—sweet and salty! They're great for a girls' night in, binge-watching shows and swapping stories. Can't you picture the Gilmore girls snacking on these while doing just that?
Luke's Diner has surely added Nutella to the menu by now, right? Though the ladies might opt for less fruit on top, we'll leave that up to you.
When they aren't noshing on diner food for breakfast, Lorelai and Rory usually have Pop-Tarts. Why not try your hand at making your own from scratch?
No one can resist these bite-sized snacks while on a trip to the mall; imagine how much better they'd be in the comfort of your own home (where you can eat as many as you want!). Go crazy with the toppings—stick with the savory theme or dip them in something sweet.
Instead of going all the way to your nearest Dosey's Market for some sweet treats, make your own with ingredients you've already got hiding in your pantry! These cupcakes are just like the tasty store-bought kind, too.
It's like all your favorite items from the diner menu got together for a party. In other words, this recipe is a total dream come true! Instead of ordering crazy chili fries at a fast food restaurant, make these yourself, so you know they'll have exactly everything you like.
Another great example of why diner foods should join forces. This snack does require some grilling, but it's a small price to pay for a great dinner with a fun twist.
Everyone loves pizza, especially our favorite mother/daughter duo, so why not celebrate that love with a new take on the classic? These snacks are easy enough to make and even easier to pop in your mouth while watching Netflix.
Another iconic snack nobody can deny? French fries, and we've got a fantastic spin on those, too! These have a bit of a kick to them, which we think the Gilmore girls (and you) would enjoy.
Here's another gift for your sweet tooth. The best part about this recipe is that you can make it in a microwave—how easy is that? This fudge is perfect paired with a cup of actual hot chocolate, too!
You can have dessert sushi—just like the girls did when Lorelai turned the house into Asia—but use a lot less energy to make it. Substitute some of these candies for your favorite candy if you'd like. Regardless, imagine how cute you'll look eating these at home in your robe.
If we know anything about the Gilmore girls' slightly bad habits, it's that they're crazy about coffee. So, they would obviously be obsessed with this easy coffee cake.
Everyone wants a corn dog when they go to a carnival, but you can bring that novelty to your own kitchen. We know the Gilmore girls would in a heartbeat, especially since these are super easy to make.
This heavenly hunk of future cavities is great for dipping graham crackers or—as any Gilmore girl would—an even sweeter cookie. Trust us, you'll be hooked on this simple snack!
Instead of calling Al's Pancake World, make these yummy egg rolls. You can customize them to fit your taste buds, and you won't have to feel embarassed about how many you would have ordered.
Monkey bread is a childhood fave for a reason. If you've never had it, this is the recipe to try.
Put your worries of bad breath aside and dig into these adorable and insanely good snacks. You know that your favorite Gilmores would!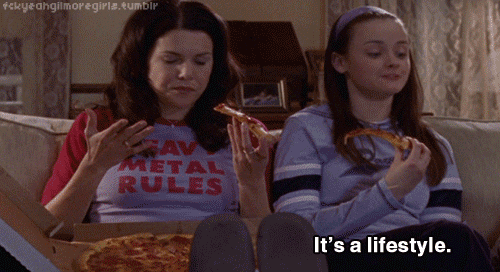 The Gilmore gals may not be the most avid cooks, but their taste in food is undeniably delicious. Which of these recipes will you be attempting first?