With senior year just around the corner, the end of junior year can seem pretty bittersweet. After three years of endless projects, papers and exams, you may feel ready to venture out into the real world… or in denial that the end of the best four years of your life is approaching quickly. However you feel about entering your final year of college, there are several things that you absolutely have to do before donning your cap and gown and graduating (excuse our French). Here's our ultimate senior year bucket list—how many can you check off in the next 12 months?
1. Make a gourmet meal.
Pretty soon the dining hall will exist solely in your memory, so why not beef up (pun intended) your cooking skills now? Follow a recipe from your favorite food blog or find something mouthwatering on Pinterest and channel your inner Giada De Laurentiis. Why not try Moroccan stuffed squash or an egg and smoked salmon scramble? If you're looking to make something sweet (and multicultural!), try these 10 pancake recipes from around the world.
2. Keep making friends.
Even though you've probably spent the past three years making friends through clubs, classes, travel, etc., keep making new acquaintances throughout your senior year. Who knows? Maybe your BFFL is someone you haven't even met yet!
3. Go on a REAL date.
By senior year, you're probably sick of the hook-up culture (ugh). Because random one-night stands aren't kosher after college, get a head start on a real relationship by going on a (gasp!) real date. It doesn't have to be super fancy; you could even invite the guy you've been crushing on since freshman year to help you out with #1!
4. Sneak onto the highest roof on campus.
We guarantee you know someone who knows how to get up there. The view will be amazing; just make sure the campus police don't see you shimmying up a fire escape (and make sure you stay safe!). Do it for the Instagram, if nothing else.
5. Thank your professors (and become their newest BFF).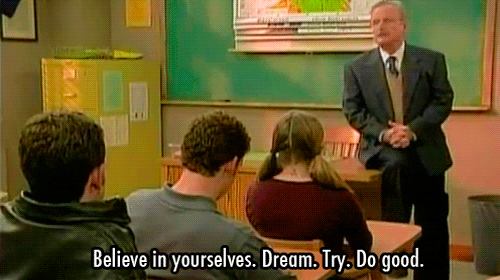 Your professors can be your greatest mentors in college, in case you haven't figured that out yet. Senior year isn't too late to take advantage of them as a resource; start going to office hours to ask for academic or career advice, and thank your profs for helping you reach your highest potential with a nice card or a thoughtfully written e-mail.
6. Skip class for no reason.
We aren't suggesting that you make this a habit senior year, but if you've never done it before, there's something incredibly liberating (and fun) about playing hooky. Just make sure your absences don't have a negative effect on your grade!
7. Try something new.
Make sure you take advantage of every opportunity you have! Want to join an a cappella group? Always been curious about math club? Now's the time to discover all the things you haven't been able to in the past three years! Carpe diem, as they say… or seize the night, if you're a night owl.
8. Get a big-girl job.
Gone are the days of unpaid internships and part-time baby-sitting gigs. Senior year is the time to step it up and get a big-girl job! The idea may seem daunting, but the sooner you take the steps to secure a post-graduation job, the happier you'll be!
9. Tell someone you love him or her.
Why not? If you've been in love with someone for years, what do you have to lose by letting him or her know?
10. Go to your school's athletic events.
Maybe you've been your school's biggest football fan since you were a pre-frosh, or maybe you don't even know where the football stadium is. Either way, having school spirit during your final year of college will make you feel more tied to the community. Try going to a sporting event for a lesser-supported team, like gymnastics or squash!
11. Go on the adventure you've always wanted to go on.
This is the perfect year to go on the trip of a lifetime! Maybe you've been dying to see more of the United States, or you've been dreaming of visiting Barcelona. Whichever is calling you, just go! We love Contiki, a travel company that organizes trips for young adults. You can go Greek-island hopping, wander the streets of London or Paris or even walk the Great Wall of China. Check Contiki out and decide which amazing adventure you want to take!
12. Go out with just your girlfriends.
Take this opportunity to go out as much as possible with your girlfriends. Senior year is the perfect time to visit all the bars you couldn't get into before you were 21! You could also make Wine Wednesday a staple in your apartment.
13. Take a class that isn't related to your major.
If you've finished the requirements for your major and are looking for another class to fill your schedule, try taking a class in a subject you're unfamiliar with or haven't had the time to fit in before your final year of school. Maybe you've always been interested in painting, but you couldn't fit an art class into your week. Maybe you're curious about computer science. Whatever it is, taking a class outside your major can open you up to new interests and round out your academic experience.
14. Explore your college town.
Spending a lot of time on campus is basically mandatory during your first years of college. Therefore, make a point during your senior year to explore the town or city in which your school is located. Learn about the history of the city, visit new restaurants or bars and immerse yourself in the community.
15. Skinny-dip in your school's pool.
Props if you bring a member of the boys' swim team (or two) with you.
16. Push your fitness limits.
You'll probably never be in as great of shape as you are right now, and you know what they say: if you can run five miles, you can run 26.2. Enlist your girlfriends to join you and train together for a marathon or challenge yourself to an epic hike, like the Inca Trail.
17. Make a standing brunch date.
Every Sunday morning, make a big brunch with your roomies or splurge and go out for mimosas and gab about the weekend à la Sex and the City. Your stomach and your heart will be so happy.
18. Write a novel.
Or at least a poem. Or a short story.
19. Let go of the past.
There may be something to gain in forgiving that girl from sophomore year who kicked you out of her party, or the sorority sister who bad-mouthed you to some Frat Stars. Start over and feel the relief of new beginnings.
Your last year of college is full of fun opportunities. Make sure you take advantage of everything you can and have a blast while you're doing it! Make the most of the opportunities you have and always live with #NOREGRETS!