Even if you consider yourself to be more lib than lit, at one point or another, during your college experience you will find yourself faced with the opportunity to go out to a party. For the girls whose closets consist of J.Crew chinos and gingham button-ups, deciding what to wear can present a real issue.
Party appropriate attire is often fairly revealing; a look that not everyone feels comfortable in. Sure, crop tops and low-cut rompers are cute, but if you can't wear them and feel confident and at ease, what's the point? These are some simple go-to outfits to consider when going out if you aren't too comfortable baring it all.
Shift Dresses
Form-fitting clothes can be a real hassle when going out (especially when the alcohol-induced bloating kicks in). Shift dresses are flattering for nearly every body-type and typically allow you to be covered up. Paired with some cute statement jewelry and wedges, it can be perfect for a dressier outing. Alternatively, when paired with some converse, it can be an ideal outfit to wear for a more relaxed night out.
Rompers
Rompers are tricky because some can be pretty short or revealing. However, don't let that scare you off — you can easily find a lot of rompers that are both stylish and conservative. Just like a shift dress, when paired with converse or keds, you can achieve a more relaxed look. Likewise, you can always dress-up a romper with some statement jewelry or cute wedges for a fancier evetn. 
High-neck tanks
Luckily, high neck tanks are super trendy right now and can be paired with just about anything. You could wear these with a cute skirt, pair of shorts or jeans and you'll achieve a look of class and trend.
Midi skirts
Midi skirts are another modest trend right now. You will be able to feel comfortable and covered, while still keeping up with the latest trends! Another great thing about midi skirts is that they work in almost every season; especially if you go to school somewhere warm. You can pair a midi skirt with a tank in the summer, a button down in the fall or a sweater in the spring.
Maxi Dresses
When it comes to looking cute and covered up, maxi dresses are the way to go. A cute maxi will look effortless and chic and keep you comfortable throughout the night. You will also be able to dress a maxi up or down very easily. When paired with cute sandals or converse, you can achieve a more relaxed look. Alternatively, wearing wedges or heels and adding some statement jewelry can create a much more put together look. An added bonus with maxi dresses is that pairing it with a cute jacket or sweater makes it work for every season of the year.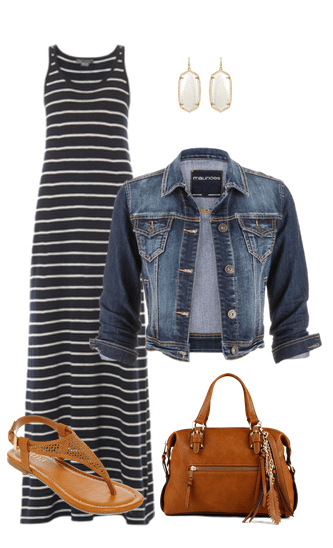 There are a lot of options for girls who want to look trendy and cute but aren't as comfortable with clothes that reveal too much. Never let the idea of trendy clothes discourage you or let the idea of typically party clothes discourage you from going out and having a good time. All that matters is how you feel!