If this election couldn't get any ruder or weirder, the Texas Agriculture Commissioner Sid Miller recently deleted a tweet in which he called Hillary Clinton a "cunt", according to Cosmopolitan. 
Although the tweet has since been deleted, the San Antonio Express-News got a screenshot just in time.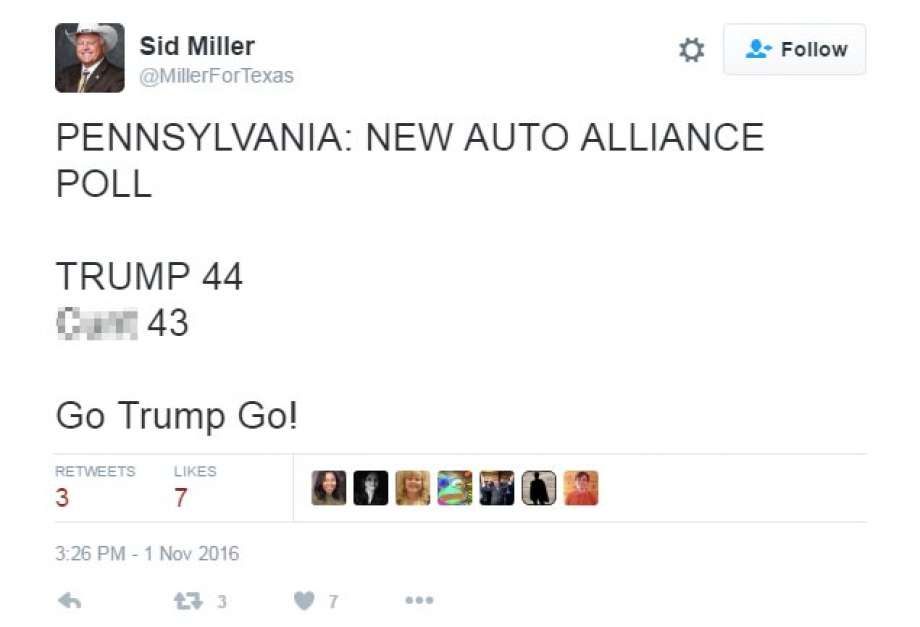 After the tweet was deleted very quickly after it was posted, Miller's office wrote a statement saying that his account had been hacked and that "all account passwords" have been changed. But, it was later revealed by agency spokesperson Matt Loeffler, that actually it was not hacked at all but a staffer had actually copy and pasted the tweet by accident, not aware it "contained a derogatory term." Okay. 
"The campaign was retweeting information on Twitter today and inadvertently retweeted a tweet that they were not aware contained a derogatory term," Loeffler also told the Dallas News.
Commissioner Miller finds the term vulgar and offensive and apologizes to anyone who may have seen it.

— Sid Miller (@MillerForTexas) November 1, 2016
Miller has since responded to the incident and said he is "sorry it happened" and that it is vulgar and offensive.