Alexander Hamilton may have been a Founding Father, but that doesn't mean he can't relate to the eternal struggle all young people face trying to make it through life. Here are a few lyrics from the musical Hamilton that describe being in college way too well. 
1. "I am not throwing away my shot."
You every Thursday, Friday and Saturday night. 
2. "I hate to admit it, but he doesn't get enough credit for all the credit he gave us." 
What your classmates write on your group evaluation after you do all the work and get them an A+. 
3. "You punched the bursar." 
Seeing what your loans will be after you graduate and being filled with rage.
4. "I noticed a comma in the middle of a phrase it changed the meaning. Did you intend this? One stroke and you've consumed my waking days."
Angelica Schuyler would totally relate to overanalyzing texts from bae…
5. "Unimportant. There's a million things I haven't done but just you wait, just you wait…"
Every sunday night around roughly 5 p.m. 
6. "Raise a glass to freedom, something they can never take away."
John Laurens, Alexander Hamilton and Lafayette definitely understood the joy of pregaming in a dorm when your RA is out of town. 
7. "Dying is easy, young man. Living is harder."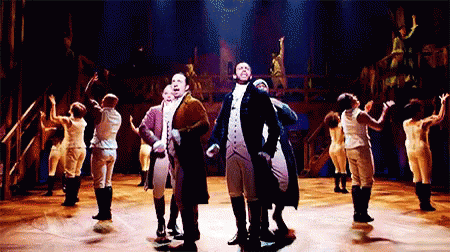 Keep this line in your back pocket for any philosophy classes you may take. You'll seem profound and deep and smart as all hell. You're welcome.
8. "Oceans rise, empires fall, we have seen each other through it all. And when push comes to shove I will send a fully armed battalion to remind you of my love!"
Hey, at least your ultimatums to your longtime hookup seem reasonable and grounded compared to King George's. 
9. "I hadn't slept in a week, I was weak, I was awake. You never seen a bastard orphan more in need of a break."
Crawling home from the library after four consecutive all-nighters, crashing from your caffeine high. 
10. "Grind to the rhythm as we wine and dine. Grab my sister, and whisper, 'Yo, this One's mine.'"
Regardless of if it's your biological sister or sorority sister, homegirl NEEDS to respect dibs. (Side note: Can we start wining and dining instead of grinding? Who's with me?) 
11. "And when my prayers to God were met with indifference I picked up a pen, I wrote my own deliverance."
After your proessor ignores your countless emails and you still manage to nail that essay.
12. "You and your words flooded my senses. Your sentences left me defenseless, you built me palaces out of paragraphs. You built cathedrals."
Texting a boy who can actually maintain a conversation and doesn't just write back "lol" or "haha same."  
13. "Oh, you get love for it. You get hate for it, you get nothing if you…Wait for it, wait for it, wait!"
Biting the bullet and sharing your political beliefs during an in-class discussion because participation is 25-percent of your grade. Bring it on haters. 
14. "Talk less. Smile more."
When you're talking to a hot tamale but your conversation is the verbal equivalent of when two magnets repel each other. 
15. "Why do you assume you're the smartest in the room? Soon that attitude may be your doom!"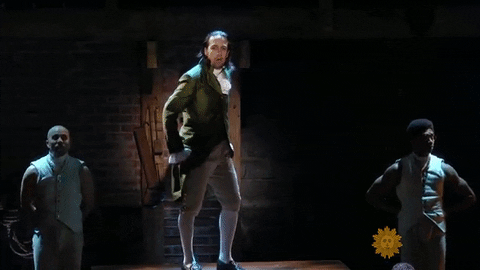 JUST BECAUSE YOU LIKE THE SOUND OF YOUR OWN VOICE DOESN'T MEAN THE REST OF US DO, AND IF I TOOK A SURVEY I THINK OUR PROFESSOR WOULD AGREE WITH ME. 
16. "Only nineteen but my mind is older."
After seeing your first truly horrifying frat house bathroom. No one should have to see that, especially at that age. I WAS TOO YOUNG.