File this under reasons we love Kate McKinnon. After years of making us laugh on SNL, McKinnon won her first Emmy a few weeks ago. The comedian is only one of a handful of SNL cast members who have won for their work on the long-running variety show. 
Like most award shows, however, the Emmys don't usually have the awards ready to send home with the recipients the night of the ceremony. Instead, most of the winners receive their awards weeks or months later. This was the case for McKinnon, except she never actually got her Emmy statue.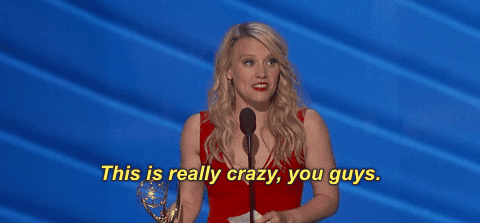 As McKinnon shared with Jimmy Fallon on a recent episode of The Tonight Show, she was apparently so excited that she blacked out after she was announced the winner. 
"I have no conscious memory of that night," she said. "I came to many hours later. I was eating spaghetti in a hotel room. Not the first time that it's happened."
Despite having seen clues on social media as to where her award may be (at one point, the Emmy was photographed with her manager's son), McKinnon remains completely calm not knowing its location. 
"Have an adventure," she told the Emmy. "Come back to me when you feel it's appropriate."
This is just further proof that Kate McKinnon is basically the cool, insightful aunt we always wish we had.