The newly named Snap. Inc. has announced that Snapchat will no longer be limited to your smartphone. According to The Wall Street Journal, Snap Inc.'s newest product, Spectacles, is slated to be available this fall.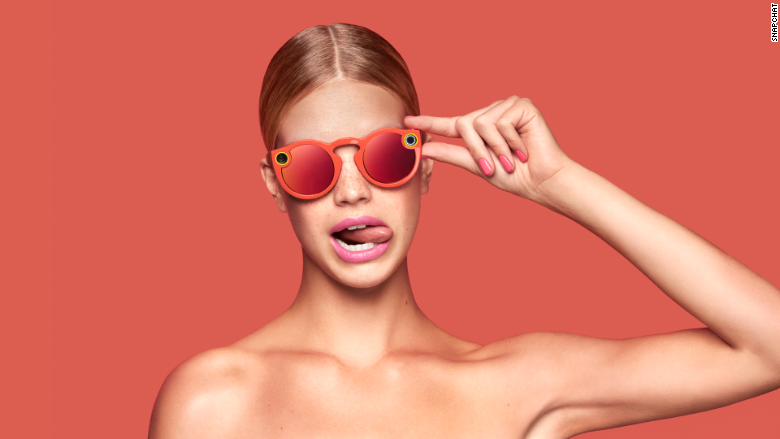 What's the connection between specs and Snaps? Upon first glance, the glasses look like an average pair of shades. But this is Snapchat we're talking about—of course, these sunglasses incorporate a clever dose of video technology.
Snap. Inc. poses a key question on its official website. "What if you could go back and see that memory the way you experienced it?" the company asks.
The answer to this is, of course, Spectacles. CNET states that the product captures life from a first-person perspective. What look like decorative circles are actually tiny cameras, which can record 10 seconds' worth of video at a time. And because the angle of the lens lines up with your eyes' natural line of sight, each video appears to be a super-realistic replay of how you see things. The WSJ reports that Snap Inc.'s founder and CEO, Evan Spiegel, tested the glasses out on a hike  and said that looking at the video was as close as he's ever come to actually being back in a certain time and place.
According to Snap. Inc., the rechargeable Spectacles are available in three colors and can capture an entire day's worth of Snaps per charge. The product uses Bluetooth or WiFi to connect to your Snapchat account, so you'll be able to move your Memories to your phone for easier access.
The idea of Spectacles sounds pretty darn cool, but the WSJ reports that Spiegel doesn't want to jump to any conclusions regarding his company's creation.
"We're [Snap. Inc.]  going to take a slow approach to rolling them out," Spiegel said. "It's about us figuring out if it fits into people's lives and seeing how they like it."
The limited-distribution Spectacles cost $129.99 per pair.