Has post-college life got you down? Well, you're not alone. If there's anyone else who gets it, it's Mindy Kaling. After all, Mindy braved the real world while she worked her way from graduate to small screen star. Here are 10 problems that keep you on the alumni struggle bus, as told by your favorite leading lady.
1. Sending out your resume only to get the dreaded "We regret to inform you" email or worse, silence.
2. Sometimes you feel like the wake up/work/go to sleep/repeat schedule is not working for you.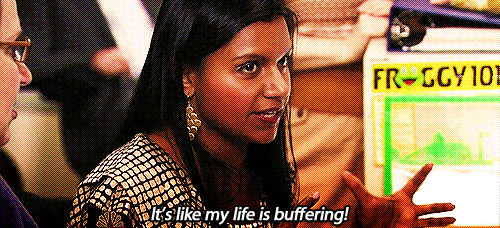 3. Now that you've graduated, you can't put off grown-up duties like jury duty, paying bills and the like.
4. In college you had a wide array of potential SOs on campus. In the real world, dating is limited to the few cuties in your neighborhood, in the office and... on Tinder.
5. You have to fight the feeling of wanting to go out, go shopping or travel because your bank account does not agree. 
6. You settle for Snapchat convos and Skype dates because you don't live with your college besties anymore.
7. You constantly crave the fast food you binged on in college. 
8. You get creative with exercising because gym memberships aren't cheap.
9. You spend time strategically dodging your family's questions about what you are going to do with your life.
10. On your bad days, you give yourself multiple pep talks because you know it has to get better! Right…?
Don't worry. You've got this. Yeah, you may have to give yourself the type of daily pep talk that Mindy is famous for... and if that doesn't work? There's no shame in (sometimes) being a hot mess.