While the biggest decision you've made up to this point may have been exactly where you'll go to college, the tough choices certainly don't stop there. There are academic, social and career-related commitments every college student must make in order to progress through their time at school.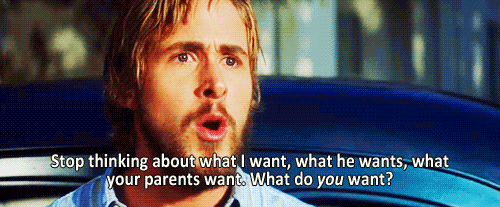 These choices can be highly stress-inducing, and we want to help ease some of the anxiety. To that end, we polled some savvy collegiettes for their take on the most important decisions they've made in college and compiled this list for your benefit! Read on for the top seven quintessential decisions you'll make during your college years.
1. Your major/minor
You might go into college thinking you know exactly what you want to do (or the case might be the opposite), but you will come to a point where you have to choose the concentration you want your studies in college to have.
Choosing your major will dictate what classes you take, what students you meet and what professors you get the chance to work under for the remainder of your time at college. It will also influence what careers you are eligible for and how future employers consider you.
Beyond just the decision of your major as an undergrad, you might be considering adding a minor to your program of study. Madeline Frisk, a senior at Oregon State University, says, "A big decision for me was choosing to add a minor." The word "minor" might make this seem like something you can add on to your program as a sort of afterthought, but that's not really the case.
According to Madeline, her minor helped her get a better understanding of where she wanted to take her major and how she wanted it to structure her future. "Adding a minor can help supplement your college education and narrow your focus for your future profession," she says.
2. The friends you make
While picking who does and does not make it into your ~exclusive~ social circle might seem like something you don't really have control over, college is the prime time to ensure that the friends you surround yourself with are ones you can count on. During your freshman year, you might find yourself befriending every person you meet, but when you transition into your second and upperclassman years, the relationships that really solidify are those you devote time and effort to.
This means that you do have control over your friendships, and if you want to succeed at school (and later on in life), you have to remember that your friends are a reflection of you and that they will influence you, even if you don't realize it while it's happening. Friendships can make or break your college years, so don't skimp on the squad quality.
The friends you don't make can be important to your personal growth as well. Samantha Burke, a recent grad of Siena College, says, "One of the best decisions I made during college was letting go of friendships that were not healthy for me." You absolutely do not have to be friends with everyone, and you don't have to stay friends with everyone you befriend during your first week at college, or even your first year. You have the power to dictate the impact of the people in your life on your own well-being, so don't forget that you come first.
Doing this kind of self-awareness and self-love work will only better prepare you for future obstacles down the line. "If you train yourself to recognize toxic and/or manipulative behaviors during college, you'll be more ready to spot them in the workplace in the future," Samantha says.
3. The clubs and organizations you join
From admissions to Greek life to sports teams or the campus radio station, everyone knows there are a million and one collegiate organizations you can get involved in. Club fair day, particularly during your first year, might only seem to be about getting as much free food and gear as you want, but it is to your benefit to get involved in things you're interested in. Remember, college is what you make of it!
For Isabel Calkins, a junior at NYU, her obligations outside of school have been very important to her college years. Isabel says that one of "the most major key decisions you will make in college [is] if you will join a sorority" or not while you're at school. Depending on your college, joining Greek life could very well be essential to your social life.
The more important Greek life is at your school, the more discriminatory you will probably have to be about which sororities you devote your time to during recruitment. For Madeline, "An important choice during my college years was taking the plunge and going to that first recruitment meeting." If you're interested at all, you should go for it just to see whether or not it's for you. There's no harm in trying things out!
4. Going abroad
Determining whether or not you'll take time away from your home campus to go abroad is a massively important choice. There are pros and cons to each side, and you'll need to put in lots of research if going abroad is something you're interested in doing. "For things like where to study abroad, you can talk to your family or friends who have gone through it," says Isabel. As is the case in any decision making process, leaning on others who have more experience or who have dealt with the same decisions before always helps. 
If you decide not to go abroad, be prepared for massive amounts of FOMO and Snapchat geotag-envy. However, you will have the advantage of all the hot gossip that your friends will miss while they're away (just kidding!). Whether or not you go abroad depends on your program of study, your financial situation and many other logistical factors. You shouldn't feel pressured to do it if it's not something you're into, but, if you are, do your research and get to applyin'!
5. What you do with your summers
Summers in college are (as your parents will often remind you) crucial time in your undergrad years. You might choose to work or intern, go home or stay at school or come up with some other summer alternative altogether. Regardless, making this decision means you have to be able to keep yourself in check and make plans in advance.
If you choose to go the career-oriented route during one of your college summers, it might have a huge impact on your later plans. Megan Sawey, a senior at Temple University, says, "Taking on a job/internship is one of the most important decisions we make in college." You might think of an internship as just a resume-padder or a part-time job as just a little extra cash in your pocket, but what if you end up loving either one and then undergo a total change in interests as a result? "The position serves as an in-the-moment obligation, but it's also a potential avenue for a collegiette's post-grad life," says Megan.
6. Maintaining a work and life balance
Particularly during your freshman year, incorporating time management into your daily routine is a little too much to ask. College is such a sensory overload, especially if you've never really been on your own before. Kristen Van Buren, a senior at High Point University, says, "Being in a sorority and being in numerous clubs over the years, I had to create a schedule so I will still do well in school." If you commit to too much, you might find yourself overwhelmed and your committments can take over your academics or your social life. 
There will likely come a seminal point during your college career at which you get serious with yourself and establish how much time you are going to devote to your studies and how much time you are going to spend on your social and other pursuits. When you make this decision, do so with a clear head and an understanding of the repercussions of how you set up your priorities. For Kristen, "creating a good schedule helps [her] do well in school" as well as enjoy activities of the non-academic variety.
Along with learning good time management is the general umbrella of self care. Being aware of your own health (mental, physical, emotional and beyond) might be totally new to you now that you're out of the house, but that doesn't make it any less important. "Now, away from home, we have to plan meals and make time in our busy schedules to get that Vitamin D and exercise," says Texas A&M senior Victoria Hernandez. It's much easier said than done, particularly when your homework is piling up, but taking time out of your day (every day!) to check in with yourself and do something that makes you happy is an extremely important choice you can make during college.
7. Your post-college plans
We saved the most serious, real-life one for last. After you graduate, there are a number of options that might be on your horizon. These could range from grad school to a year of travel or cold, hard cash-earning. If only to prepare for the "So, what are you doing after you graduate?" question that you will receive from every extended family member you have during your breaks at home senior year, having a post-graduation plan will give you one less thing to worry about as your time wraps up at college.
Once again, you might turn to older people in your life or to your college adviser to find suggestions for how you might spend your months in the immediate time after you receive your cap and gown. Perhaps you want to plan a Eurotrip, or stick around at school and work for the admissions department over the summer or do something else to pad your resume and earn some money. There are plenty of options here, and they'll all give you great life experience at the end of the day. Just don't get stuck in an indecisive summer stupor!
As Isabel says, "It's important to follow your heart and not just do what everyone else is gonna do." The decisions you make in college are and should be completely your own, but it doesn't hurt to have an informed opinion with the help and guidance of others who have braved the trail before you. Remember that you're young and you have time to make mistakes, and while these are important decisions that will impact your immediate present, college won't necessarily be the "best years of your life," and that's a good thing! Just try to make them the best YET!