Like red lipstick, winged eyeliner—also known as the cat eye—is a classic look in the makeup world. It's simple, chic and adds just the right amount of glamour without being too much. However, without knowing the proper techniques, the task of drawing a cat eye (and applying eyeliner in general) can be a bit difficult for those of us who happen to lack a steady hand. If you've sacrificed a great deal of liquid eyeliner tubes and an even greater number of cotton swabs and tissues in attempts to nail the elusive cat eye look, you're not alone. That's exactly why we're here to help, thanks to a few hassle- and mistake-free tips that will help you create the fiercest winged look imaginable. 
Choose a reliable eyeliner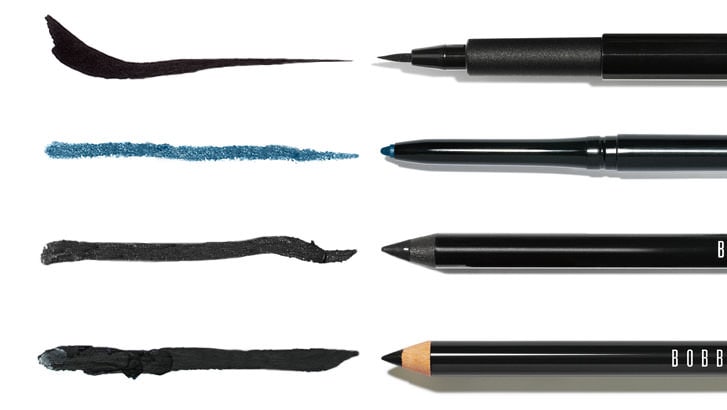 First, the key to a great set of cat eyes comes down to the eyeliner. While we know that liquid, gel and cream eyeliners can be intimidating to think about, learning how to use them are stepping stones to helping you master the technique.
If you're having trouble with the idea of switching from a pencil straight to liquid, start off with a felt tip liquid eyeliner like the Milani Eye Tech Perfection Liquid Eyeliner ($8.49). The tube has an unusual, curvy shape, but that's actually the beauty of it. The L-shaped tool is designed to fit perfectly into your hand, making you feel like you have more control over the eyeliner itself and the way you apply it.
And if you feel more comfortable using a gel or cream eyeliner, just make sure you have an angled eyeliner brush on hand. We recommend using something inexpensive and easy for beginners to adjust to, like Wet N Wild's Mega Eyes Crème Eyeliner ($3.99). Not only is this liner totally affordable, it also lasts all day so you won't have to worry about smudging! Better yet, this eyeliner can be found at any drugstore.
Find your shape
Ultimately, the shape of your wing is all up to you, but paying attention to your eye shape can help if you can't decide. Some prefer a triangular-shaped wing, while others are more comfortable wearing a curvy wing, shaped a bit like a J. Curvy wings work better for those with smaller eyes, as the curve works to elongate your lash line and make your eyes appear bigger. If you have bigger eyes, opt for a triangular shape instead.
Of course, keep in mind that these rules aren't at all mandatory. These suggestions are simply intended to get you started—only you'll know the shape you love to rock most!
Make sure both angles are even
There's nothing worse than having two wings pointed at completely different angles. To make sure that this doesn't happen to you, try holding any makeup brush up to your face and pointing it toward the edge of your eyebrow. Once you find the angle, gently draw a thin penciled line in place of the brush to serve as a guideline. Then, trace over the line with your liquid or gel liner and you're good to go! 
Don't be afraid to cheat a little 
A good way to get started with a nicely shaped wing is to simply use tape. The tape method is a total game-changer, thanks to its beginner-friendly ease. All you have to do is take a piece of Scotch tape and place it underneath your lower lash line, making sure the tape is angled toward your temple. Angling the tape in the right direction is especially important, since this is the direction that your wing will follow once you begin to draw it, and how high you want your angle to be is all up to you. Start drawing a line from the inner corner of your eye all the way to the outer corner using short strokes. Then, begin to extend the line to the tape, making sure it begins to thin out as you create more of a wing. The great thing about using tape is that even if you mess up and extend your line too far, any eyeliner that bleeds onto the tape can be removed. When you're done creating your line, just peel off the tape and you'll be all set! And for a full tutorial, try this guide.
Get geometric
Creating a wing doesn't have to be as hard as it's made out to be—just use the triangle method! It's exactly what it sounds like: drawing a triangle at the edge of your eyelid. You can start off by applying eyeliner how you normally would if you weren't attempting to create a wing. Then, draw a triangular shape at the edge of your eyelid, with the tip of the triangle pointing toward the edge of your eyebrow. Once you complete the shape, fill in the gap. If you really want to get creative, you can even fill in your gap with an eyeliner or eyeshadow of a different color. Either way, your wing should look pretty fierce. And if you're more of a visual learner, you can use this tutorial for reference. 
Don't pull your eyes back
You may think you're doing yourself a favor by holding your eyelids as you attempt to draw, but holding your skin actually creates weird lines, making you think that you're drawing your wing the right way when you aren't! Resist the urge and keep your hands away from those lids until you're finished—we promise it's worth the mistake-free finish!
Clean up your mistakes
Creating an uneven line happens to the best of us. If you find that one wing is a little uneven or one line is thicker than the other, don't panic—you don't have to redo your eyes entirely! Make sure you have a few Q-tips on hand to quickly clean up any mistakes you might make. All you have to do is take a Q-tip and dip it into some makeup remover to gently clean up around your eyes, or dab on a little foundation to even out the look.
So if you're like most of us and tend to struggle with getting those wings even, try adding some of these techniques to your daily makeup routine and see which one works best for you. Good luck, collegiettes!