Mother Teresa, the Albanian-born nun who advocated for the lives of India's poorest communities and is said to have performed two miraculous cures of the sick, was officially canonized in a Mass held by Pope Francis this past weekend, CNN reports.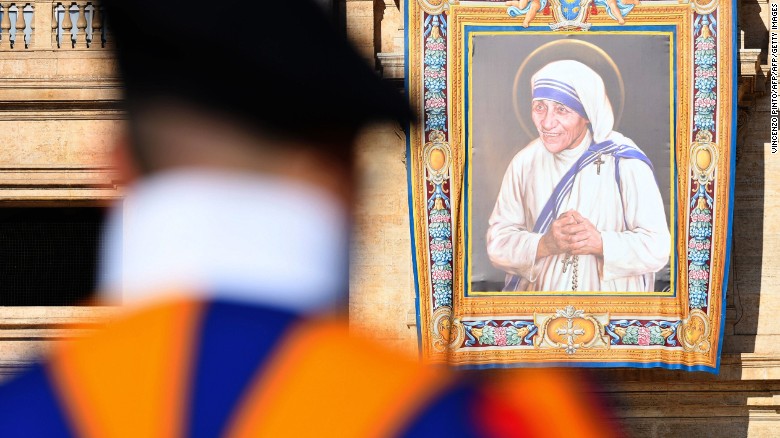 According to CNN, Mother Teresa was known as the "saint of the gutters" because she devoted her life to communities that were in desperate need of help. Not everyone agrees that Mother Teresa deserves sainthood—she's faced harsh criticism for poor hygeine practices in her shelters, her glorification of poverty and her moral stances against abortion and contraception. But that didn't stop thousands of pilgrims from flocking to Saint Peter's Square in Vatican City for her canonization. FOX News reports that approximately 120,000 people watched on Sunday morning as Pope Francis delivered a homily, in which he spoke highly of the new saint.
"Mother Teresa, in all aspects of her life, was a generous dispenser of divine mercy, making herself available for everyone through her welcome and defense of human life, those unborn and those abandoned and discarded," he said to the large group, which, according to CNN, included about 1,500 homeless people who sat in seats of honor and enjoyed a pizza lunch after the Mass.
Francis then praised Mother Teresa for her efforts to make the world realize that poverty and suffering are serious issues.
"Mercy was the salt which gave flavor to her work," Francis said, and he believes that her mercy is exactly why volunteers from all corners of society should consider her their "model of holiness."
Mother Teresa became a saint only 19 years after her death, which is basically lightning fast in Catholic sainthood terms. Although the Catholic Church normally waits five years after a person's death to consider him or her for sainthood, Mother Teresa's supporters pushed for her evaluation right after she passed away in 1997, CNN reports. The late Pope John Paul II made the decision to waive the traditional waiting period and begin the process of beatification. In 2002, he credited her with miraculously curing a woman's stomach tumor. Then, in March 2016, Pope Francis recognized Mother Teresa for healing a Brazilian man's brain tumors. The confirmation of the late nun's second miracle led him to announce that she would become a saint.
You can watch the powerful canonization Mass here.