Pretty Little Liars fans might have thought today would be like any other Monday, spent eagerly anticipating tomorrow night's all new episode of PLL (which just so happens to be the show's summer finale). But Marlene King had another surprise in store for us.
Joined by the infamous Liars (Lucy Hale, Ashley Benson, Troian Bellisario, Shay Mitchell and Sasha Pieterse), the series' executive producer announced in a Facebook Live video that season seven will indeed be its last. Seriously, there are not enough crying GIFs in the world to demonstrate how we feel in this moment.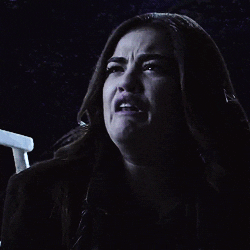 Following tomorrow night's summer finale, PLL will return with its final 10 episodes in April 2017, which will culminate with an exciting two-hour series finale event.
Given the unfathomable amount of questions left unanswered by the show since its 2010 start, we have LOTS of ground to cover in these series-ending episodes. But, as bittersweet as this news is, at least we might finally (actually) find out who A is. Maybe…
Watch the full announcement below.