How to Watch
Hulu, Amazon, CW Seed
Reasons to Watch
The O.C. is the brainchild of the man who brought Gossip Girl into your life. So that should be reason enough to watch. It's also got everything you love about Gossip Girl but takes place on the always sunny West Coast.
If you're a fan of soapy dramas that revolve around teens you wish you were friends with, you can't pass up the opportunity to hang with Ryan, Seth, Marissa and Summer.
But most importantly, this show is about the family we build—out of the family we're born with and the one we find along the way. And no matter how twisted the familial ties may get, Ryan and Seth's transition from strangers to best friends to brothers will forever be the bond that grounds every relationship on this show. 
Suggested Rate of Watching
The O.C. burns through a lot of plot really quickly. The seasons are also quite long, with most boasting nearly 30 episodes. Therefore, we suggest that you pace yourself and enjoy the major life changes that this bunch of Newport teens is forced to endure in super short increments of time.
You Will Like This Show if You Like…
Gossip Girl, Dawson's Creek, One Tree Hill, Hart of Dixie
Best Season
As is the case with many dramas, the first season of The O.C. is by far its best. In the span of 27 episodes, we explore just about every storyline a teen drama has ever dared to try. We also see the lifelong friendships, romantic relationships and family dynamic form that will forever change the landscape of the series.
Worst Season
Season three is widely regarded as the worst in the show's run. The series was downright cruel to the characters throughout much of this season, and the lighthearted, loveable group of teens we'd known up until this point slowly and painfully disappears. The season ender delivers the hardest blow—one that fans still debate to this day.
Best & Worst Episodes From Each Season
Season One
Best: 1x01 – Pilot
Worst: 1x17 – The Rivals
Season Two
Best: 2x24 – The Dearly Beloved
Worst: 2x11 – The Second Chance
Season Three
Best: 3x11 – The Safe Harbor
Worst: 3x25 – The Graduates
Season Four
Best: 4x07 – The Chrismukk-huh?
Worst: 4x01 – The Avengers
Character You Will Aspire to Be Like
Seth Cohen
When he's not using his natural wit and awkwardness to bring levity to the darkest and most ridiculous of situations, Seth is being a total grandmother who loves staying in and eating an early dinner as much as you do.
Character You Will Love to Hate
Julie Cooper-Nichol
Marissa's mother is just the worst in the show's first season. Trust us—you will be thanking your lucky stars she isn't your mom. But as the series progresses so does her character. Eventually, you will be wishing you were as much of a boss bitch as Julie is.
Character You Will Hate With a Burning Passion Until the End of Time
Oliver Trask
Mention this name to any O.C. fan ~ever~ and they will probably go off on a tangent about all the reasons why they are still not over hating this guy. You will see what we're talking about before the end of season one.
Couples You Will Be Shipping
Seth and Summer — you know what they say: opposites attract. These two were obviously MADE for each other, and they will forever be one of our fave TV couples.
Ryan and Marissa — yes, they are a troubled pair. But the passion and drama that electrifies the series when these two are together is undeniable.
Sandy and Kirsten — rarely do you end up shipping the main characters' parents, but these two prove love can last.
Ryan and Taylor — she seems like an unlikely choice for Ryan, but man, do they work together.
Terminology You Need to Know
Chrismukkah— a mix of Christmas and Hanukkah; a holiday with twice the resistance of any normal holiday; created by Seth Cohen.
Newpsies– Newport Beach wives and mothers; favorite activities include hosting fancy events that benefit charities they know nothing about, gossiping about the most down-on-her-luck Newpsie and, of course, Yogalates.
The Valley– the O.C. universe's version of The O.C., which the characters are all obviously obsessed with.
Best Guest Stars
Lots of Hollywood heavy hitters appeared on The O.C. before their careers took off. Keep an eye out for Chris Pratt and Olivia Wilde, in particular. You may not love their characters, but it's just plain fun to watch them take part in this world. 
Snacks to Eat During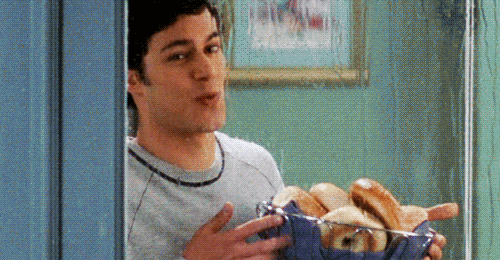 Rarely will you see the Cohens partake in a meal other than breakfast, so make sure you are stocked up on bagels, pancakes, cereal, coffee and the like. You'll also need plenty of takeout menus because there's always room for Thai.
Music You Will Be Dying to Hear Again
The O.C.'s soundtrack is iconic. Good thing we found this playlist rounding up the show's best musical moments.
Best Quotes
"Welcome to the O.C., bitch." – Luke to Ryan, Season 1, Episode 1
"Dude. You're a Cohen now. Welcome to a life of insecurity and paralyzing self-doubt." – Seth to Ryan, Season 1, Episode 2
"Sometimes I think you talk just to make sounds." – Ryan to Seth, Season 1, Episode 10
"Chrismukkah is unruinable. It's got twice the resistance of any normal holiday." – Seth, Season 1, Episode 13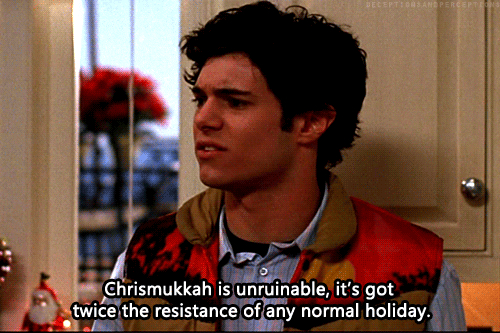 "Ryan, I was Nemo. And I just wanted to go home." – Seth, Season 1, Episode 19
"Look at all these people. These normal, non-traumatized people in relationships, in love. Think we'll ever have that?" – Seth to Ryan, Season 2, Episode 12
"My life just doesn't work without you." – Marissa to Ryan, Season 3, Episode 6
"We were never going to work anyway. He doesn't even like cheese." – Taylor, Season 4, Episode 11
"I'm a lot better off than when you found me." – Ryan to Seth, Season 4, Episode 16
What to Do When You're Done Watching
Warning: The O.C. ends way before it should. You'll be begging for a reboot, to revisit your favorite characters and take one last trip to California. Until that day comes, we suggest finding another teen soap to consume ASAP.